A Most Violent Year – 3.5/5 – Movie Reviews by Ry!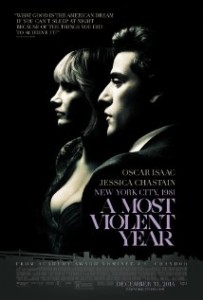 A Most Violent Year – 3.5/5 – Misdirection; it is a term used in the film industry frequently.  This is usually a term used when a film is 'marketed' for one genre and it clearly becomes another.  When a film uses 'misdirection'; it mostly turns out badly; critically and commercially.  There are times when misdirection doesn't harm; and that film eventually becomes better than expected.  This film falls into the latter.  A Most Violent year is billed as a 'gangster film', but turns out to be something deeper, complex and mostly entertaining.   In the end, being character driven is a highlight; and one that makes the misdirection all more appealing.
Premise:  It is 1981 in New York City; an ambitious man fights to protect his family and business against all odds.  Through a violent part of the city's history; he must decide to take the right path or the path of a gangster
At the heart of this film are its main leads; which are portrayed as a couple.  You have:
Oscar Isaac as Abel Morales (Husband)
Jessica Chastain as Anna Morales (Wife)
Both these individuals give powerful performances; exuding excellent depth on a humanistic and emotional scale.  Oscar Isaac gives a chilling but suave performance; one that is built upon the merits of being a 'clean' businessman.  When we come into his world; we find him against several odds; both on within his career and at home.  His business is entrenched in an investigation as well as a very big acquisition.  This causes an emotional but mental turmoil within Abel.  At the same time, it helps layer the flaws of his 'calculating' approach.  He is blind throughout his own ambition, knowing that any inching towards the 'gangster' lifestyle could bring everything down on so many fronts.  Even in this blindness, he never tries to sway (when truths come out) being strong even when he is fragile.  Comparable to him in this film is Jessica Chastain.   She compliments him in every way; being the backbone to all the dealings and turmoil that Abel is going through.  As much as he puts of a facade of strength, she does the same on a more personal level.  She is discerning in her approach, knowing that every ambitious thought that he may have must contrast with the ideals that she can face head on because of her own 'past'.  That combination creates a complexity of worth, one that shows flaws in both Abel and Anna Morales life approaches.  What make this film are these two characters; and how they interact with each other and weave through this twisting tale of fate and circumstance.  Powerful scenes are innate to the dialogue, and it is created with raw appeal and ambiguous perception.  When it comes to the rest of the cast, it is a mixed bag of known names and up and coming actors/actresses.  If you want to see a list of names, you can refer to the IMDB page.  In general; the supporting cast is nothing more than just that.  They don't do enough to stand out in the film, but also don't do harm from just being 'roving' plot devices for the Morales or the story.
The direction is one of misdirection (as mentioned above).  You're drawn into the film through the 'pseudo' use of gangster film concepts, but are then pulled deeper and through the overall film (at great affect) by the characterization of Able and Anna Morales.  On that note; the film takes a retrospective look at the lives of these two individuals, as they weave their oil business through the thick of the crime filled backdrop of the early 1980s in New York City.   As we enter into their lives (as mentioned above) we find Abel on the verge of a huge acquisition.  At the same time, his company is dragged within a federal investigation because of 'bad practices' accusations.   With the weaving of both these endearing plot points; the film quickly delves into the character of Abel (as well as Anna).  We watch as actions and words are purest to him; but are also countered by the entrenching world of the mob and Anna's personal (and truthful) misgivings of the situation.  For all that he speaks (and to powerful effect); it is all thematic to the broader sense of the film.  At the heart; he is struggling with defining what are the right motives; as the are pushed to the bring because of the Mob world influencing his decisions.  This is definitely endearing because of his wife (Anna) having history with them.  This counter balance creates a feeling that is self evident; one where you can feel the struggle Abel is going through and the breakdown he has on a professional and personal level.  Everything (coincidentally) goes for and against him throughout this film.  As fights accrue on all fronts; he falls deeper into making real tough decisions.  As we see the film highlighted through its powerful performances and raw story elements; that rawness is also drown by the slow burn approach.  A slow burning film (one that builds through the effect of characterization) is something of a delicate thread.  If you don't have:
Good actors/actress
Strong script
That 'slowness' will make the film feel like a chore to get through.  Majority of the film is emotional and powerful; but there are times when the film 'lacks' in that department.  This is when the slow burn takes that ill effect, making you think less about the movie and about the length of it.  This does fragment the experience at times, but you are always brought back because of the performances.  Once we head into the final act; it is mixture of circumstantial moments (that are great) and the blatant use of 'deus ex machina.'  This is a device whereby a seemingly unsolvable situation is abruptly resolved.  That hurts a lot of the personal struggles within the main character and the story.  Even as the film has this hiccup, it doesn't drag the film or put a dagger in the storytelling; as the film continues towards an ending that is reflective in nature and human at its core.
The visuals of the film are authentic to the tee.  From every aspect to clothing, architecture, vehicles and common appeal; you feel a part of this world.  The aesthetic appeal of everything is real and vivid.  The score of the film is mute at best; as it doesn't help or hinder the progress of the film.
A Most Violent Year is built on misdirection; as it is a pseudo gangster story that's molded upon the merits of a character based film.  In doing that, the movie is deeper than it probably should have been; one that is a welcome approach even if it has faulty parts.  Even for the slow burn (and the obvious use of a specific plot device) this film is still entertaining because of the main leads.  If you're a fan of gangster or character films; this is one for you.  You will not be disappointed by the end of this one.