Always Be My Maybe – Movie Reviews by Ry!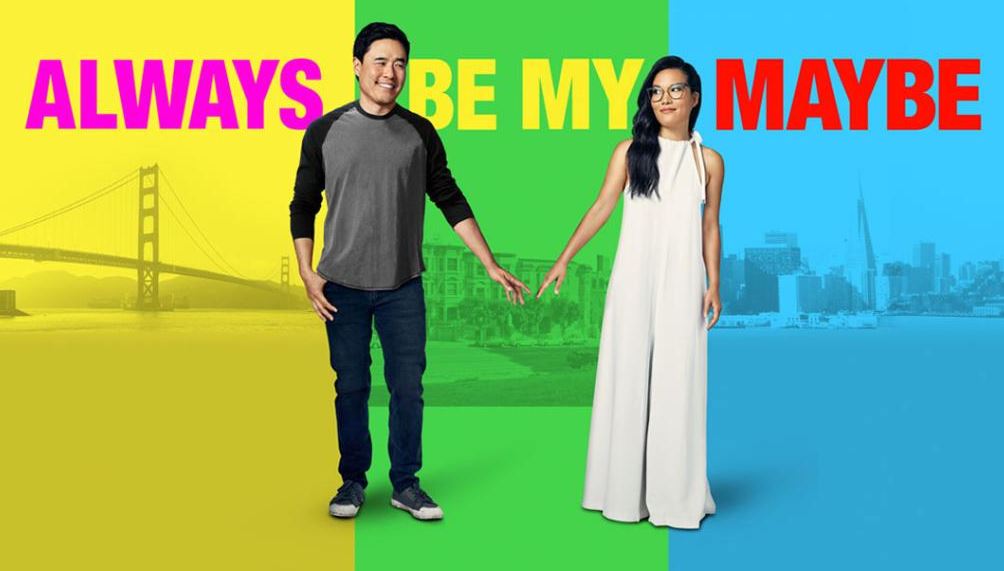 Always Be My Maybe – A Journey Familiar, Love You Maybe?
Romantic Comedies litter the landscape. From the big screen to streaming, there are plenty to go around. For all the fun, laughter and excitement, these stories always revolve around the typical premise of 'guy meets girl'. The ideas are endless, but the ups and downs of the predictability only leads to the inevitable ever after. Sometimes, a Rom Com can strike gold in unique spins. In this old school rewind review (which I look back at prior releases), I dive into another Rom Com, Always Be My Maybe. It is film that does play with typical tropes, but also provides a whimsical journey that is endearing to the heart. With some fun characters and witty banter, Always Be My Maybe is a heartfelt journey that puts fun in figuring out, will we be together in the end.
Sasha (Ali Wong) and Marcus (Randall Park) are longtime, childhood friends that many thought would end up together.  15 years later, the rekindled friendship presents the question, Will they end up together in the end?  With any typical Rom Com, you always have the basics of two people that start out as friends. You witness, in the prologue, Sasha and Marcus meeting at a young age. This leads through sequences of typical childhood hijinks.  After a certain 'moment', the film moves forward into the present where the two are living separate lives.  Convenient plot devices bring them back together, setting the stage for the film's premise.  Once Sasha and Marcus rekindle their friendship, you get a mixed bag of joyous moments and comical hijinks.  The aspect of their conversations become obvious conflicts of past issues, creating the stringing of the 'will they/won't they' trope.  This pushes to the front a lot of generalities, creating situations that are predictable in the first act.  In the second act, the oddities of their new lives begin to come to the forefront, creating more substantial layers to their friendship.  You get to see characters shine through uniqueness, creating a posit for each of their pursuit of a relationship.  This balances out against all the common clichés and archetypes, allowing for honest motives to gleam realism.       
As their rekindling grows stronger, the witty dialogue provides raw conversations between Sasha and Marcus. This brings forth character flaws that create a dynamic of fragile intent. Even as the story plays against some melodramatic sequences, everything stays strong with emotive value. The whole 'maybe' aspect is built through their own self-doubts, creating a situation where self-reflection becomes prudent. Once in the third act, everything comes full circle, providing worth to what is important to both Sasha and Marcus. This leads to a predictable climax, but ends up in an epilogue that is endearing to the heart. Always Be My Maybe is a Rom Com that starts off with a lot of common aspect of the genre, but brings you on a journey that is realistic with honest characters. Even as situations turn through melodrama, there is never a moment lost of enjoyment. This is available for streaming, but if this was in theaters, I would say it would be worth seeing at the right price.
Full Score – 3 out of 5 (Theater Discount)