American Sniper – 4/5 – Movie Reviews by Ry!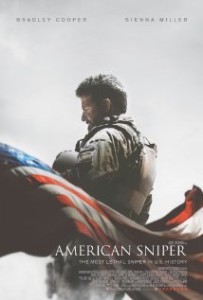 American Sniper – 4/5 – A war film that is directed by Clint Eastwood; a definite 'green light' moment.  The reason this is a good mix is because Eastwood is the kind of director that shines (behind the camera) for films like these.  When it comes down to it; this is a film that sheds lights on many fronts; not only the wars that we were involved in but the toll it can and will take on a person's psyche.  When it comes down to it, American Sniper does a great job in breaking down the 'person', but in a way where that everyone can relate.  This is a truly amazing character film, one that is a definite 'heart-pounding' experience.
Premise: The life of the most Lethal Sniper in U.S. history; Chris Kyle and how War affected by his military and civilian life.
Leading the way in the main role of Chris Kyle is Bradley Cooper.   Cooper has come a very long way in his acting gigs; taking on bigger and deeper kind of characters, and defining him as a force to be reckoned with in films like Silver Lining's Playbook and American Hustle.  Here; Bradley Cooper takes on a role that is deeply invoking and somewhat inspiring.   As a lethal Navy SEAL sniper, we watch as Cooper 'encompasses' who Kyle was as a man, solider and human at his core.  Watching him as Chris Kyle, you see how he evolves slowly from the War in Iraq.  You see the complexity of what is involved in becoming a soldier, and the toll war takes on a person's psyche.  Watching this unraveling on screen; Cooper provokes the audiences through blunt actions and hardy dialogue, and pushes the terms of arrogance to the point of denial through his decisions.  That bittersweet tone within that raw human psyche shows the fragility in a soldier's complex; one that causes the audience to perservere through the tension and pain that he experiences.  No matter if he is battling enemies in Iraq or having difficult relations with his family; you are as much a part of this journey as Chris Kyle.  His nomination for 'Best Actor' is very deserving for Bradley Cooper.  Opposite him in this film are many 'unknown' names, if you want to see you can view it on the film's IMDB page.  A lot of the soldiers (and terrorist) that Kyle comes across throughout the film are very typical of any military style film.  Even with the element of familiarly, you still see how they have an effect on Kyle's life, showing something of a 'brotherly' flavor or 'raw' evil combatant kind of feel.  The one member of the secondary cast that has a strong effect on Chris Kyle is the role is Taya (Wife), played by Sienna Miller.  She does a great job as military wife, helping add a deep layer of 'humanity' to his family aspect.  She does well at peeling back another effect of Chris Kyle's decision to why he goes back to Iraq.  Her interactions create a vulnerable aspect, one that makes everything that happens in the film relatable on a grounded scale.
The direction by Eastwood is entrenched in the typical 'character driven' style.  The film goes along the path of showing Chris Kyle's life; bringing us through 'parts' of his life that had an endearing effect at home and overseas.  Eastwood molds the typical three acts into one 'overall' progression; where you feel the journey in a more abstract sense than in any kind of traditional military film.  You see this kind of journey strike deeper accords, and succeed more with audiences (The Hurt Locker, Black Hawk Down, Saving Private Ryan, and Letters from Iwo Jima).  Mixing of both being home and abroad helps that abstract feeling by creating a deep human element on an emotional scale.  The film starts with a quick 'prologue' look at his childhood, as you watch how Chris Kyle becomes who he is at the main 'start' of the film.  As we go along, he meets his wife, gets married and heads off to war.  From this point, the film goes on a 'back and forth' method, showing his four tours as compared to his return stateside.  As the film moves at a methodical pace, it is carried thoroughly by Bradley Cooper's performance as you watch the 'unraveling' aspect of what happens to a person's psyche by the continuous tours.  That breakdown is raw to the bone, and one that is not 'overblown' or 'force-fed.'  You never just see one side of the coin as Eastwood shows you both the 'good' and 'bad' that happen to a person at war.  You see that (as mentioned above) denial and arrogance, the blind fortitude and 'brotherly' fondness.  Every aspect of Military life has a rippling effect throughout this film.  You get that heartfelt emotion that bleeds through each interaction Chris Kyle has with his fellow soldiers, Iraqi citizens and most importantly, his family.  This is what helps build the film's overall 'character driven' premise, leaving you to peel back layers of the journey as if you're the person in the film.  That 'motive' to push you to a question and see that flaw helps make the film have heart.  It gives this film a strong purpose of showing the 'humanity' of War.  The greatness in the direction is how Eastwood breaks down the person, and gives you a sign of hope through endearment.  Once the film hits the finale, you are overwhelmed by the journey, but also silenced by the achievements on both a military and life scale.
The visuals of the film are raw and gritty, comparable to any kind of military film.  From the action on the battlefield or his family life, you feel the authenticity of the film.  The score helps create a riveting tone, but it isn't something that adds superior depth as compared to the rest of the film.
American Sniper takes you on a journey, and will leave you a human tale that hits you at the core.  Even with some technical and some cliché aspects used throughout, this is formidable film and one of Clint Eastwood's best in quite some time.  If you're a fan of Eastwood and Cooper, check this out.  You will be on for a tense and emotional ride.