An American Pickle – Movie Reviews by Ry!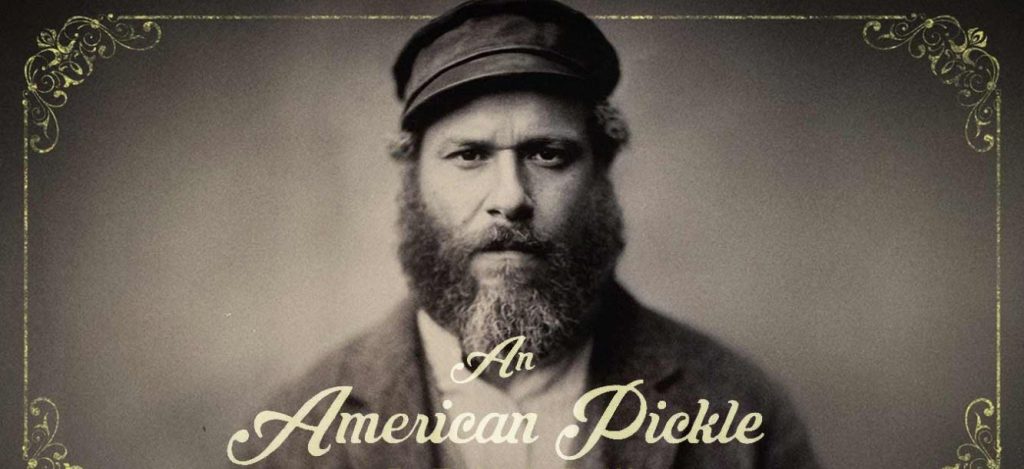 An American Pickle – Family Preservation: A You and Me Comedy
A single thought can become a great idea.  It is a building block that can become the foundation for something better or more.  Telling a story has the chance to be something great, but sometimes it gets lost in its own potential.  In this latest from Seth Rogen on HBOMax, he pushes forward a unique premise with mixed results.  An American Pickle is a unique story that becomes a journey of lackluster appeal.
Herschel Greenbaum (Seth Rogan), an immigrant to America, accidently gets preserved in a pickle factory for a hundred years.  Waking up in today's world, he must find his place while trying to connect with the last member of his family, Ben Greenbaum (Seth Rogan).  The basic outline mixes drama and comedy within the 'fish out of water' trope.  The audience is introduced to the two members of the Greenbaum family, played by Seth Rogan.  From the onset, there is a feeling of ambiguity brought on by the key incident.  This haziness of truth brings in subtle depth of their purpose (in the film).  On one side, you have Herschel.  He is a man out of his norm, trying to find his place in modern society.  On the other side, you have Ben.  He is struggling to start his own business, but it is fraught with a tragic past.  When they meet, it becomes a conflict within thematic and emotional layers.  You get a sense of what each believes, but the motives to do what is 'right' becomes the linear directive.  Their ideals of life, family and careers creates a genuine conflict of interest, leading to a familiar but welcome scenario of storytelling.  The humanistic scale leads to strong characterization, driven by the satirical humor of the social environment of today.  This allows for Rogen to shine through two different characters, creating a sense of what may be a fulfilling escape (for the audience).   
The film's first half relies on the strength of the situation through a down to earth approach.  There is great appeal of character dynamic and themes, but it gets lost in the second half.  When these two start a rivalry for success, it leads to forced inclusion of side characters, slapstick humor and loose secondary plot threads.  This creates a contrasting effect with what was originally introduced (in the first half).  The central motive is within the devolving relationship between Ben and Herschel, but the odd directional choices hampers that development.  Even with some unexpected choices, the story is brought into a climax that strikes that poignant detail of satisfying results.  An American Pickle is a film with potential that just misses the landing.  Even with a feeling of lostness, it is a strong outing for Seth Rogan.  If you are a fan of Rogan or dramedies, this is one for you.  It is available on HBOMax, but it would be fun seeing on the big screen for the right price.
Full Score – 3 out of 5 (Theater Discount)