Are You There God? It's Me, Margaret – Movie Reviews by Ry!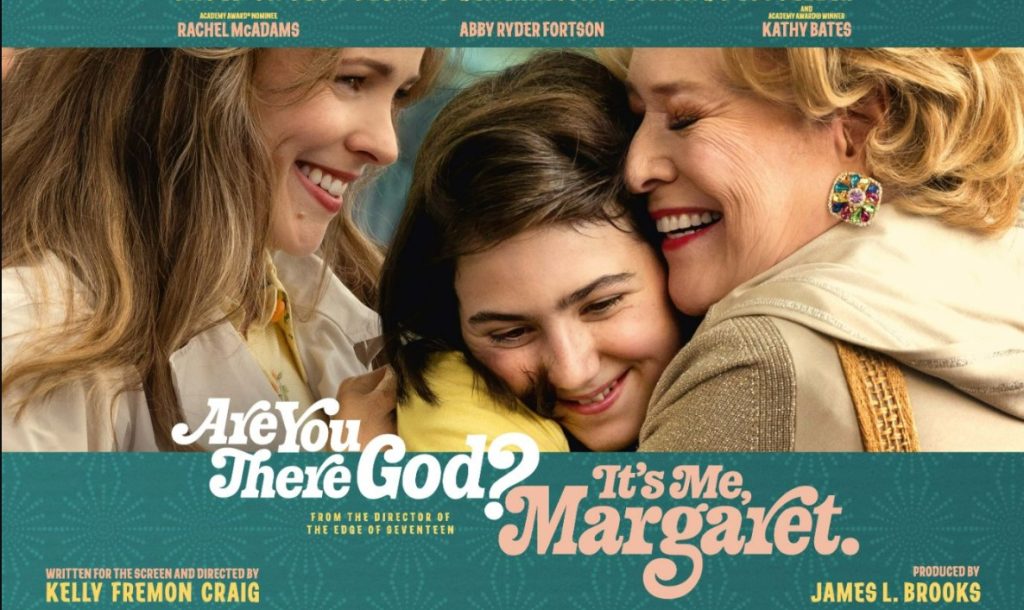 Are You There God? It's Me, Margaret – In the Suburbs of Adolescence and Faith
Life is a unique experience for each person. From adolescence to adulthood, each trial is a mark that defines our individual guise. Through it all, we build from scars to find out what it means to be alive. In film, a coming-of-age tale provides a rare twist of dramatic storytelling. For all that can be said, those growing pains can be a great journey to tell. In this review, I look at an adaptation of a famed novel. Through the aspect of relative moments, this is a journey of unforgettable personal growth. Even with a simplistic directive, Are You There God? It's Me, Margaret is a wonderous tale that shows what it means to have faith in being … you.
This is the story of Margaret (Abby Ryder Fortson), a young girl who moves with her family to a new home. Trying to discover who she is (in a new setting), will she be able to find herself or get lost along the way? On the surface, this story builds off the typical outline of a coming-of-age experience. In the beginning, you are introduced to Margaret, her father Herb (Benny Safdie), mother Barbara (Rachel McAdams) and Grandmother Sylvia (Kathy Bates). Through the drop-in method, we find Margaret has returned home from summer camp. After a plot driven scene, she learns from her parents that they are moving out of New York City to the New Jersey suburbs. After some quippy family dialogue and a series of 'moving' scenes to the new home, Margaret quickly becomes friends with the local neighborhood girl, Nancy (Elle Graham). After more layering within the 'coming-of-age' motif, we are introduced to the rest of the cast to create our sandbox of humanistic growth. With all the pieces in place, we head into a second act that levels within the aspect of family, adolescence, and innocence like themes. This simplistic directive provides a platform for strong characterization, as we watch a humanizing experience slowly unfold. With Margaret, we see a young girl trying to adjust to her new surrounds (friends, school and becoming a lady). At the same time, we see Barbara (mother) trying to find her purpose as a stay-at-home mom (having given up a life of teaching art). Through these two individuals, it slowly moves the journey away from the typical outline to a fervor of a new situation. Through the mother/daughter lens, the story weaves between two unique perspectives that slowly mold into one. In each interaction, it becomes a manner of emotional reverie that leads to angst, anxiety, and confusion. While Margaret is trying to discover her worth, it parallels the same hardship for her mother. The conflict is a divide that brings a question towards faith, driving the simplistic 'through the lens' aspect to a height of emotional wrangling. This adds purpose to the blooms of discovery, showing a light through a point of human fragility. At the two fall in depth of their new lives, the strength of the story becomes a foundation for what it means to be a parent, child, and person of faith.
As Margaret navigates certain levels of personal issues, it becomes an obvious string of attachment to her mother's conflicts. This leads to scenes of wholesome embracement and a new level of life's crossroads. When certain elements of family, womanhood and faith come into play, the simplistic directive becomes the foundation of hardened tension. As things seem to be falling apart, we head into a third act of purposeful dilemma. In the final act, everything levels within the meaning of personal worth, creating a level of growth and wholesome support. This leads to a full circle climax and a welcomed but ambiguous epilogue. Are You There God? It's Me, Margaret is a coming-of-age tale that becomes something more. With a strong cast, there is value in seeing life just … be. If you are a fan of those involved or the genre, this is one for you. I say this is worth seeing on the big screen, full price.
Full Score – 4 out of 5 (Full Price)