Black Panther – 5/5 – Movie Reviews by Ry!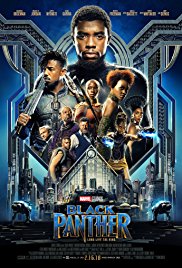 Black Panther – 5/5 –  Film is a medium where I have experience many things, some unimaginable and some not so great.  The art of storytelling is one of those things I always try to find.  There is something special when you can move through a world and truly escape.  From fantasy to the realistic, the dramatic to the thrilling, I have had plenty escapes.  Every so often, there are films that push the boundaries and brings you to a place where it is all about that genuine touch.  I didn't think it was possible to get that kind of feeling within the saturation of the comic book genre, but it has happened.  No matter what Marvel does, they always find a way, and they have with Black Panther.  Simply put it, there is a new King on that throne.  Black Panther is the best comic book movie of all time.
Premise: As he rises to the throne of Wakanda, T'Challa is faced with past mistakes to become the King he was born to be.
In the lead role of Black Panther/T'Challa is Chadwick Boseman.  First seen in Captain America: Civil War, Boseman does a fantastic job in layering, exuding and pushing forward a man that is conflicted with what it means to become a King.  As the heart, soul and focus of this film, he is faced with many emotional and physical obstacles.  These conflicts present a wall to his own growth as he tries to find something true and indifferent to be a better man for his people.  This allows for multiple layers to his character, showing strength in subtle verses.  His manners, actions and context of communication brings humility to that righteous birth.  This fragile balance between right and wrong brings out the strength of the character.  Boseman brings this with class and effort.  The suave of his stance is firm, but the raw vigor of his personality is keen with his down-to-earth approach.  You feel each action as well as the interweaving of family, friends, politics and rivals.  Boseman is amazing as T'Challa.  With the rest of the cast, some of the bigger names are:
Michael B. Jordan as Killmonger
Daniel Kaluuya as W'Kabi
Danai Gurira as Okoye
Lupita Nyong'o as Nakia
Angela Bassett as Ramonda
Forest Whitaker as Zuri
Letita Wright as Shuri
Andy Serikis as Ulysses Klaue
Martin Freeman as Everett Ross
These are the notable secondary characters (and villains).  They stand out as strong, confident, unique and individualistic characters on the big screen.  With a mixture of culture presence, distinct bravado and humanistic layering, you see them as important or a threat to Wakanda.  The intersections they have with each other is an honest reflection of the situations, themes and overall story development.  There is a sense of struggle with society vs identity, one that reflects in each of them through meaningful stances.  The profound detail pushes each past anything that would be consider clichés.  At the heart of these strong characters is the main villain, Killmonger.  Played by Michael B. Jordan, he does a fantastic job in creating the greatest villain that Marvel has even produced.  He is man with stark flaws, having been molded by actions that were never of his own doing.  Beyond the archetype of a comic book villain, there is sympathetic detail in his emotional bravado that brings a realistic likeness for the audience.  An endearing struggle of family hardships, he represents a societal context that is endearing of a tragic past.  Being a person of a cause shows him as a human trying to find his way.  He shows that he is more than just an obstacle against good.  Jordan brings his best performance to date, one that rivals some of the best character villains even seen on screen.
The film takes the comic book formula and infuses it with an influx of artful storytelling, social themes and strong characterization.  Ryan Coogler (director), does a great job in building a story that is layered with meaningful touches of culture while paralleling context of the imagination.  The story starts with T'Challa returning home to Wakanda.  The first act is an introduction to the lore of Black Panther and Wakanda.  By adding a characterized dynamic to the world, there is life, purpose and wonder to T'Challa going home and becoming King.  At the same time, you see something that reflects hardship.  This is where the audience sees he must find that purpose to be his 'own' king to his people.  There is strife within the ceremonies, traditions and decisions of others.  This allows for strong character building, implicit exposition and thematic detail of what makes the mantle of Black Panther important.  Going through the 'trials' draws a connection to the lore and build meaningful purpose of things to come.  Once crowned king, T'Challa is faced with fronts of the world against the small nation of Wakanda.  Once we move into the second act, a struggle against outside threats come to head, threats that may harm the ideal traditions of his home.  This brings a conflict that rivals modern and social themes of present day issues.  From the inflection of suffering, technology and isolationism, the agendas of being honest or doing what is right comes at a crossroads.  When Killmonger comes to challenge T'Challa, the consequences are enormous.  The mistakes of the past bring a mirror to both characters, layering conflict and circumstance of what is purposefully true.  The fixtures of perception bleed over the common 'good vs bad' scenario, breaking that status quo of the comic book clichés.  That dynamic of the outside world vs. tradition forces Wakanda to face change head on and with honor.  With ideologies colliding, each character must face that mirror.  When everything comes together, the climax takes the typical comic book formula and layer it with real consequences.  This allows for the characters, themes and overall story to supersede anything that would be consider predictable.  The confrontation leads to an evolution of the characters, knowing certain things must be done at a cost.  It is in here where you experience something truly genuine.  Once the epilogue brings the film to a close, you have an ending that is poignant and brings closure to a masterpiece.
The cinematography is an enrapturing eye of the creative perspective.  With the creation of Wakanda, you get to see a world come to life.  From the futuristic technology, colorful décor, attire and buildings, you see a complexion of humanistic fervor.  The blending of modern with the fantastical opens you to that escape.  Even when you leave Wakanda for other locales, you feel as if every little detail in the world.  There is no sense of disconnect in any of the visuals, believing that it all exist.  The score is another wonderful blend of originality.  With a mixture of modern with cultural context, you feel the sounds within every scene, adding another emotional layer to what is witness.
Black Panther is the best comic book movie of all time.  No matter if it is the characters, story, themes, visuals of score, nothing is less than stellar.  I highly recommend this for anyone, you will be witness to something you have never seen before.