Black Panther: Wakanda Forever – Movie Reviews by Ry!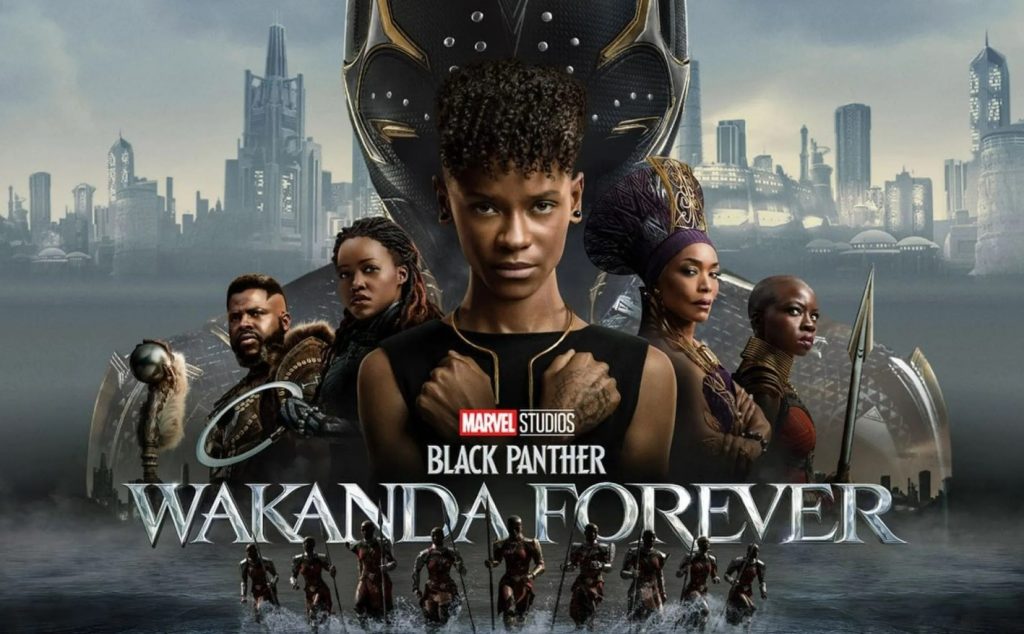 Black Panther: Wakanda Forever – In Honor to the King: Blood and Family
The art of film is defined in one's experience. As art comes through its visual prowess, each of us looks to it with our own thoughts of reverie. No matter the genre, we embark on a journey of happiness, joy, sadness and laughs. In any situation, we seek for some connection … and when it is made, it is simply amazing. In this review, I look at the latest film from Marvel Studios. A sequel to one of their best films in the MCU, this one straddles the line between emotional moments and endearing consequences. With strong acting on a heartfelt journey, Black Panther: Wakanda Forever is a comic book tale that becomes … something more.
The story follows the people of Wakanda as they are mourning the tragic death of King T'Chalia. As they try to heal broken wounds, a new world power threatens the existence of their nation. With their protector gone, Shuri (Letitia Wright) and the rest of the Wakandans must find a way to protect their homeland are face certain doom. Going into this film, Ryan Coogler (Writer/Director) had a tough task in creating a sequel in the wake of his lead star's (Chadwick Bosman) passing from cancer. Through his passing, he created a story that balances that emotional weight by paying tribute to Bosman and building out a heartfelt journey through the rest of the cast (Shuri, M'Baku, Nakia, Okoye, Queen Ramonda). The beginning levels out with a prologue of King T'Chalia's passing, providing a catalyst to build upon the meaningful stature of the Black Panther. in the wake of his death, we watch as each person deals with it through scenes of solace, grief, strength and fortitude. Through conversational moments and plot driven circumstances, you see how decisions are made and moments become hard to endure. Everything hangs on a fragile peace, driven by strong moments of gravitas from characters like Shuri, Okoye (Danai Gurira) and Queen Ramonda (Angela Bassett). Within each of them is a layer of individual frailty, a simmering reflection of the human soul. Coogler leads into the main plot through characterized moments, creating a connection with the familiar action and comic book tropes. As they are grieving, they must push forward an image of strength because of ongoing threats to Wakanda due to an important natural resource: Vibranium. This McGuffin becomes the main throughline of conflict, leading to the introduction of Namor (Tenoch Huerta) and his underwater nation of Talokan.
As this nation emerges in the shadow of Wakanda, there is a struggling 'tug-of-war' for protection and vengeance.  Through some untimely circumstance, Shuri is forced into a hardy role of leadership.  Having to deal with certain tragedies, she stands at a crossroads of protecting her nation through all means necessary.  This leads into a third act of superfluous action set pieces, timely twist and a confrontation between the two nations.  Everything looks to be falling into a predictable conflict, but there are moments of gravitas that subverts expectations and heads into a climax that is a befitting homage to the King.  Black Panther: Wakanda Forever is an emotional journey that pays tribute while also delving into the cultures of warring nations.  With strong acting and endearing moments, this is a film that stands strong.  If you are a fan of Marvel, Comic Book films, strong acting this is one for you.  I think everyone will have an enjoyable experience … truly an award worth film.   
Full Score – 4.5 out of 5 (Award Worthy)