Bohemian Rhapsody – Movie Reviews by Ry!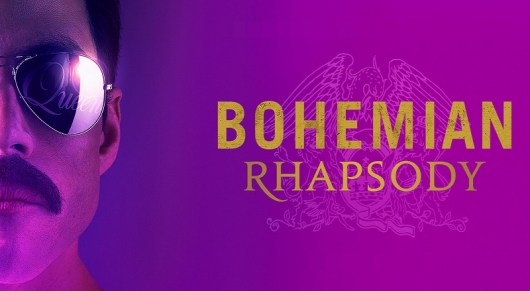 Bohemian Rhapsody – Operatic of the Generic Kind
It begins with a toe-tap.  It then leads to a head bob.  Eventually, you break out into the rhythm of the chorus.  When that right song hits your ear, you escape into another kind of reality.  These are the moments that come to play when you experience music on the big screen.  For all the bravado, a story about Queen takes some hard turns with the truth to create a place where the music makes you feel those feelings of days past.  Is it real life or just fantasy … words that will lead you on some kind of journey.
The story of Queen is one that centers around one man, Freddie Mercury (Rami Malek).  Being the heart of the band, Malek embodies the essences of an outstanding performer.  From his bombastic persona to the quaint interactions in his private life, you get to see humanistic overlays as it relates to the music.  Knowing those personal conflicts creates a layer of descriptive detail to any otherwise basic biopic.  Keeping the focus on the lead singer helps lift the story above those generalities.  This creates a through line where the audience is 'guided' on a predictable journey.  From the convenient meetups, the obvious musical quips and cliché biopic tropes (for dramatic effect), the lead draws you to the band, creating relatable factors of human endeavor.  You can see how the clash of personalities led to amazing discoveries within their songs.  In these poignant moments, the film is able to create an experience that are iconic to Queen.
For all the mediocre aspects of the script, it is the strong representation of the music that holds the story together.  The iconic songs create a homely sensation that is pristine within its colorful stage presentation.  You feel as if you're in the crowd singing along to songs like 'We Will Rock You' and 'Bohemian Rhapsody', leading to a climax of what is consider their best performance of all time at Live Aid 1985.  Through all the changes to the actual truth, it is the music that makes the journey an enjoyable ride.  With strong representation of the bandmates and a lead actor that captures Freddie Mercury, this will be a fun theater experience for the fans.
Final Score – 3 out of 5 (Theater Discount)