Boyhood – 3.5/5 – Movie Reviews by Ry!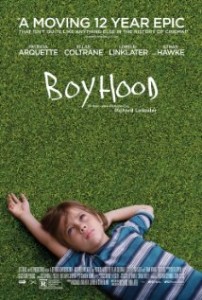 Boyhood – 3.5/5 – When it comes to ambitious projects, they are some of the most intriguing things to watch.  When a film takes a chance on either a topic or theme; the audience can be in for a wonderful treat or realize how much of a waste of time it comes to be.  Ambition drives any kind of artistic though, even when it comes to the movies.  When it comes to Boyhood, it is one of those kinds of projects that has a very unique perspective; a film that took 12 years to make.  In doing that; we get a film that truly represents a real story about life; one that becomes a one of a kind experience.
Premise: 12 years; we watch the life of one young man's journey
Playing the main character of Mason (from age 5 to 18) is Ellar Coltrane.  The unique thing about this particular role (as has been mentioned before) is that we follow Ellar Coltrane as he ages in this role as Mason.  In using the same actor for each part of this story; there is that 'twist' of watching the real evolution of a boy.  It is an acting job that embodies the raw definition of characterization combined with aging.  This allows for the audience to become attached to a real person; as you watch real growth through all spectrums of human nature.  Through Coltrane; we are able to experience an authentic approach to what the pitfalls are for a young boy; along with all the trials and tribulations of dealing with schools, siblings, parents and general teenage drama.  All the feelings of relativity give you a deeper layer to Mason; and Coltrane does a great job in bringing this character to life.  It is raw, real and believable in the whole sense of the word 'living'.  Opposite him, we have some formidable actors/actress that play as his family.  The main supporting cast is as followed:
Patricia Arquette as Mom
Ethan Hawke as Dad
Lorelei Linklater as Samantha
In these roles as the main 'family members', these actors/actresses give a complexion of real emotional depth in defining the spectrum of this boy's life, and how affectionate they can be when certain situations happen.  All their interactions are grounded in reality, helping flesh out what it feels like to have a mother, father and sibling growing up.  The rest of the cast are very much generic when it comes to providing 'real life' people around Mason and his family.  In other films; giving typical troupes of life figures would come off mundane, but because of the context of this story it all is consider welcoming.
There is something to say about the direction of this film.  After thinking a while about what this film encompasses as a whole; I can clear state that there is no real direction to this film.  You might think that is a bad thing; but for an ambitious project of this nature, it isn't.  As mentioned earlier; Boyhood takes place over a period of 12 years.  We watch the growth of Mason; and how he goes from being a child, living the ups and downs of his adolescent years and how his life defines his experiences as he goes off to college.  In taking the approach in this unique style of filmmaking, there is no generic troupe of style or substance; it is all based on the livelihood of one boy.  That in itself creates a story that is all very authentic for the audience.  As you watch this film and Mason's life go along its path, you have a lot of emotional overtures that happen.  Even for the lowly points of typical feelings, there are strong emotional periods that hit at the heart of what 'life' is for a child; as well as provide insightful natures of what it means to live with people that are just as lost as Mason himself.  The paralleling growth of age, family and love in this film is very vivid; you are touched on personal level.  This makes you feel 'yourself' on the screen, an aspiring tale that grows within you as you watch.  Even when some of the moments become predictable in nature; it never hinders the overall progress because of the importance of what everything means as a whole.  Where the film's flaws shows is in it's on unique 'evolving' tone.  As the tone is about the growth of one boy, it hinders the effect of the whole idea of being a film.  As the film is an artistic showcase of life; there are dry-spells in the film, one that can bore even the most attentive watcher.  This brings to the forefront the long running time; as you start to feel it goes longer then it should be.   Even for its staggering pacing; the relative flow of living makes (by the time you get to it) the climax all more complete.  When you get to the end of this ride, you have a very 'bittersweet' feeling where the meaning of moments comes full circle.
The visuals of the film aren't worth talking about; but they aren't a hindrance at the same time.  With a conceptual look at the life and its consequential aftermath; you have a relative sense of everything you see.  Seeing everything in a 'normal' light keeps the film steady, but doesn't add any depth either.  The score has as very subtle touch; but really isn't the important factor like most films.
Boyhood could be defined more as an experience more than a film.  With the unique trip in watching one actor's real 'growth' paralleling the character he plays (Mason); it is one that helps you feel moments of what life is.  If you're a fan of indie films and want to have a great experience at the theaters, this is one for you.  This is a good film to watch with the family; you'll feel at home watching it together with love ones.