CODA – Movie Reviews by Ry!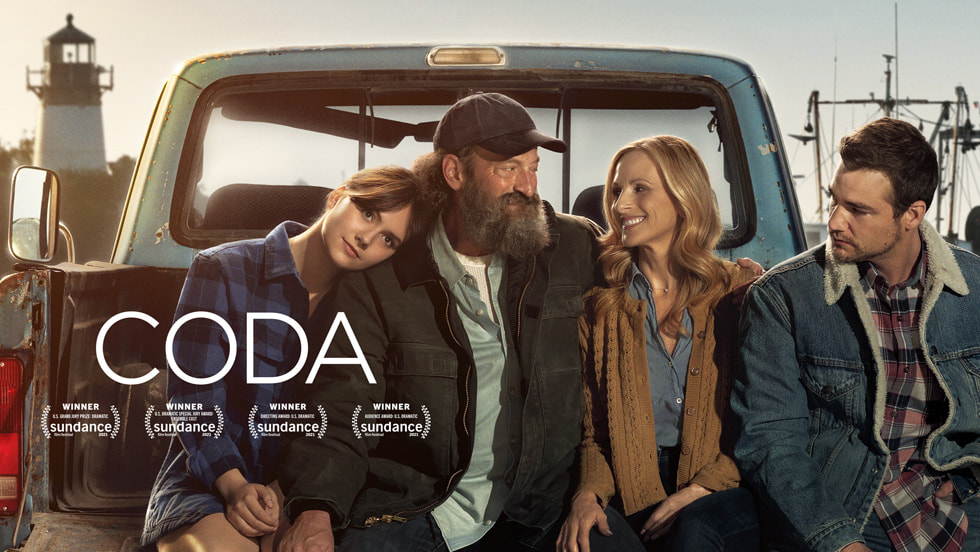 CODA – Music & Family: Silent Rhythm of the Heart
To begin, it starts with a moment.  Within that thought, I sit here looking for the words to say … something.  As I think about the moment, I am lost to describe the feeling I have.  For all that I can say, I can only say that a simple story can be … everything.  In this review, I look at a film that is more than just another tale on the big screen.  Within a delicate balance of familiar themes, CODA stays the course to simply be … a magnificent tale of the heart.  
The story follows Ruby Rossi (Emilia Jones), a teenager who is the only one that can hear in her family.  Along with her father/Frank Rossi (Troy Kotsur), mother/Jackie Rossi (Marlee Matlin) and brother/Leo Rossi (Daniel Durant), they run a fishing business in New England.  When the business runs into trouble, she stands at a crossroads of what is truly important in her life.  At the heart of this story is a simple coming-of-age tale.  Through a collective of scenes, you witness Ruby balancing her high school life with her responsibilities of being the family's sole interpreter in the fishing business.  As the story moves forward, the audience becomes aware of her secret talent for singing.  This catches the ear of the music teacher, which leads to new opportunities.  As this pursuit begins, it causes a fracture with her own familial duties.  A struggle between individual motives and responsibilities provides a subtle coursing of emotional fervor with Frank, Jackie and Leo.  As you see this dynamic ripple into different directions, it leads to slow growth of each member of the Rossi family.  As each person begins to face certain flaws of their own, this lifts the simple tale to an uncertainty of life's cause. 
As the story continues, it showcases a delicate balance between Ruby's singing future and the family's fishing business.  As the pressure builds, it leads to some unwanted consequences.  In the aftermath, scenes become rooted with heartfelt moments that showcase the fragile touch of family, love and hope.  With each scene, it lifts the journey to being something more than just another coming-of-age tale.  Each character become captured in moments, releasing that subtle buildup into sweeping emotions that break open the rawness of the family's perseverance.  This leads into a third act where Ruby and the family face truths of the moment.  As things become realized, it leads into a hearty climax that brings the journey full circle for the Rossi family.  CODA is a simply … an amazing film.  Sometimes, it is the simple tale that can be best.  If you are a fan of coming-of-age films or simple storytelling, this is one for you.  It is available on Apple TV, a simple tale that is … a masterpiece.
Full Score – 5 out of 5 (Legendary)