Cruella – Movie Reviews by Ry!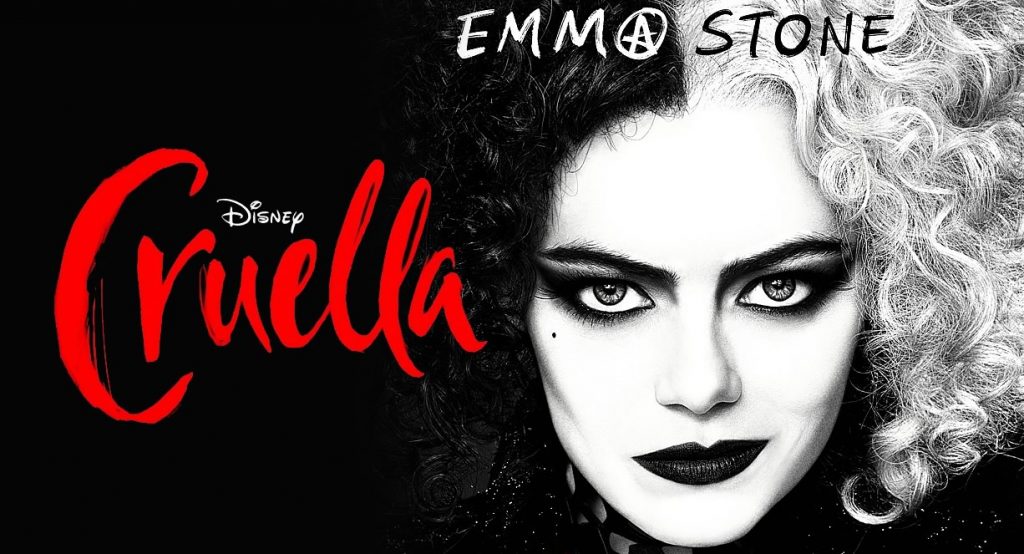 Cruella – Fashion of De Vil: An Origin Tale
In the world of film, what can make or break an experience is in the balance of transition.  Transitioning mediums (even within its own), can be a weary project to take on.  It is inescapable to please the whole, so it becomes trying to balance between source material and telling a well-rounded story.  In this review, I look at a live-action adaptation of a famed Disney property.  In this film, it examines the origins of the famed villain from 101 Dalmatians.  With a strong lead playing along general concepts, Cruella is an adaptation that showcases familiarity with a twist of … revenge.
The story focuses on the life of Estella (Emma Stone), a young woman who faces many obstacles to become, Cruella De Vil.  Within the world of Disney, there has been a major push for live-action adaptation.  The recycling can bring about a mental fatigue, but the promise is spinning the familiar through different means.  With this story, the directive was to not retell the animated 101 Dalmatians, but to focus on the villain's origins.  In the beginning, you have the basic introduction to the main character.  You get a slow build of scenes (with voice over).  It is a linear progression of Estella's birth, childhood, affinity for fashion and foreshadowing of the classic caricature.  Even when certain things feel forced, there is enough character progression and difference that build towards something anew.  After tragedy strikes, the story flashes forward.  We find Estella is living in London, running petty crimes with her companions, Horace (Paul Hauser) and Jasper (Joel Fry).  Through some convenient plot devices, she becomes employed at a famed clothing company, leading to her interactions with The Baroness (Emma Thompson).  This relationship adds credence to her character growth, as the conflict of thoughts, ideas and truths become a wavering between Estella and her inner demons.  As they build a closer bond, scenes and circumstances creates some heavy turns of drama, blunt humor and plot revelations.  This leads to a shifting of tonal presence, moving the theme from origin to a revenge tale.
Shifting tone invigorates the overall journey (of the film).  What happens is a movement away from nostalgia, creating a unique spin of the familiar.  Estella begins to play a cat-and-mouse game with The Baroness.  This builds through some creative tension, character shifts and unpredictable mishaps.  The fun and folly blend within a sinister motif, creating a roller coaster of excitement.  As things begin to reach it limits, this leads into a final path of ultimate truths.  As further things become revealed, Estella continues her change into the titular character.  As we are leading to a final confrontation, this is where origins and revenge becomes something of its own delight.  With Cruella now faced with the ultimate challenge, this creates a climax of full transformation.  Cruella is a Disney Live-Action adaptation spins the familiar with a different kind of fun.  If you are a fan of the property or those involved, this is one for you.  It is available on Disney Plus, but it is worth seeing at the theaters.         
Full Score – 3.5 out of 5 (Matinee)