Frank – 3.5/5 – Movie Reviews by Ry!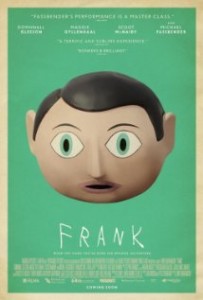 Frank – 3.5/5 – Indie films are some of the most inquisitive kinds of stories told on the big screen.  Through all the mesh of common genres you see (action; drama; comedy; romance; blockbusters) Indies always have that unique charm.  That charm comes from the storytelling and characters.   Frank is that Indie film that builds upon those traits, leveling it within its own kind of quirky world.  A tale that is strange in nature; Frank is a film that comes to be something heartfelt through its raw ingenuity of the journey of the cast's musical endeavor.
Premise:  A young musician gets drawn into an eccentric pop-band lead by an odd man known as Frank.
At the heart of this film are the characters.  In the main cast, you have some very notable names:
Domhnall Gleeson as Jon Burroughs
Scoot McNairy as Don
Maggie Gyllenhaal as Clara
Michael Fassbender as Frank
The film is defined by these four characters.  In each of them, you are guided through a light of creative bliss; the art of being imaginative and real in nature.  The obliviousness is darkly humorous; but the actuality of their particular situations is created upon a layer of raw ambiguity.  Through their actions, dialogue delivery and musical quips, you feel their humanity.  There is a sense that they mask (sometimes literally) the hardship of their own personalities and bring out a sense of fervor through music.  No matter how basic or deep they are on screen; each of them gives you a unique, raw and muti-layered character.  Each of them compliments each other, and makes their journey feel very original.   With the secondary cast, you do have extra band members and mostly side characters that come in contact with the band.  Each of them helps add to the colorful flavor of this film.  The one obvious notion (for all the cast) is a real lack of character development.  For all the fun and whimsical strides they make in their interactions, you never are completely gripped to certain 'purposes' each of them show along the film's running time.
The direction of this film isn't clearly defined under one banner.  On one hand; at its core it is about the ideals of self-discovery.  On the other, it doesn't go along the path of typical storytelling.  It takes the typical three act model and molds it within a 'musical journey'.  The film starts off with an on look into the life of Jon Burroughs.  He is someone with a typical humdrum career, who finds some light in his life within the little bit of musical creativity that he is able to do.  Through the predictable plot device of 'fateful chance'; he comes in contact with an up and coming band, led by the enigmatic Frank.  From here; the journey takes off for Jon, Frank and the rest of the band.  From here, the film revolves around the strenuous task it takes to make an album.  In this, we also get to see that kind of toll it will take on each of the character.  This rocky start is very prevalent at the beginning; through the combination of the new guy (Jon) and Frank's antics in the development of the album.  There is something vividly 'real' you find in each of the characters during this process; a genuine feeling that opens the door to their obvious flaws to their humanistic qualities.  In these flaws, you get a hazy but vicarious context of 'social' norms, as well as conflicts when you have strong personalities under one roof.  There is a lot of satire in this film.  Most the time, the darkly humor melds well within its context; but it does sometimes make it hard to comprehend what is going on.  This complexion is drawn out by the character's interactions and their musical quips.  You see situations of folly turn whimsical, and humdrum scenes quickly turn quirky.  The mixing of tones creates a strange trip, where the odd nature grows on you and becomes wildly entertaining.  You honestly have no idea what each of the characters are going to do or where the film is going next.  Once their journey heads into its final act; it all comes about face when all the characters (mainly Frank and Jon) are pressed into action and must show their real cards on the biggest stage of their careers.  They are all forced to learn what their real 'self-worth'; as that arching tale of 'self-discovery' rears its head.  Once the film winds down into its epilogue, it all comes full circle through the music.  In this, we see how the oddness that forms each of the characters is also what makes them stand out together, as normal as they can be sane.  No matter how quirky the journey is; it is through music that makes them feel as real as if this was our own journey.
The visuals are of simplistic mantra; but the obvious stand out is the titular character of Frank.  He wears an oversize head; and never takes it off.  The films plush nature is placed against this 'ominous' figure, creating something ironically real.  The music is very subtle, but it does make its notion felt when the characters (themselves) play songs.
Frank is a film that is odd, unique but simply entertaining.  From the awesome characters to the original storytelling; you will not be disappointed in watching this film.  If you're a big fan of Indie flicks and the actors/actresses involved, I recommend this a buy.  You will be in for a musical ride.