How To Train Your Dragon 2 – 4/5 – Movie Reviews by Ry!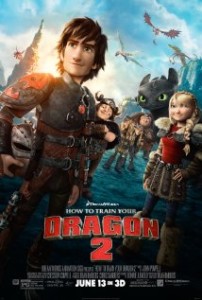 How To Train Your Dragon 2 – 4/5 – When it comes to CGI animated sequels, they are created for one of two purposes:
Money grab for the studios
Progression of the film's world
The notion that any film is made to make money is a given fact, but there is also a warranted fact that you can make sequel with a good story; and the money will follow.  This sequel does just that; creates a progression of the world that will bring in the audiences. Not only is this a good film, but it provides enough moments to make it a standout story that all ages will enjoy.  How To Train Your Dragon 2 is a great film for the family; as well as a welcome addition to this world of Vikings and Dragons.
Premise:  In a world where Humans and Dragons exist; HIccup and Toothless must fly to the farthest reaches to not only find themselves, but protect those they love.  A journey build from the heart, Hiccup will learn what it means to be strong.
Voicing the main character of Hiccup is Jay Baruchel.  In this returning role; he provides insight into a character that has grown over the past five years.  Here, we see as Hiccup has come into his own as a Dragon 'master'.  He has great knowledge of what Dragons are, as this trickles down to the people he lives with at Burke.  Along with this, you also get to see typical angst found in a maturing boy.  This causes a conflict of his passions to be free, but also trying to fulfill his role as 'chief' for his father.  This conflict is humbling at the core, and you get a sense of these troubling feelings in Hiccup.  His own personal battles within brings out struggles that lead to dire circumstances for the rest in the film.  It is welcoming to see this growth in Hiccup; a good acknowledgement to Jay's emotional portrayal of the character through his voice.  With the rest of the cast, you have as followed:
Cate Blanchett as Valka
Gerard Butler as Stoick
Craig Ferguson as Gobber
America Ferrera as Astrid
Jonah Hill as Snotlout
Christopher Mintz-Plasse as Fishlegs
T.J. Miller as Tuffnut
Kristen Wiig as Ruffnut
Kit Harington as Eret
Djimon Hounsou as Drago (Villain)
Very well known actors/actress; they all provide just enough personality to make their characters stand out from traditional archetypes in these CGI films.  Everyone has a raw vividness in the film (including the villain), as you feel their purpose throughout the story.  One standout from the group is the villain Drago, portrayed by Djimon Hounsou.  He is a deeply vile human, but one that has the own history to back his decisions and purpose for his 'Dragon army'.  This causes a true conflict; one that provides a real test to Hiccup's own morals.  In providing a real authentic person for a villain, he gives the film a layer that is beyond the traditional 'evil' archetypes; someone that you can understand even if you detest his decisions.
The direction of this film has a very straight forward focus.  In the beginning, you get your typical 'reintroduction' to the characters from the first film.  This is brought on through the colorful set piece of action and over-the-top dramatics.  We see that everyone has comes to terms with dragons; learning to co-exist with them.  From this reintroduction, we also see as Hiccup and Toothless fly far from their homeland to explore the world.  This is where we see a progression/build-up from the first film, as we get introduction to the new characters, places and threats for the Burke and the Dragons.  From here, we also get to see the conflict between 'father and son' with Hiccup and Stoic, which has elements of 'becoming a man' themes.  You see as Hiccup begins to have conflict of his own morals with his father's (Stoic) own ideas of protecting the people of Burke.  This personal hardship, combined with the new threat from Drago and his 'Dragon Army' provides layers that begin to have strong ripples throughout the story.  Without spoiling the enjoyment, the movie moves into a place where only Pixar and the most recent Disney films have been able to do.  That place is one where the unbelievable finds a 'humanistic' side for the characters; where the film finds the place of where it has heart.  Once that happens, the film becomes to trail from its linear direction; leaving you to experience more emotional aspect of Hiccup's journey.  In it all, you get very strong heartfelt moments, pulse pounding action, and a triumph that hits you at the core.  Once we get to the climax, you see how conflict matures Hiccup, and his real purpose is in the same things he has been chasing all along.
The visuals of this film are some of the best CGI I have seen in a while.  The cinematography is very grand and massive.  From the panorama views of the world, as well as the creation of the action scenes between the attacking armies and dragons; you feel the power of the imagery.  No matter if something is as powerful as clashing dragons, or as poignant as a rekindling of lost memories, you feel every inch of what you see.  The added element of 3D also helps create a 'believable world'.  The 3D is not gimmicky, and has real immersion for a complete experience.  The music is good (for the most part) but this is the only part of the film that feels bland.
How To Train Your Dragon 2 is a worthy sequel.  It has great visuals, maturing characters, and a story that will hit at home.  If you're looking for a good film to see with the family, this is one for you.  Everyone will enjoy this film, parents and children alike.