Licorice Pizza – Movie Reviews by Ry!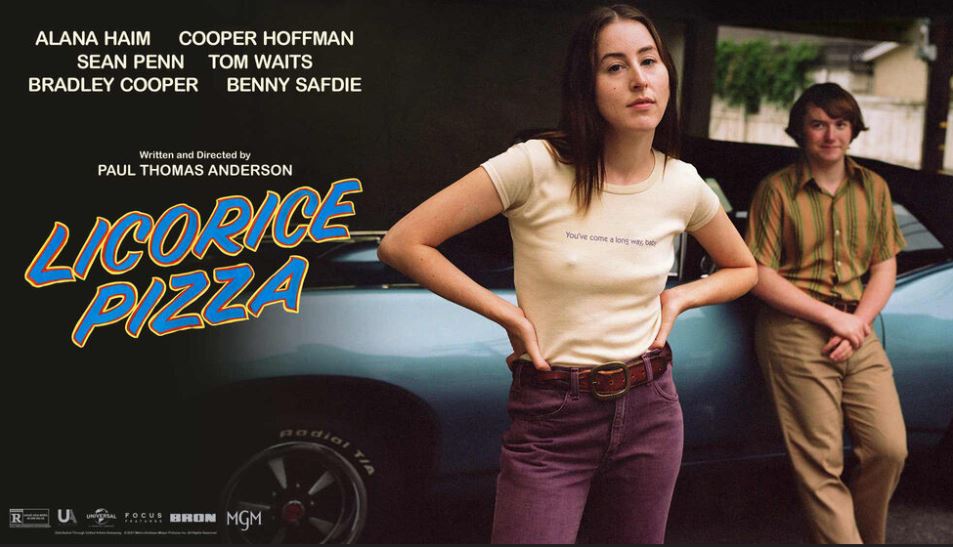 Licorice Pizza – Life and Love: Quirks of the 1970s
The acquiescence of life is full of unforeseen circumstances.  No matter what is around the corner, the inevitability becomes natural within chance.  From a quick hello to an honest look, seeing something endure can be the simplest string for an amazing tale.  In this review, I look at the latest film from Paul Thomas Anderson.  A person known for character driven stories; he creates one that pushes his creativity into a simple human tale.  A journey that amounts to many things, Licorice Pizza spins familiar notions into a tale of young love.
The story follows Gary Valentine (Cooper Hoffman) and Alana Kane (Alana Hamm), as they grow up in the San Fernando Valley.  Through their own choices, they slowly find meaning to their young lives.  The film's foundation is built around a strong character story that pulls from multiple themes (adolescence, young adult, coming-of-age, period piece).  In the beginning, you are thrust into the 1970s through the randomness of banter, conversations and smartly driven plot devices that introduce us to the main characters … Gary and Alana.  Through them, you get a mixture of oddities that create delightful interactions grounded in a human directive.  As you watch their budding relationship maneuver through everyday shenanigans, you get little reveals of their backstories.  Gary is a famous childhood actor looking for something genuine, and Alana is a young lady trying to find purpose in her work.  Through these two threads, you have situational moments that build upon witty dialogue, unpredictable scenarios, and whimsical comedy.  Never too folly or serious, Paul T Anderson (Writer/director) provides a script that is strong in stringing hearts that are bound to the ideas of emotional worth and growing up.  This showcases the nature of innocence while also build upon the raw details of real friendship. 
As the story navigates the highs and lows of the main character's relationship, it adds levity to the idiosyncrasies that happen along the way.  From Gary's side hustles to Alana's family drama, it adds subtlety to their individual image.  This builds upon the onus of honesty, adding brevity to their end goals of what each wants from one another.  As things reach a certain level of ambiguous intent, new characters (and interactions) add credence to the virtuosity of their own guise.  As things become a bit fragile, human discourse brings about a reflection of consequence.  This leads into a third act that levels out meaning of choice, providing an uplifting climax that showcases the joy of growing up.  Licorice Pizza is a indie/drama that showcases an honesty of life, love and growing up.  If you are a fan of the director or like simple human tales, this is one for you.  It is a fun time at the theaters.    
Full Score – 4 out of 5 (Full Price)