Logan Lucky – Movie Reviews by Ry!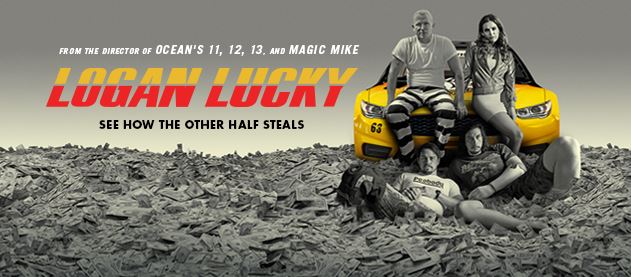 Logan Lucky – Luck of the Draw: A Brother's Heist
It all seems natural, the plan in your head.  You have everything mapped out, hoping that everything will fall into place.  For all that planning, the unexpected happens.  Within the moment, folly of circumstance takes over and you rush to complete the task before it is too late.  That adrenaline of completion is what you feel with a heist film.  That feeling, no matter the setup, is what will make or break the journey.  In this old school rewind review, I look back at a film that presents the question, can the ultimate heist be pulled off?  With strong characters and a unique premise, Logan Lucky is a film that brings genuine fun to stealing it all. 
Against all odds, Jimmy (Channing Tatum) and Clyde (Adam Driver) Logan plan to pull off the ultimate heist during one of the biggest events in NASCAR, the Coca-Cola 600.  The beginning is a basic setup for the central storyline.  You have the introduction to the Logan brothers.  Jimmy and Clyde have been stuck in the same place in life, with hopes of something more.  After a certain incident (plot trigger), Jimmy decides to enact a plan that will solve both their problems.  He plans to rob the vaults at the Charlotte Motor Speedway.  This leads into the basic 'planning stage' before the heist.  From the material gathering, schematic layout to the expositional conversations, the web of pieces creates the illusion of the perfect robbery.  The bulk of the journey is predictable, but the endearment of the character dynamics and unique premise helps propel realism within the familiar.  You get a mixture of 'matter of fact' characterization within blunt humor.  This allows you to see them as they are, pushing beyond the common representation of their archetypes.
Once the heist is in the forefront, the perfect plan starts to unravel.  As is the case, improvising is key.  Even as conveniences are placed to move the plot along, the genuine interactions and subtle hints of red herrings keeps the puzzle from being completed.  There is a general sense of knowing the obvious, but how the pieces come together will bring the audience to the edge of your seat.  As the Logan brothers get to the end, the unexpected leads to a plot twist that drives the story into uncharted territories.  In the third act, the film showcases a genuine feel, pushing forward into a believable 'pulling it off' climax.  Logan Lucky is a heist film that creates a unique premise in a recognizable outline.  For all that you may see coming, the journey and character dynamics will help create something fun.  For anyone a fan of heist films and like to see it in a different sandbox, this is one for you.  Definitely worth checking, worth seeing at a matinee.   
Full Score – 3.5 out of 5 (Matinee)