Mamma Mia: Here We Go Again – 3.5/5 – Movie Reviews by Ry!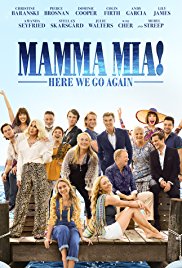 Mamma Mia: Here We Go Again – 3.5/5 – Musicals; they are defined by spectacle.  No matter the era, story or characters; the sensation of songs is at the heart of a musical.  In that trait, you understand what will be presented is dictated by the music.  Mamma Mia: Here We Go Again is a sequel that flushes out more detail presented in its predecessor.  With the use of an unusual technique, this film provides the musical quips and story you would expect.  Even with some predictable plot elements and unamusing singing moments, Mamma Mia: Here We Go Again is a musical that starts off slow but ends on that high note you came to see.
Premise:  As Sophie prepares for the big day; we dive in to the past of Donna and how everything came to be.
For a list of the actors/actresses, please refer to the film's IMdb Page.  With some new comers, all the previous cast members return for the sequel.  Within the reprised roles, you have a set base of who's who and what their purpose is within the story.  This expected detail allows them to provide the same laughs, joy and splendor you enjoyed in the first.  Even with that welcome note, there is a lot of obvious detail on some characters not being as strong as others.  This creates a contrast in duets and solo moments, providing that line between the singers and non-singers.  The ones that have strong charisma are the two main characters:
Amanda Seyfried as Sophie
Lily James as Young Donna
These two are the heart of the film, providing staunch, strong but layered individuals on screen.  Being those anchors, Seyfried and James command the past and present timelines that parallel a distinct emotional thread that is enticing within the dramatic and singing portions.  The mastery of characterization while providing spectacle shows how Seyfried and James are queens of their craft.
The direction follows a linear path with paralleling timelines.  The director utilizes the two leads with stories that are linked by similar journeys:
Present – Sophie is opening the Hotel (per her mother's wishes)
Past – Young Donna (Sophie's mother) travels to find her place in the world.
With the link being the mother/daughter dynamic, it creates a sandbox where themes of family, purpose and self-determination molds the 'who, what and why' plot devices.  This also creates a place where the predictability of songs, dance sequences and colorful antics become repeated outline material.  This creates a first half that is littered with cheesy, cliché but honest reflections of their journey.  Even in that one-note aspect, you still understand it is 'their' world.  Knowing this creates a balance between the simplistic rehashing of prior elements and humanistic detail that is raw and pristine.  As we watch the Sophie and Young Donna's stories unfolds, it jumps at certain moments between them to create a sense of how 'convenience' of typical plot techniques play perfectly to 'memories' of daughter to mother.  This allows for most the flaws to become another layer of enjoyment.  This story might not be original, songs might be repeated and dialogue might be laughable at times, but the heart of the experience is how ABBA's songs are endearing on a human note.  In that, the film becomes more than just redundancy but a jukebox of life.  As the story unfolds, it leads to moments of celebrations for Sophia and Young Donna.  As circumstances turn fate towards positive signs for the two, it leads to a climax that is the definition of life and endearment.  Once the epilogue hits, it adds a kind of 'final hurrah' that leaves you with a smile that you didn't expect.
The visuals are strong, but underused.  With landscapes of Greek islands and a 'small town' appeal of Europe, the lush colors and authentic appeal becomes lost in the singing and dancing.  At times it is disjointed with the 'emotional' tones of the characters, but it doesn't completely ruin the experience.  Being a musical, the score is all about the execution of singing.  With a soundtrack that is all ABBA, it provides a karaoke sense of appeal, creating a fun atmosphere for the audience.
Mamma Mia: Here We Go Again is a musical that hits a that right accord of enjoyment.  By not going to far down the cliché angle, it adds another wonderful journey of ABBA songs for a niche audience.  If you're a fan of their songs or like Musicals, this is one for you.  It is a fun time at the theaters.