Million Dollar Arm – 3/5 – Movie Reviews by Ry!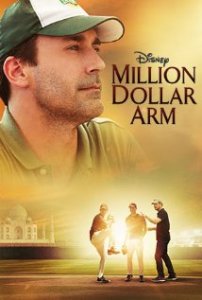 Million Dollar Arm – 3/5 – This is a review for a film that came out early in the summer.  This is a movie that you would call a 'feel good' story.  Like any feel good stories, they usually involve a lot of typical tropes that involves clichés trips dealing with family, life or love.  Even if a feel good film has these commonalities, they can still be enjoyable.  Million Dollar Arm is one of those films that has all that you would expect, but it is something you can enjoy watching nonetheless.
Premise: With one last push; JB must find his prize in India.  Can he find a baseball player in India, and also find his true purpose in life.
The cast consist of the following:
Jon Hamm as JB
Pitobash as Amit
Suraj Sharma as Rinku
Madhur Mittal as Dinesh
Aaif Mandvi as Aash
Lake Bell as Brenda
Alan Arkin as Ray
Bill Paxton as Tom House
There are plenty more littered throughout, but these are the notable for the story at hand.  There really isn't much to talk about these characters as 'separate' descriptions, so I'll be describing them as a whole.  As a whole, the cast does a good job in creating a 'familiar' sense to the film (since most of it takes place in India) and brings about subtle purpose for everyone involved with this story dealing with finding a baseball player in India.  Everyone from the lead (John Hamm) to the boys learning baseball (Suraj Sharma and Madhur Mittal) and the supporting cast, it's a good mix of wholesome characters, typical archetypes and embracement for the audience.   Even when you have the cliché love interest (Lake Bell) and the hardy sidekick partner (Aaif Mandvi) it is alright for this kind of film; as it plays to a positive tone.
The direction is as predictable as any feel good story you would have seen.  You have everything in the bag that comprises this film:
Premise with a 'catalyst/motive'
The overarching plot involving either family, life or love meanings
Failed attempt with an epiphany
Second/triumph moment
The premise builds off the following: JB is on his final leg of being a sports agent and needs to find one last thing to keep his business a float.  After seeing cricket on TV (Catalyst) he builds off that as a motive to finding a baseball player in India.  As the story evolves, it moves from this stationary point and we are brought into 'paralleling' stories.  One that involves the boys, Dinesh and Rinku, as they become the Indian plays trying to fulfill a dream; and the other involves JB trying to find his purpose with these boys to be 'successful' again.  As it goes along, the film is very predictable, with the expect lines of 'motivation' and 'hard work' pushed through.  The film never gets boring (like other feel good stories) because of a particular factor.  That factor is the 'familiar' sense of everything.  This helps keeps the story grounded throughout the experience.  You become 'part' of this make shift family, and want both the boys and JB to succeed.  As the film moves into the critical points of the second act, we get to the point where everything boils and we have the 'failed attempt'.  Here, all that are involved (mostly the boys and JB) have an 'life changing' epiphany.  This causes for one final push to create baseball players out of them, with one 'final push' to get these boys a major league contract.  As the predictable 'ever after; ending brings the film to a close, you can't help but feel that seeing a 'dream come true' become 'heartfelt'; even if you've seen it numerous times.
For the cinematography, you get a mixture of 'home environments' from both India and The suburbs of LA.  Even if it isn't anything new, it still helps keep a family focal tone throughout.  That grounded tone helps keep everything on a single focal point.  The score is mute at best, but does help at the proper moments.
Million Dollar Arm is a film you've seen hundreds of times.  Even with all its predictable factors, it is a one that you can enjoy watching with families and friends.  Unless you're a movie collector, I'd recommend this a rental; great night for the family.