Mud – 4/5 – Movie Reviews by Ry!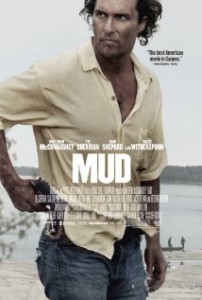 Mud – 4/5 – This is a movie review for a film that came out a few weeks ago.  The reason it has taken me a while to catch this film in theaters is that it's that time of the year when summer blockbuster reign supreme, and indie flicks stay in limited release.  This film, being an indie film, was given that 'limited' release.  Because of this, it took a while to get released to view in my area, but it was finally released in my area.  I can say that, the wait was well worth it.  Mud is a film that ties together great themes about love, friendship, and the ultimate truth of what all those mean when you're coming of age.
Premise: 14 year-old Ellis (Tye Sheridan) lives on a makeshift houseboat on the banks of a river in Arkansas with his parents.  One morning, he sneaks out with his friend Neckbone (Jacob Lofland), as the two boys set out to an island on the Mississippi River.  While on the island, the find footprints, and realize that they are not the only ones on the island, and run into a man, named Mud (Matthew McConaughey).  From this meetings, lives are changed, stories are revealed, and ultimately, Ellis and Mud will find out how to become, real people again.
In this film, the main characters of the film are three people; the two kids and Mud.  The two kids are Ellis and Neckbone, played by Tye Sheridan and Jacob Lolland.  These two young actors do a wonderful job in their roles creating typical teenage friends, coming up in countryside of Arkansas.  They create teenagers that are smart and witty; great representation of how kids of their age would act.  When they are together, their dialogue is superb because of the rawness of the 'down to the earth' feeling you get from it.  Additional layers in the characters are created through the emotional contacts they have with Mud, their family or others they interact with.  These layers help create a dynamic that feels very true in the eyes of the audience.  Through this dynamic, you see the curiosity of young adolescents as they are intrigued of the world and stories they come to learn, especially the stories behind Mud's past.  When it comes to the Mud character, he is played by Matthew McConaughey.  When it comes to this portrayal,  I believe that he gives one his best acting jobs to date.  As Mud, McConaughey brings us someone that is raw, riveting, but truly has a lot of scars because of his past.  Even for the fragility, he is still grounded in his own beliefs and emotions, defining a calculated but flawed character.  He never comes across as mysterious and overdramatic, but in his humility, you get a distinct aura about Mud that is intriguing to both the audience and the boys in the film.  He has a very lowly rugged mystique, but also provides a staple of hope in his straightforward charm.  Along with this individual distinction, his interactions with the two boys help create the complexities in his actions and performance on screen.  What you come to see that each of the main three creates an attachment of deeper bonds, helping create the emotions the audience feels, even if they trend towards commonalities to real life.   When it comes to the supporting cast, we have a few names that you will recognize.  We have Mud's long lost love Juniper (Reese Witherspoon), Ellis's mother (Sarah Paulson) and father (Ray Mckinnon), Neckbone's uncle Galen (Michael Shannon) and a few others.  These characters are genuine in their role, but aren't as superb as the main three. These people help add flavor to the story, as well as creating depth for the main three characters.
The direction of this film is a mixture of the 'coming of age' theme with the aspects of love and relationships.  In the beginning, we are introduced to Ellis and Neckbone, as they venture off to their favorite hideout on the island.  Here, they come across a mysterious man, who we come to eventually find out is Mud.  From here, we are scripted along a very delicate but simple direction, which weaves around the two boys and Mud.  We are shown how Ellis's life isn't as stable, but he has his best friend Neckbone, and also how Mud's own personal matters intrigue the boys.  Through this intrigue, we are introduced to the 'coming of age' scenario.  Even this is a theme that is used many times, but here, it is layered among two people, and build off both Ellis and Mud.  Ellis is lost in looking for true purpose to love in his life, and Mud is looking to redeem himself through love for his life. This intertwining of both situation helps create a dynamic between these two that is sincere.  The growth that you see in both characters is very common, but it is the way that it is portrayed here.  Through the use of simple direction, surrounding score and modest tone, the feelings towards 'everyday' situations helps create a bond that is real to the audience.  The slow buildup in this direction creates an atmosphere that you are watching yourself learn a 'life lesson' about relationship and love.  When you find this revelation, the scenes begin to pop out emotionally, the dialogue becomes riveting, and the characters are not fictional, but actually people.  As the movie progresses through these themes, more information are revealed about Mud, and Ellis must react and counter to these 'truths', and is Mud still worth helping.  Even when scars are revealed, he still helps him, because he sees something of a reflection in Mud's story, as it helps evolve his own life, as he grows mentally and emotionally in his own personal relationships.  When the climax hits, some twist help keep you on the edge, but the ultimate end is a relief, and a 'lesson learned' kind of feel.
The visuals of the film are astounding in its simplicity.  With a look at common living in the south, it helps create that 'normal' feel, bringing to light something that is existent, even if it's fictitious on screen.  From the country towns, swamps, rugged clothing and the Mississippi river, everything just shouts 'everyday' living.  The score of the film is grounded in this 'realness' as much as the visuals.  The music helps create an encapsulation, which draws you in and holds you emotionally till the end.
Overall, Mud is a wonderful film that delves into common ideals through the virtues of love and relationships.  With great characters, a smartly script and a focused direction, this is an indie film that should standout as it own blockbuster.  If you're looking for a great film to see this summer, this is one for you.