Nebraska – 4.5/5 – Movie Reviews by Ry!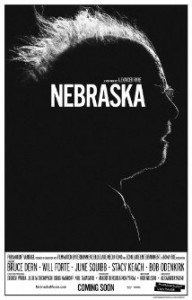 Nebraska – 4.5/5 = This is a review for a film that came out a few weeks ago in limited release.  It took a while to get a full release, but I am glad I got a chance to watch this film.  This is a movie directed by Alexander Payne.  Known for films like The Descendants and Sideways; his films are known as ones worth seeing.  He stands out because of the simple direction he takes to bring out the depths of his characters, stories or themes, creating a film that is a marvel beyond its own premise.  This film is no exception.  Straight to the point; this is one of the best films ever created by Alexander Payne, and worth its Oscar nomination.
Premise: An aging, booze fueled father decides to make a trip to Lincoln, Nebraska with his estranged son to claim his supposed million-dollar Mega Sweepstakes Marketing prize.  In this travels, a connection starts to come through, and the true winnings will be defined in this journey with each other.
In the main role of old man Woody Grant is actor Bruce Dern.  In the role of an old man coming into some 'success'; he provides an individual that's complex, endearing and stern.  Most of all, Dern does a great job in creating a person on screen, someone that you feel for without no question.  You gravitate to Woody Grant because of his touching delivery and interactions.  This creates an emotional depth that is without a doubt; believable.  You feel for him being caught in this fantastical winning, but at the same time see a deeper reason into why he is chasing a dream that may or may not be true.  There is no shade of giving away his true purpose, and the bluntness of his mentality helps create a character that feels like he could be your own father or grandfather.   Opposite him for most the film is his youngest son, David Grant. He is played by Will Forte.  If Bruce Dern gives a standout performance as the lead actor, Will Forte does the same in this supporting role.  As David Grant, you see that his whole life outcome is a side effect of his father's raising, and you see this in their fragile connection on screen.  His subtle behavior and 'low-key' mentality helps create a yearning complex; which helps add a greater effect to the 'father/son' dynamic.  You see that their relationship is both fruitful and realistic.  That helps create a bonding, something that is charming to see.  Their lines are very straight-forward, but that helps in the believability factor.   The rest of the cast goes as followed:
June Squibb as Kate Grant
Bob Odenkirk as Ross Grant
Stacy Keach as Ed Pegram
Mary Louise Wilson as Aunt Martha
Rance Howard as Uncle Ray
There are a few other people in this supporting cast, but they all not as important as the above notables.  These supporting characters help provide a wealth of entertainment and conscious feeling of family and friendship for the film.  This helps create a deep contrast and guile, where the supporting characters are more than just part of the plot, but actually feel like real people.  Beyond just being a fixture in the life of Woody and David, they provide a sentient feeling for the movie, helping creating that whole grounded sensation that creates an emotional pull within the film's journey.  The lines from these characters are slick and witty, and the whole encompassing aspect of the human personality and the complex of trust, family and connection a person has with one another.  If not for some cliché character styles with the aloof cousins, the supporting cast would have been perfect across the board.
The direction of the film is one that is beyond the use of describing in the traditional sense of themes, styles or general progression.  You have a standard 'beginning, middle and end' like any kind of storytelling, but this (like all his other films) are made with a sense of gravitational pull towards the heart through the use of slick dialogue, deeply involving characters, and the laying dark satire on top of generalities of either the human complex or 'modern day' society.  From the beginning of this film, you get a sense of a 'journey', but at the same time feel there is deeper meaning to the 'father/son' connection between the two main characters.  Woody Grant gets a letter in the mail that states he has won a million dollars.  He is so sure of this, that he cons his son, David Grant, into dropping everything and taking him to Lincoln, Nebraska to pick up the winnings.  From the get go, you are entrapped within the world by these two guys, and their own relationship.  You see that there is some kind of disconnect between them, which is caused by the current situation and their past.  Because of the weaving of a harsh childhood, bad memories and familiar ties, you grow fondly for these characters, becoming part of their journey.  Along the way, the dark humor gets mixed wonderfully in the dialogue, causing a subtle effective.  Also you get introduced to some of the supporting characters, which help bring profoundness to the film.  As they make their way to Lincoln, more truths come out, adding another complex situation when they head to Woody's home town of Hawthorne.  Here, you see how his 'fantasy' has a deeper affect on this town, showing us deeper themes of a social complex with the blindness of humanity.  You see this in how this town becomes enthusiastic by this man's dream.  Here, you begin to witness a rippling effect, as this dream is shattered by truths that should have been left untouched.  The dark satire digs deep, as characters grow with a real definitive purpose.  All of this is done by the great direction of Payne, as he grips you by the dialogue, and sensationalizes through the contrasting of simple aspects of each character and their interactions and monologues of sorts.  The strength in this irony helps bring principle, as the film's overall enjoyment is drawn from this indifferent complex.  Once the film get's into the third act, all revelations come out, and everything from Woody's fantastical winnings, the 'father/son' connection and the 'hometown' aftermath comes to one conclusion.  That realization helps bring an end to both their journey and yours.  The poignant reality that this film presents helps create a medium that is enthralling and entertaining, one of the staples of Payne's direction.  This helps puts the film in the top echelon of timeless films.
The cinematography of this film is beyond amazing; and the greatest aspect is found in the fact that it was shot in black and white.  With using this style, it helps add profundity to the rawness of the film's environment, especially as it puts it focus on the two men and Nebraska.  You see how the film is brought out by single shots, stationary aspects, or usage of 'general' places of normal folks to create a place that feels authentic.  The simple aspect of this reality, added with the black and white, creates a style that is unique, endearing and plausible.  The score sticks to the overall 'simple' direction and grounded visuals, helping add to the intrigue of the film.  Another strike of color is added with the music, it vibrates throughout the film in a delicate fashion.
Overall, Nebraska is a film that is just plain great.  It has a fantastical cast, a moving vision, and an overall experience that is hard to define as one general thing.  If it wasn't for the typical archetype cousins, this would have gotten a perfect score.  Even so, this is a film worth watching, and one you will be thinking as a timeless classic later on.