Persuasion – Movie Reviews by Ry!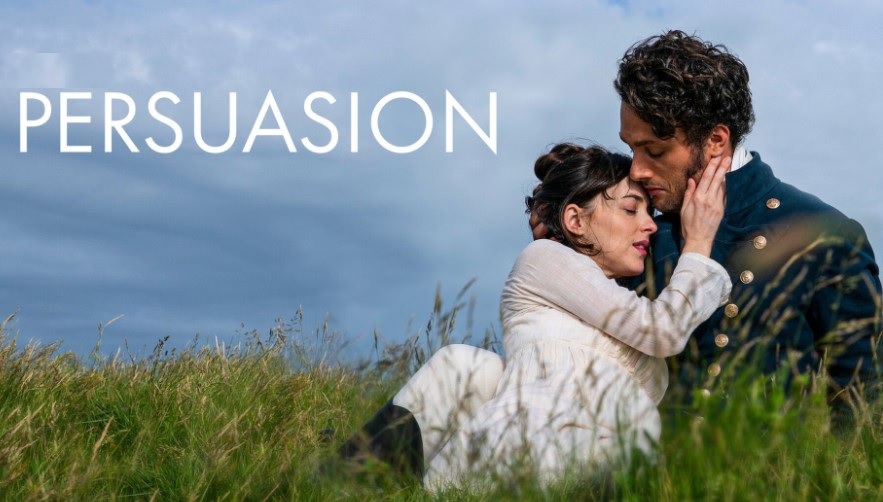 Persuasion – Love and Memories: May I Feel it … Again?
When it comes to film, one of the big things I look forward to is that genuine escape. No matter the genre, there is a sense of wanting to feel a part of the world. Through all the intertwining strings, you hope for that awe and wonder of the journey. It is with hope that, with the escape, there will be enjoyment. In this review, I look at the latest Netflix original. An adaptation from one of Jane Austin's Novels, this story takes us on a journey of uncertain outcomes. With intuitive situations and fun characters, Persuasion is a familiar romantic tale that becomes an enjoyable escape.
The story follows Anne Elliot (Dakota Johnson) who is forced to end her relationship with a British sailor, Wentworth (Cosmo Jarvis).  Eight years later, fate brings the two together in different circumstances.  As old emotions return, will they be able to get together or move on for good?  The outline builds out a romantic tale within a period piece.  We are introduced (to this world) through a narrated prologue that details the break-up between Anne and Wentworth.  From this point, time moves forward to find Anne (through the drop-in method) is living at home, single and dealing with the crazy antics of her family.  Through familiar motifs and an interesting use of '4th wall' breaking, the first act introduces us to a world that blends modern-like narration with witty dialogue, abstract humor and odd like situations.  That sense of modernity provides a welcome contrast to the setting, giving us colorful delight to common tropes and archetypes.  As domino's fall (for the Elliot family), we head into a second act where Anne moves in with her younger sister's.  Through more convenient plot devices, we are re-introduced to Wentworth.  Once the two characters meet (again), the journey begins to level out the generalities with folly romantic tropes.  The uncertainty of their initial interactions develops into a reveling of emotional relevancy, building up a journey into a path of an enjoyable escape. 
As Anne and Wentworth start to build another wholesome bond again, the typical melodrama is heightened above because of the situational humor and witty dialogue.  There is an uncertain feeling because of their circumstance, but that delicacy provides a sense of things not forgotten.  The evolution of the 'will they/won't they' motif might feel predictable, but the use of modern direction provides a colorful journey within the period piece setting.  As things come to light and both face an uncertain future, we head into a third act where fate and circumstance start to mold.  As certain revelations come to light, we head into that typical romantic climax that leads into a wholesome epilogue.  Persuasion is a romantic tale that mixes in modern sensibilities to create an enjoyable tale.  If you are a fan of period pieces or romance tales, this is one for you.  It is on Netflix, but this would have been a fun experience a the theaters.
Full Score – 3 out of 5 (Theater Discount)