Saving Mr. Banks – 4/5 – Movie Reviews by Ry!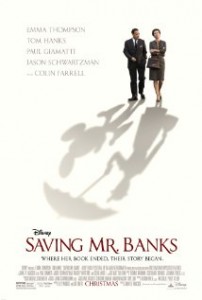 Saving Mr. Banks – 4/5 – Subtlety in the journey; that is the kind of statement I can make for this movie.  Going in, I had an idea of what to expect from watching this film.  The expectations coming out of this film is so much more.  The thoughts that swirl and the feelings that I have can't comprehend define how wonderful the simple touch of storytelling can be.  Saving Mr. Banks, for all its linear quips and general predictable progression, is an endearing tale of one's journey of capturing the essence of living.
Premise: Author P. L. Travers, the woman who wrote Mary Poppins, begins to reflect on her difficult childhood while meeting with filmmaker Walt Disney.  In this, a struggle over her book begins, and what she comes to learn is that even as things are dear to her, the adaptation to the movie screen will define not only a generate, but a true meaning to her love for her father.
In the main role of the writer behind Mary Poppins, P.L. Travers, we have famed actress Emma Thompson.  In this role, she gives us a grand of a performance as she creates a very auspicious, brute but deeply emotional layered woman.  In Travers, Emma creates a woman who holds very close to her novel 'Marry Poppins', and it shows greatly with her 'unwillingness' to change with some of the things she holds true within her writings.  Through her interactions and dialogue with the people she has to deal with from Walt Disney studios, including Walt Disney, you find a person who gives off a foreboding presence; someone who wears a mask of discomfort from feeling that 'hope' and 'happiness' that the whole world Disney provides.  In that mask, you see a woman that has tied her memories to this specific novel.  Because of her heart tied to this book, you find truth to her struggle with changing/adapting certain things to the movie screen.  The expressions she gives are very subtle, but the precision through those facial quips, dialogue and interactions (as mentioned above) helps defines her staunch personality.  Watching this helps build up her confliction in releasing the rights of her book.  With the layering and these humanistic creations, Emma Thompson gives a masterful performance as the main character.  Opposite her fighting within this 'tug-a-war' is Walt Disney.  He is performed by famed actor, Tom Hanks.  In more of a supporting role, Tom Hanks creates a whimsical but honest individual, one who is determined to get this movie version of Mary Poppins made.  You see, for Disney, that there is more than just a 'monetary' value to create this film.  That proof is his endearing purpose to provide quality stories for children and adults to feel hope.  He provides proof with his constant pressure that he puts on Travers to give him the rights (In a respectful way).  His dialogue is wonderfully enticing, creating an interaction with Travers that is real, relevant and all to acute in contrast of human's of opposite personalities.  In that contrast, you see that draw into believing in his purpose, which proves real trust that he will create a real human experience like Travers wants.  His performance is raw and revealing, helping show us what kind of man Disney was.  Beyond these two, the one role that seems to engulf the whole purpose of this film is the father of Travers, Travers Goff himself.  This role is performed by Colin Farrell.   If you were to say that the first two people do a great job in their roles, then you can say that Farrell steals the show with his performance of Travers Goff.  Colin Farrell creates a man who has a very imaginative aspect on life, but one that hides his flaws behind the fanatical for his children, especially his daughter.  As hard as he tries to be the best role model, you see he has flaws (like any human), and has an endearing flaw that slowly and gradually wears down his family and his own health.  Farrell gives a performance of a lifetime.  He creates a man who struggles to live straight, but one that never gives up hope or looses love for his family or children. He provides a stalwart of meaning, purpose and truth for his children, especially his daughter.  Even though she sees those flaws, he never stops loving or caring, giving all he can to be as good as a father as he can be.  Colin Farrell draws you in, and will break you emotionally.  This depth shows how great an actor he is, and how strong of an influence he was on his daughter (as she created the book based around him).  Outside of these three, the rest of the supporting cast is decent, but common to films like these.  Just to name a few of the actors/actress, you have:
Ruth Wilson as Margaret Goff (wife)
Paul Giamatti as Ralph (driver)
Bradley Whitford, B.J. Novak and Jason Schwartzman as Don Dagradi, Robert Sherman and Richard Sherman (film writers)
Kathy Baker as Tommie (Disney's assistant).
These actors/actresses create common characters that help prop up the progression of the film and provide general support to the main three.  They give serviceable performances, but ones that do not stand out.
As mentioned earlier, the direction of the film is very linear.  The film has a standard progression to move the story from beginning till the end.  In the beginning, we get a prologue scene, as we get to see P.L. Travers in both the present and the past.  In the present, we see the purpose of the film get introduced; which is how the creation of the film Mary Poppins came about, and tug-a-war between Travers and Disney with creative licensing.  You see that there is a lot of give and take on both sides, but you also see that there is a deeper struggle for Travers to give up on her stance.  Here, in that deeper struggle, we get to see the introduction to her past.  This past becomes the parallel story to the present, adding another flavor to the linear progression of the film.  In that parallel story, we get a glimpse into Traver's childhood, and the hardship that befallen her and her family.  With these two stories being introduced, you get a 'chronological' view of Traver's childhood, and how that parallel patches through the film's present time.  Here, you see how the 'memories' has an effect on the decision making, and how certain things shouldn't be changed according to Travers.  At pivotal points of the film, the memories help define a raw tone, one shows how those struggles are layered in present.  This reflection and counter method used in the direction helps add flavor to the linearity.  Within that flavor, the subtlety of the main character (Travers) begins to be built with the other two (Disney and the Father Travers) linking their similarities to purpose, hope and living.  That singularity for the characters is what draws the audience in, adding a real human element to the whole experience.  As this feeling kicks in, the moments start to build up.  Once this happens, there is a 'boiling moment', which drives a divisive dagger into both the past and the present.  This is when the film's predictably nature shows strongly, bringing down the emotional chord slightly.  We do hit the typical 'ultimate' conflict for the main characters, as you see they must confront their own demons, together.  In this final confrontation moment between Disney and Travers, you see how their stories become one single exposition on what is truly the reason behind living.  This is a very poignant moment, showing a hearty touch for the audience.  From here, the third act does trail back to being very predictable, but in that predictability, the film stays strong emotionally.  In the riveting 'premiere' sequence, you see as both people get their wishes, as the film shows true closure and meaning for not only the people on screen, but the people of the audience.
The visuals of the film are not the strongest, but the are good enough to show realism and structure to the process of what went into making the film Mary Poppins.  Also, in creating the '1960s', you get a feel for the time line that all of this is happening in.  The score is left in the background; having no real effect on the film's overall progression.
Overall, Saving Mr. Banks is a film that is the definition of subtlety in the journey.  The film takes a simple task of making a movie, and turns it into one that is an experience of family, hardship, love and closure.  You have some great performances, as well as an endearing story for one of the most precious films ever made.  If you're a fan of good cinema, this is one for you.  It will leave a magical stamp on your heart.