Sin City: A Dame to Kill For – 3/5 – Movie Reviews by Ry!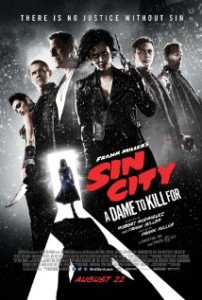 Sin City: A Dame to Kill for – 3/5 – This is a sequel to a film that came out a long time ago.  Being there is a big gap in waiting; one might make the assumption that the wait was way too much.  After watching it; it is a mixture of good film escapism with some aspect of gimmicky overplay.  Sin City: A Dame to Kill can be enjoyable, even if it feels like the wait wasn't worth it.
Premise: Basin City; a hard place to live in.  As we return to this dire place, we delve deeper into the corruption, dark and demented place we know as 'Sin City'.
Within the sequel, we have a very strong ensemble cast. Some of the talent is as followed:
Mickey Rourke as Marv
Jessica Alba as Nancy
Josh Brolin as Dwight
Joseph Gordon-Levitt as Johnny
Rosario Dawson as Gail
Bruce Willis as Hartigan
Eva Green as Ava
Powers Boothe as Senator Roark
These are the main players in the film.  No matter who we talk about from this list, they all do precisely what this film gives them to play with.  Each individual are 'over-the-top' representation of social parts of life.  They exemplify some aspect of social angst, speaking lines that show the loathing aspect of human nature.  What makes some characters stand out a little bit more (Ava, Johnny, Dwight and Marv) is how these actors/actress completely become engrossed within this world, providing standouts that make important points within the film.  They do a swell job to blend discrete personality with the cheesy dialogue.  Every other character, including secondary characters, is nothing more than 'fluff' for the saturation provided within the film.  They do enough to add a mixture of life within the depths of hell that is Sin City, but these other characters don't do much to add deep entertainment on the screen.
This film general define is known as film noir.  When a film takes on this depiction, it usually has two key factors:
An overabundance of dramatic elements
Hyperrealism extension for the story/direction
A film with only these two defines can have a distinct touch.  This astute factor helps create a better place for the audience to have the real feeling of escapism.  Outside of what makes this film a film noir, another key factor that plays into Sin City's personality is the 'multiple stories'.  Like the first film, this sequel has three intersecting storylines.  In each storyline, you do notice that there there isn't a point of emphasis on the depth of the story, but on how each story's intersection brings an element of what city is.  You feel the importance in the character's actions, as all comes to be a consequential point for each storyline. The chronological points help bridge both films sometimes, but there is enough to link the first to the second.  I will not go into much explanation of each storyline as it will bring spoilers to the forefront.   For all the positives in how each storyline intersect, the characters individualisms and how each defines the city's dark 'film noir' point of emphasis, the negative comes in the same overall tone.  You feel for most the film that this sequel is 'beyond its prime'.  For all the cool stylish aspects that define the 'underbelly of society', the over-exaggeration of the characters and 'over explaining' lacks any spirited depth.  That is one thing that was generated from the first film, and made it hide it's flaws as well.  Even for the average appeal, there is still enough here that keeps the film enjoyable, all the way through the final scene.
The visuals are truly an achievement on so many scales.  From the creation of the city, the usage of color and the character depiction, it is one to marvel about.  That 'awe factor' comes to a true definition here, as you are completely engrossed in the creation of this 'Sin City' world.  If the story doesn't play up to the dramatics, the visual do provide that element of depth and intrigue.  The one thing that stands out is how the usage of 'black and white' helps provide an emotive depth, especially when other colors are used to bring points of emphasize to the story at hand.  The score is another aspect that adds layers to provide entertainment, but it isn't as important in moving it along.
Sin City: A Dame to Kill For will appeal to those that believe in faithful adaptation of comics; no matter if it's the literal translation comic books or an adaption of the material for a sequel.  If you're a definite fan of film noir, the first film or comic books, this is one for you.  This is definitely worth a matinee watch, but nothing more than that.