The Edge of Seventeen – 4/5 – Movie Reviews by Ry!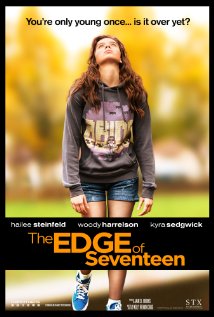 The Edge of Seventeen – 4/5 – Coming of age films are my favorite kind of films.  No matter what time period is tackled, these kinds of films will always pull at that nostalgia feeling.  No matter if its teen, young adult or even a group of people; these stories always hit at the heart strings.  There have been so many of these films out there, but there is always a few stand outs from the pack (The Perks of Being a Wallflower).  The Edge of Seventeen is a story based on that old age feeling of growing up, but one that is imbued with something more than just another generic teenage tale.  The Edge of Seventeen touches home on a personal note, no matter what the age.  In the end, it is one of the best coming of age tales in a while; one that will strike something for everyone.
Premise:  When her Best Friend begins to date her brother; Nadine's life spirals out of control.  With no one to turn to, she will have to confront a new path for her teenage/high school life.
At the heart of the film is the main teenage lead Nadine Byrd, played by Hailee Steinfeld.  She does an amazing job in exuding the angst, turmoil and anxiety that comes with being a teenager.  Full of random moments of love, anger and depression; she creates a complexity of a teenage girl that goes beyond the common clichés.  There is something deeper in her conversational approach to all aspect of life; one that draws fair dialogue that portrays a sense of growth and hesitation.  It is one that strikes the heart of a flawed individual.  Being more specific, she does all of the above when it comes to finding her 'true' self.  Through all the unwelcomed events, Steinfeld brings to the picture a raw and unrelenting individual whom stands out from the crowd that embraces a sense of loneliness that comes with growing up.  It is an amazing performance; one that touches your heart at its core.  With the rest of the cast, it is littered with known names and up and comers.  Some of the prominent roles are:
Haley Lu Richardson as Krista
Blake Jenner as Darian
Kyra Sedgwick as Mona
Woody Harrelson as Mr. Bruner
Hayden Szeto as Erwin
There are a few others, but these are the more standout from the secondary cast.  In short, these individuals do a great job in providing a believable world around Nadine Byrd.  What they do is help provide ancillary characters to the ongoing 'coming of age' story that surrounds Nadine.  They don't do more than what the script entails.  What this does is create a dynamic that is deep enough to care about them as individual.  At the same time, it doesn't push them past the line of being more than complimentary to main character.  This may help or hinder certain scenes, but in the end it really doesn't take away from the overall things the film is building on.
The direction starts from the basic outline of any coming of age film.  What happens is that there is a focus on linear progression and general characterization of the story.  What this may allow to happen for a better film to happen are two things:
A creative take on the coming of age tale
A change of scenario based on era and age
When given this avenue, most directors tend tackle the genre by the books.  Even so, there is always that often chance that one takes a story and pushes it forward with a focus on one of these two elements.  When there is a combination of both, it makes for a humanizing experience.  In this film, that is what happens.  With a focus on the life of Nadine Byrd, we learn how her current situation is built off many life mishaps.  This 'intro' is layered with the shadows of the common 'loner/outsider' concept.  This is further fleshed out by the awkwardness of her family and having a best friend and a single teacher to talk to.  After the common introduction and multiple layers, a wrench (plot point) is thrown into Nadine life.  This leads to a lot of unforeseen circumstances that drives this teenager up the walls.  As the movie progresses through the second act, the story boils down to the character itself.  We watch as the layers unfold in indifferent ways; with Nadine having to confront questions about love, friendship, family and anxiety.  The hardships of being an individual but never really understanding how to fit in comes to forefront for Nadine.  This 'spiraling out of control' ripples through everything in her life; causing a domino effect.  Through unforced circumstances, the audience is allowed to see the story unfold in a life like approach, allowing for natural occurrences to happen.  It is an up and down affair that becomes raw, emotional and relevant.  These elements are built through one main rod (the main character), allowing for all the personal conflicts to come out and needing answers.  It is a brilliant aspect to build towards; one that focuses on expositional and character plot points more than the common 'teenage' clichés and predictable 'love affairs'.  Allowing for the story to progress in a natural fashion creates a wave of originality in the experience.  Once all of the emotional turmoil hits its peak (in the third act); there is a high note of unpredictable twists that bleed across something new with the 'face the mirror' concept.  There is something deeper and poignant in how Nadine accepts what is true; having to confront the aspect of enjoyment beyond what is expected (and unexpectedly too).  Once the epilogue rolls, it is a blessing in disguise for all the characters in the film.  It allows for people to recognize fault, but provide a purpose of things to get better in the end.
The visuals are your common aspect of everyday suburbia.  There isn't anything that really stands out; and it doesn't really need to.  Keeping the general display of a 'real world' allows for the story to evolve with its character (as it should).  The score is a hit and miss at parts; but the music helps at the most important times.
The Edge of Seventeen may not be reinventing the wheel; but it does enough in its story breath a new feeling to teenage drama films.  The coming of age feeling is strong because of the great acting across the board.  I recommend this to anyone that are fans of coming age tales; and a good time at the theaters.  It is worth the full price.