The Peanuts Movie – 3.5/5 – Movie Reviews by Ry!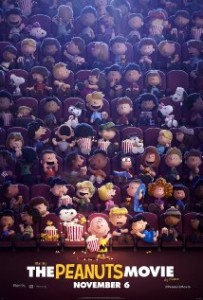 The Peanuts Movie – 3.5/5 – Nostalgia; it is a feeling that most have when it comes to something that pertains to something in our childhood.  It is this feeling of attachment that makes things blossom into something great.  Charlie Brown is a very well known character, one that has lived through many generations.  I was one of those kids that grew up watching, reading and being involved with the character of Charlie Brown and the rest of his companions.  With this film, you get a very strong sense of nostalgia; but also a whimsical tale about life.   Even with its very simplistic approach, The Peanuts Movie is a fun and filled adventure that will hit at the heart at everyone.
Premise:  With a new girl in town; Charlie Brown embarks on a new journey.  While be the clumsy good fellow; he will do his best to show this girl how much heart he has.
There is a long list with voice actors; I would recommend referencing the IMDB page.   In short, the acting is genuine to the characters.  You feel as if you're part of their lives; seeing and hearing the distinction in them throughout the movie.  You feel the heart of the characters; even if it's through just voice acting.  The purity comes in the most iconic situations, seeing reactions of humanistic overtures in an animated setting.  That 'down to earth' approach keeps you in the film; even through its simplistic direction.  From the iconic characters like Charlie Brown and Snoopy, to all the side characters like Lucy, Linus, Patty and so forth, you see strong individuals.  These individuals don't just act as plot devices; they have strong important to the story and the overall friendship with Charlie Brown.  There isn't much character development; as this film plays on the reliance that you know who these characters are ahead of time.  This might be a deterrent to some new viewers, but you will still be able to get a handle on whose who and what is going on in the film.
The direction of this film is one based on a formulaic thread.  You have the following:
Prologue – Basic introduction to the main and side characters.
First Act – Introduction to the plot, basic themes and side stories that evolve in the film.
Second Act – Iconic comedic elements combined with new dramatic situations.  Themes parallel the ongoing situation; predictable 'A to B' connection with plot progression.
Third Act – Retrospective moments combined with a 'lesson learned' cliché tone; Epiphany like climax with a heartfelt conclusion
This is the basic thread this film's story, script and characters play along.  In majority of films out there, this kind of approach would drown out the characters, hurt the plot and most of all, kill the enjoyment.  Being that this is a film that spans generations; it doesn't.  The irony is that this generic formula is what has always worked for this cartoon; and continues to work in this film version of the Peanuts' crew.   Simple, thematic and always heartfelt; these are the traits that are part of these tales.  What this film does is play to that authentic tale of being human.  It shows the flaws that we have as people, but also the heart we have when we are caught in the direst of situations.  We follow Charlie Brown and crew, as they have a new girl that joins their class.  Charlie Brown wants to show this new girl how great of a person he is; and not see him for his clumsiness.  Through the film, he tries his best to impress; with very lessen outcomes.  Through it; it is very predictable.  When a situation occurs, you can see what decision he will make a mile away.  Even so; that pure essence of 'doing right' and 'being good' plays strongly through the linear plot.  The film puts reliance upon us knowing what is right and good in ourselves, as much as what is going on screen.  We see that in Charlie Brown, his dog Snoopy and the rest of his friends.   Once we get through the bulk of the second act; you see very strong moral lessons are being taught through the imaginative world of this animation.  Just like the old cartoons and comic strips; the film plays that hearty tone; letting you feel the importance of being true and honest.  Once the climax hits; the outcome Charlie Brown had hope for comes to fruition, in a sense through the folly nature of his tale.  That smile you get at the end of the film is just as big as a smile you had when you were a kid.  Reminiscing even at an adult, this film will give you those goose bumps of a true 'feel good' story.
The visuals of this film are very strong and vibrant.  That sense of uniqueness comes through the approach of combining the 2-D elements of the old cartoon with the 3-D designs of today's CGI.  This combination with the simplistic use of cool like colors makes the film exude pure sensations through its visuals.  The imagination is fluid with the realism; making you harness a sense of escape while also feeling as if you're watching your own childhood.  The music is a great combination with everything in the film.  You have very strong ties to the old 'score' of the cartoon, while combining it with the current sounds of the new generation.  The score is kept at a simple thread, not being overburden but harnessing the emotions when needed.
The Peanuts Movie is one that plays along a very simple thread.  Even so, it is a film that plays to the hearts of many, and gives a strong tale of being true, heartfelt and always being yourself.  If you're a fan of the old cartoon; or want to bring your kids to something that will make them laugh and learn; this is one for you.  You will not be disappointed with Charlie Brown and crew.