The Perks of Being a Wallflower– 4/5 Movie Reviews by Ry!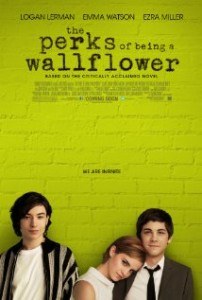 The Perks of Being a Wallflower – 4/5 – There are so many films out there dealing with the 'coming of age' theme.  A lot of these films tend to come across with very obvious cliché elements, and pretty much puts the main character in a place you thought he/she would be; becoming someone you didn't think they could.  When it comes to these kinds of films, they just fall to the wayside.  Every now and then though, there comes one of those indie movies dealing with that theme (Juno and Little Miss Sunshine) where it strikes a chord very subtlety at your core.  It makes you feel something from the beginning, and makes you become a part of the movie as till the end.  This is one of those movies.  Minus a couple of drowning sequences, it is pure entertainment; truly a diamond in the rough, and a dark horse for awards at the Oscars.
This movie (based on a novel by Stephen Chhosky) focuses on a 15 year old kid by the name of Charlie (Logan Leman) who is starting high school.  He is an endearing and naive outsider, who is trying to find his own little place in the world in high school.  Throughout the movie, he copes with his first Love (Emma Watson), the suicide of his best friend, and his own mental illness while struggling finding a place in this new group of friends who welcome him.  Through this time in the group, he is taking under the wing of Sam and Patrick, who welcome him into this new real world.   First off, I want to focus on the main character Charlie.  He is played by an up and coming actor, Logan Leman.  He does a fantastic job in this role, as he brings heart, charm and wit in very subtle depth.  His character comes across as a true outcast that you find in high school, but he does it without playing to the obvious cliché of the typical outcast.  He is a loner, enjoys writing and tends to listen to a lot of weird indie music.  You really feel for him being this outcast with his interactions in high school when he comes across the typical jocks and bullies.  When it comes to the high school cast he befriends; they tend to turn away from the obvious archetypes of the typical high school students.  Sam is played by Emma Watson (of harry potter fame) and Patrick is played by Ezra Miller.  Both do just as fantastic a job as Logan, and you see the same dynamic layers in their characters as the character Logan portrays.  They are weird, witty and comical in their fluidity approach to life.  Nothing bothers them, even as they are the same outcast to the high school scene like Charlie.  These three characters and their interaction is what keeps the movie in a very raw, but strong tone.  You see this movie become a very good character driven plot, as each of them grow from the beginning to the end of the movie, with their own confrontations they got to deal with.  You see the layers develop in each of them (from the highs and the lows).  In one of the evolving plot points (the flirtation between Charlie and Sam), you see them finding what love is and what love isn't, as you see the challenges facing both characters in being honest, but the tugging ultimately leads to what you think.  Being predictable doesn't take away from how charming and involving it is, and this shows you how good the movie develops into.  Ezra's character is an open, comical yet vulnerable character throughout the developing plot.   You see his issues develop alongside Logan's character, as it compliments and contrast what he is going through, and helps develop his own kind of strength of being himself.
The film basic premise is following Charlie throughout his first year in high school.  The director does great in this basic direction, as you watch him grow into his own, while interacting with this new group of friends.  This direction helps you follow Charlie as he comes out of his shell and confront a past that inflicts onto his mind, which draws deep levels into his mind.  The direction of the film is great with this past plot as it doesn't get too involving, but helps bring focus to the main character and story.  You see that he is trying to find something in this world that will help him survive his troubles, and dealing with this past is what makes every interaction and confliction in the film heartwarming.  By the end, he confronts the truths, and knows that even for the dark days of his past, he still has people that will care and a place where he can just be.  A very drawn out theme, but you are gripped throughout the film.  The score prevails alongside this developing plot, as it portrays a very affluent teenage culture.  It also does well in drawing the attentiveness from the audience, making you feel as if you are in the film.
Outside of the great direction, score and deeply evolving characters above in the three, the side characters do a good job in their roles complimenting the main and other two.  One of those roles is played by Paul Rudd. He plays Logan's English teacher in the film.  He plays the typical 'need advice' role, but it is done well and helps bring that layering to the main character.  Even in this small role, you have a very strong performance by Paul Rudd. The family is typical and the rest of the high school class of misfits do a swell job at providing an atmosphere to complement the direction of the film and a place for those three characters to develop.
Out of all the depth and everything great this film brings, there is only one thing that I could say brings the film down.  What it is, is that midway through the movie, Logan gets a girlfriend.  It shifts the tone of the movie dramatically, and brings an obvious stop to the direction of the movie.  This portion of the character's development felt unnecessary and didn't really bring any kind of depth to the character's 'coming of age' storyline.  If this was in the novel, that is fine, but it should have been cut out of the film.
Overall, this film is truly an endearing and raw story.  It is full of wit and charm, with many characters you love or hate.  You watch the movie as it develops around this kid Charlie, trying to find a place in this world.  He realizes his journey is long and troublesome, but dealing with your past and finding a place is truly rewarding.  Strong performances with a little bit of teenage drama and great direction creates a perky film (no pun intended).  Recommend going to the theaters to watch this, a good night out with friends or family.  A definite purchase on blu-ray when it comes out, I would definite watch this movie again.