The Unbearable Weight of Massive Talent – Movie Reviews by Ry!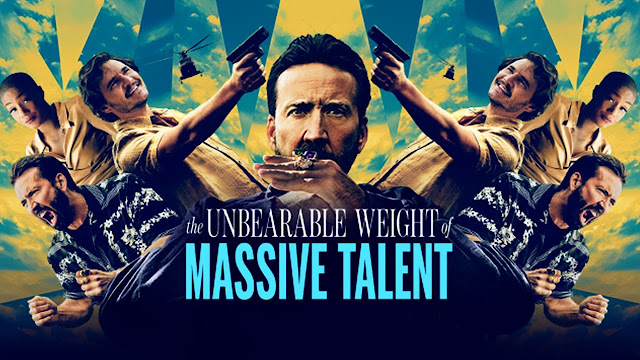 The Unbearable Weight of Massive Talent – OH MY: It is … NIC CAGE!!!!!
Within any idea, there is always a question of … will it work. In film, creating something unique is a challenge. To take that creative risk might hurt, but it also might be a triumph in the end. In this review, I look at a film that stands within the obscured. Mixing familiar tropes with satire, it is a journey that breathes life into self-reflection. The Unbearable Weight of Massive Talent is an odd but whimsical tale, one that shows what it means to be … Nic Cage.
The story follows the famous actor, Nic Cage, facing uncertainties in life.  With no where to turn, he must take on a journey that will define the man, the myth, the legend.  From the beginning, there is this actualization of a unique take on the idea of self-reflection.  The filmmakers tackle this idea through the characterization of Nic Cage playing himself.  This unique blend of realism within conceptual appeal lays the foundation for a conspicuous journey of truth and comedic aesthetics.  We are thrust into his life through the 'drop-in' method, watching how he struggles to stay active in acting and committing to his familial responsibilities.  These scenes play out through whimsical banter and folly elements.  As certain aspects of the film feels tropey, it is designed like this to place types against reality, making the surreal believable through a natural aesthetic.  As Cage stands at a crossword, he decides to take a million-dollar gig and attend a lavished party for a prominent European billionaire, Javi (Pedro Pascal), who is also a superfan.  As the story shifts settings, it moves through slapstick/silly humor and odd conversational elements to build up the odd pairing of 'idol and fan'.  As their relationship builds, you have this emotional acumen that showcases Cage's flaws (as a person) and Javi (as a man).  This humanly concept blends seamlessly with wit and charm, complimenting the satire by actualization the concept of the film.  This becomes a turning point, building up genuine humility against the creative aspect of storytelling.  This is where (as the audience) realize a turning point, where characters are playing against type on purpose to become an ironical tale of personal growth. 
As the friendship grows, certain revelations happen that add a new wrinkle to the satirical aspect of the film.  With scenes of over-the-top action and criminal elements, it becomes a delicate balance to push the satire and not to feel too overstuffed with unnecessary details.  Even when convenient plot devices come into play, it is Cage and Javi's relationship that keeps the journey entertaining.  Once everything comes to the forefront, the third act places real-life drama against type to highlight the satirical nature of the journey.  This leads to a welcomed full circle climax, highlighting the meaning of being true to self.  The Unbearable Weight of Massive Talent is a tale of wit, charm and odd coupling of the self.  Even when things become overstuffed, there is definite enjoyment to be had.  If you are a fan of Nic Cage, satirical films or comedy, this is one for you.  This is a genuine film worth seeing on the big screen.
Full Score – 3.5 out of 5 (Matinee)