The Upside – Movie Reviews by Ry!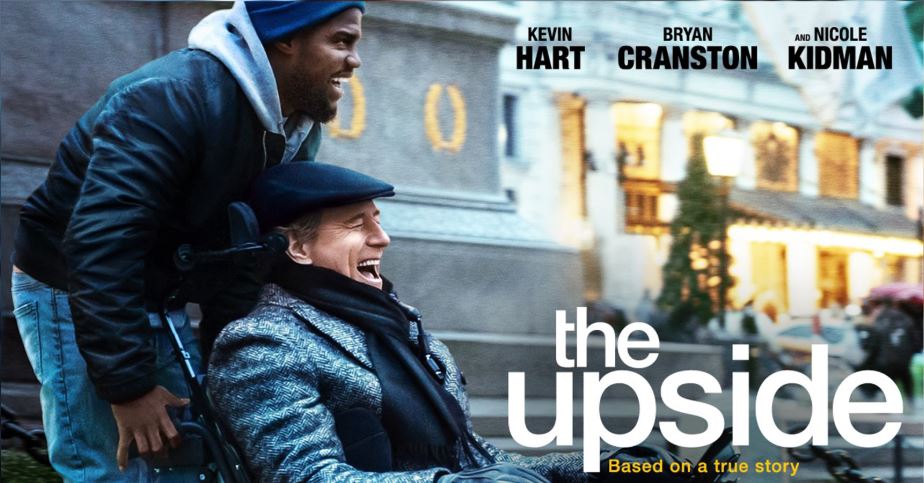 The Upside – Familiars of a Feel-Good Friendship
The beginning of the year is known as the dumping ground for unwanted films.  Outside of the leftovers of 'Winter Blockbusters' and 'Oscar Bait' from December, January gives slim pickings for a third option.  Falling into the third option is a story that plays in a genre known for clichés, predictability and heartfelt moments.  The Upside plays with all the obvious elements, but it gives enough heart for a solid outing at the theaters.
The story focuses on two characters from opposite worlds.  You have Phillip Lacasse (Bryan Cranston) a wealthy quadriplegic and Dell Scott (Kevin Hart), an unemployed individual with a criminal record.  Through flashbacks and convenient plot devices, Dell gets hired by Phillip to be his caretaker.  From here, the film plays with the 'Opposite Attracts' motif to create a dynamic that is comical, wholesome but genuine.  The film plays around with the ideas of friendship with these two through physical comedy, introspective dialogue and subtle characterization.  With Dell, he is fighting to get back into his son's life.  With Phillip, he has been mentally shaken by two life changing moments.  With these backstories, it gives personality to the main leads as the direction blends it with the the typical tropes of family and love.  Even with the rest of the story being uneventful and secondary characters feeling out-of-place, the chemistry between Hart and Cranston allows the audience to seep into their psyches and enjoy the layers of clichés.  There is a lot of redundant material from other films of this type, but the honest look at their relationship gives an anchor to a basic story. 
As the film progresses through the second act, it becomes littered with more clichés to shift the main leads from one situation to another.  There is 'created' drama to give a sense of conflict, which brings down the enjoyment of the budding relationship between Dell and Phillip.  Even when the element of 'finding yourself' rears its ugly head, it never completely deters from the development of the main characters.  Once you get to the third act and climax, everything comes full circle with an epilogue that is your cookie-cutter ending of positivity.  The Upside has a lot of simplistic detail that is predictable, but it's the genuine comradery between Hart and Cranston that brings enjoyment to the journey.  If you're a fan of these actors, it's worth the watch.  At most, I say check this out at a Matinee viewing.     
Final Score – 3.5 out of 5 (Matinee)