Tick, Tick … BOOM! – Movie Reviews by Ry!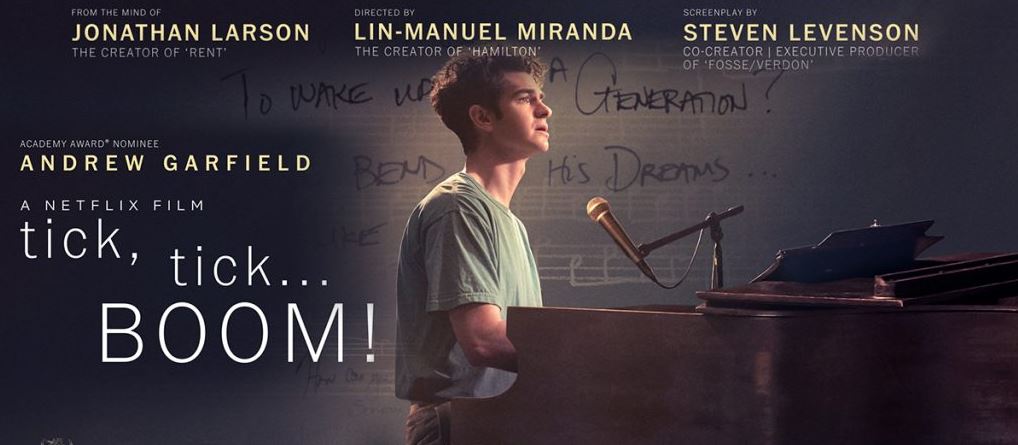 Tick, Tick … BOOM! –  Louder than Words: A Musical of Dreams
Life and music, strings woven through likeness of design.  The blending of these two brings about journeys of boundless escapes.  When incorporating these into film, it pushes the musical genre to impossible feats.  In this review, I look at the latest Netflix original that blends life and music.  A story of one's persons struggle, it is a story that rises above its genre.  With strong acting mixing with musical numbers, Tick, Tick … BOOM! shows that failing can open the doors to something extraordinary. 
This is a musical that highlights the life of Jonathan Larson (Andrew Garfield).  He is a struggling playwright that has been trying for years to get his play onto Broadway.  On the surface, the story builds around the basics of the genre.  You have a bombastic introduction to the characters (and world), providing insight into the journey's purpose.  As you are introduced to the film's elements, it highlights a thread of individual struggle and adulthood.  The endurance race of reality, we watch as Larson navigates the early 90s in New York City.  Approaching the age of 30, he feels unaccomplished (compared to other playwrights).  Paralleling this is his daily issues with rent, friendship drama and love.  The grounded appeal (of these issues) provides a path where circumstances string a connection of personal endurance.  Seeing these different aspects is a poignancy with focused intent, providing the emotional reality through the onus of musical numbers.  Between moments of conversation, the music provides an added layer of escape that is emotional but pure.  Seeing his determination through failures provides a mirror of our own lives.  This reflection creates a connection that humanizes the surrealism of one's dream. 
As Larson finally gets a break, the opportunity leads down a consequential path of new hardships.  The overt focus on his life's work crumbles his walls, an honesty that ripples through his relations.  In each situation, the fragility of perseverance revels within one's soul.  This approach is created through the seamless transition of musical numbers, adding emotional fervor to the subtlety of humanistic overtures.  As Larson pushes through, it continues that momentum to rise above the ashes.  As the journey heads into its finale, it is an ambiguous deconstruction of one's heart.  Through a strong climactic musical number, the outcome is left to the conclusion of our own guise.  Tick, Tick … BOOM! is a heartfelt musical that shines within the thread of personal struggle.  If you are a fan of musicals or inspirational tales, this is one for you.  It is available on Netflix, but it would be worth seeing on the big screen.
Full Score – 4 out of 5 (Full Price)