Top Five – 4.5/5 – Movie Reviews by Ry!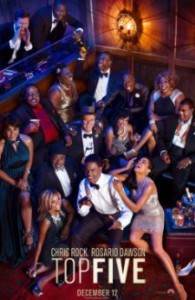 Top Five – 4.5/5 – Uniqueness; what makes a film go beyond a standard element or genre is combining two or three to make something that is different and original.  This film combines two really good genres, and molds a story that is charming, unique and funny.  There is something to be said about a story that is familiar, but also taking that commonality, spinning it and making a wonderful experience on screen.  Chris Rock's Top Five is a film that shows that even in a world of fame and of fortune; you can still be true to your roots, to yourself.  Top Five is a genuine film about life and laughter, but is grounded with an indie influence.
Premise:  With a conflict of being dramatic while struggling with his comedic past; one actor finds truth when he is faced with an interview from a Time's Report.  Through conversation, Andre Allen must find what is really important him, as he fights fear and finds true worth again.
In the main role of Andre Allen is the director himself; Chris Rock.  In this role, he gives us a complexion of someone that is 'on top' but not 'completely' into his role of idol status.  He is a comedian trying to find a way to be taken seriously (going into the realm of drama films).  This struggle to put on a new mask comes across strongly, and feels raw in its vigor.  The humanizing of a huge star helps create an attachment for the audience.  Andre Allen feels like both an idol and a friend.  He is a person that you could sit and joke around with, but also someone you can look up to in a sense of a person 'doing' something for 'himself'.  There is a struggle that happens to him in this film, where he is straying from his talent and true form of being a 'comedian', but also fearing certain changes and embracing what is real without opening old wounds.  That complexity is what creates a wondrous charm; one where you feel his pain but also laugh at his comedic side (through his dialogue).  Opposite him (for most the film) is Chelsea Brown, played by Rosario Dawson.  She is a Times report that is following Allen around for an interview for his new film.  Her character is one that helps 'pull' on the strings of 'who is' Andre Allen, allowing him to open up a door that he tries hard to hide behind.  There is great chemistry between her and Rock, one that creates familiarity of friendship, honesty and virtuous confessions.  As much as Chelsea wants to get the 'real' Andrea Allen, it allows for herself to open up to someone she sees in a contrasting view of being a mirror.  That cautionary reflection helps you bleed with the conversations, and also feel as if you're talking with one or the other.  When it comes to the supporting cast, it is a 'whose who' of familiar comedians/actors/actress that you've seen in other films and TV shows.  If you want to see the list, check out the IMDB page.  Overall, the supporting cast helps create a place of 'welcomeness'; where each character makes you feel as if you're with your own friends and/or family, just hanging out and talking amongst yourself.  There is not one supporting role that hinders the film, and it adds to both the comedic and dramatic elements of the story.
The direction of is a combination of 'indie flavor' with 'situation comedy'.  The story follows one man (Andre Allen) as he is struggling to be taking seriously for his new dramatic film.  Paralleling this is his fame and fallouts of his past, the reporter interviewing him (Chelsea Brown) and his fear of embracing his real talents.  All of this flows seamlessly between scenarios of regular discussions.  In those discussions, there is a lot of back and forth dialogue, one that is both 'situational humor' and 'humanistic drama'.  This combines a mixture of strong characterization with raunchy comedy.  There are some outrageously funny moments, but also some strong endearing ones.  The great thing that Rock does (in the director chair) is ground every situations to allow the struggle of the 'characters' to shed light on the story.  You see a struggle with certain personal demons of each character (especially Chelsea and Andre) while also struggling to be truthful with each other.  As much as their roles are meant to be professional, it all feels too relevant to being just professional.  The complexion of seeing someone pull at your heart opens up doors, and allows you to see the strong purpose of real worth.  That element of honesty, friendship, and virtuous confessions (as mentioned early) is what makes this film go beyond the standard appeal of being just another comedy or dramatic film.  That raw truth gives you venerable impressions; one that makes you feel how great the script and direction is in this film.  Once you get to the climax, you notice some predictable elements of 'follow your heart', but one where you enjoy it nonetheless.
The visuals of the film are ironically appealing.  With it being another situation of 'New York City' in the background, you like the fact there is a familiar backdrop.  This allows for the story to pull through the characters; where there is strength through emotional appeal.  The score is a mixture of recognizable songs (new and old) but doesn't do much to help or hinder the film.
Top Five is a film that is dialogue driven, but the story within that dialogue is whimsical, raunchy but heartfelt.  If you're a fan of indie films, raunchy comedies or Chris Rock, this is one for you.  This is a definite watch at a theater, and one where you will feel good about your own self in the end.