Trouble With the Curve – 3/5 – Movie Reviews by Ry!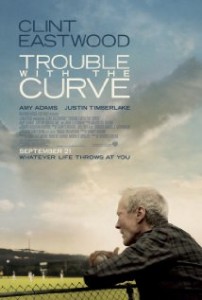 Trouble With the Curve – 3/5 – Clint Eastwood; a man that has been doing his thing in movies for a very long time.  He has a trail list of so many movies in his bag; we could spend days going through them.  From his best western to his heart pounding action films, there is nothing that the man cannot do.  Even for a plethora of many movies, sometimes, a great actor/director will hit a snag, and make a trail of terrible films.  Trouble With the Curve isn't necessarily a terrible film, but it is one that is very underwhelming when it comes to being an Eastwood flick.  Trouble With the Curve is a poignant but noble film about family and baseball, which turns into is a film of intrigue, but not enough material to call it great.
Premise: Gus (Clint Eastwood) is a baseball scout for the Atlanta Braves.  Some in the organization believe it is time for him to retire.  For one last job, he is sent to the Carolina's to scout one more prospect.  His friend, Pete (John Goodman), asks Gus's estranged daughter, Mickey (Amy Adams), to go with him because his eyes are failing.  Mickey decides to put her work on hold to go with him.  Whilst there, they run into Johnny (Justin Timberlake), a scout from the Boston Red Sox, who was a promising player Gus once scouted. What ensues is days of summer with family, friends, and what truly is the real skills in scouting.
When it comes to the main role, Clint Eastwood as Gus does a great job.  He plays and aging but talented scout, who knows and has skills beyond others in what to find for in a baseball player.  He also has another layer that he hides behind this baseball scout, and it involves a past history with family confliction.  This is shown when he interacts with his daughter, Mickey, played by Amy Adams.  Underneath the facade of this scout, he is a hardnosed cranky old man who doesn't like to talk about the past.  He keeps to himself, which drives both his daughter and best friend, Pete Klein, played by John Goodman, insane.  From the grunting and dialogue, to his interaction with others in the film, Eastwood does what he does best.  He is strong, stern and a model of great acting.  At times, his nature is very cliché for depicting an 'older fellow', but it is still worthy and genuine.  As the daughter, Amy Adams does a decent job in compliment Eastwood's Gus.  She provides the same aura and brash, and her depiction of Mickey makes you believe she is his daughter.  She knows baseball as great as her father, and outsmarts even the most valued scouts and people in the organization.  As his best friend, John Goodman does well in the role as Pete.  He plays as the Scouting director for the Braves, and even though they don't emphasize that in the movie as much, the 'best friend' mantra is strong and effective.  He cares for his friend of 30 years, and wishes to do anything for him, as long as Gus stays honest and upfront about his aging eyes and players he scouts.  Some of the other cast you see in the film are the likes of Robert Patrick as Vince, Matthew Lillard as Phillip and Justin Timberlake as Johnny.  They all do decent jobs in their roles, but didn't really add much flavor to the film.  They were the basic common characters of a 'baseball' story, and helps emphasize that aspect of the movie more than the dramatic side.  Timberlake's character is around the main two more, but it wasn't anything to be impress by.  He and Mickey have a 'love' side story, but it isn't as effective as the other parts of the film.  The rest of the supporting cast are good, but isn't anything worth explaining as, you've seen them before in other films like these.
The direction of the movie is one that mixes both a baseball theme and a family/drama tone.   The mixtures of both are introduced seamlessly, but they sometimes cause friction with one another.  In the beginning, we are introduced to both Gus and Mickey, and how both their lives are very estranged.  Gus is getting up there in age, and the organization thinks he isn't worth keeping after this MLB draft.  Mickey is working hard to become a partner in her Lawyer job, and wishes that her father would pay more attention.  Once you get past the generic setup of the baseball and family dramas, they head to the Carolina's to scout a kid that may be worth drafting.  Once the movie moves to this portion of the story, the family drama mixes in with the baseball story.  This is done very well, as you see how baseball defines both their lives, as well as hinders the 'father-daughter' relationship.  You see that even for the most separateness in their lives, baseball keeps them align and attached to one another.  There are times where one or the other themes pushes the other aside and you are left with a fragment of focus.  This is minimal, and the director manages to keep the linear feel with these two threads in the film.   The family drama begins to unfold deeper as the movie progresses, as Mickey wishes to talk and Gus doesn't, which introduces the 'love story' between her and Scotty.  This is the most cliché part of the film, and felt forced and unneeded.  It seemed they just need a 'getaway' kind of place for Mickey, and introducing a love story was the easiest route.  Once the film hit's the climax, both the family and baseball story's head towards a dramatic conclusion, that turns out to be very predictable and underwhelming.  The themes of redemption, family and love are the main points in the end, but weren't as effective as it should have been.  Even for this lukewarm ending, you enjoy what you experienced in the film, with its basic mantra for the American pastime and family.
The visuals are simple but effective.  You have a light on 'everyday' America when Gus goes to scout; being a witness to the common feel of baseball and the family feeling it gives.  This commonality works because of the relax feel that is given throughout the film.  The score is not as prevalent as other Eastwood films, but is decent and as some flavor throughout the film.
Overall, Trouble With the Curve is average at best, but still a good film to watch.  With the aspect of baseball and family, this is one that you can enjoy watching with family and friends.  Predictability aside, if you're a fan of Clint Eastwood, baseball, or looking for a good film to watch at home, this is one for you.