Worth – Movie Reviews by Ry!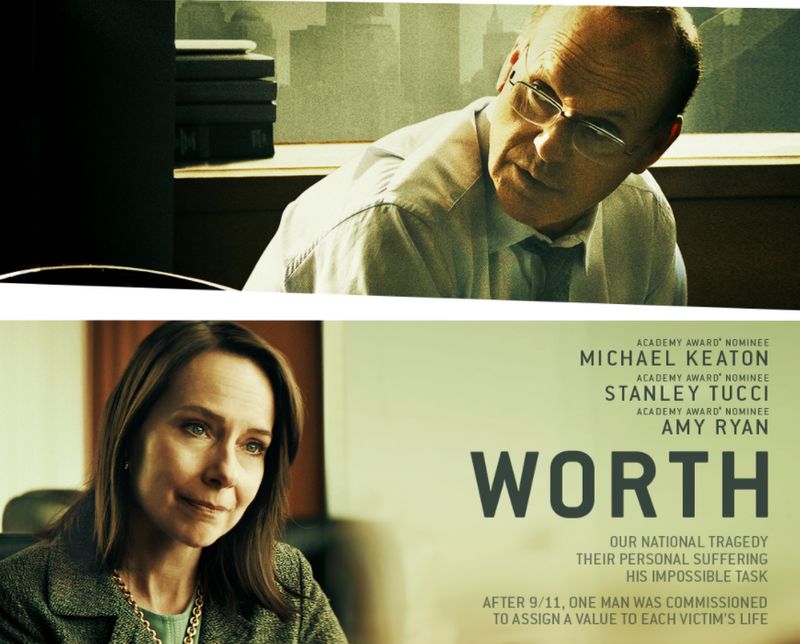 Worth – Value of the Lost: A Humanity Tale
Faced with truth, there is a ponderance upon one's reflection.  Within those eyes, actualization of the moment will come to play.  These things define real life events, providing stories told within film.  In this review, I look at the latest Netflix original that tells a story of a real-life event.  In the wake of tragedy, society and value play upon the importance of oneself.  Even when mimicry feels a bit melodramatic, Worth provides value into the meaning of itself … what is a persons' value to another?
In the wake of tragedy, a Washington attorney weaves through bureaucracy to help the families of 9/11.  Within its foundation, there is a balancing act between real-life events and characterization of the journey.  In the beginning, you are brought into certain lives through the drop-in method.  You are first introduced to Ken Feinberg (Michael Keaton).  We come into his everyday routine as a lawyer, getting insight into his perspective in the meaning of personal value and how he works with cases to broker funds between two parties.  With some background defined, the film progresses through the events of 9/11.  Within the aftermath, we see a ripple effect it has on Feinberg life as well as side characters like Charles Wolf (Stanley Tucci), Camille Biros (Amy Ryan) and Priya Khundi (Shunori Ramanathan).  There is a sense of raw endearment, a cathartic display to the journey at hand.  With lives changed (and linear plot progression), we find Feinberg getting selected to be the attorney for the 9/11 fund.  From this point, there is a paralleling effect on the consequences of that day.  The story separates its focus on two situations: the fight to provide help for the families and the families themselves.  As things move along, it becomes a window into how Feinberg and his group of lawyers attempt to define the value of each of the lives lost.  The events unfold in a rambling display of jargon and conversation; a window into the balancing act to help the families without breaking any rules/laws defined by the state and federal government.  Through dialogue heavy scenes, emotional fervor develops because of conflicting views on how to build the funds within the scope of the law.  The moments of sincerity are mixed within a sense of grandeur, adding a personal touch within conversational exposition.  There is a strong tug-of-war between what can and can't be done, providing a crossroad of choices for Feinberg.
As the group face a specific deadline (for the funds), the journey heads into a series of moments driven on a character level.  Each scene is a mix bag of strong personal reverie within melodrama, giving a window into each person's perspective of value.  As things begin to unravel, Feinberg is left to face his own guise on what he believes is value.  Having dealt with many cases, he knows that serving certain truths will have dire consequences.  This leads into a third act of hopeful revelations, leading into a climax that is typical of a story based on real life.  Worth is a story that provides a window into certain events after 9/11.  With strong characters and moments that are endearing, this a well through journey.  If you are a fan of real-life storytelling or like the actors/actresses, this is one for you.  It is on Netflix, but I think it would be a good time at the theaters.     
Full Score – 3.5 out of 5 (Matinee)