Yellow Rose – Movie Reviews by Ry!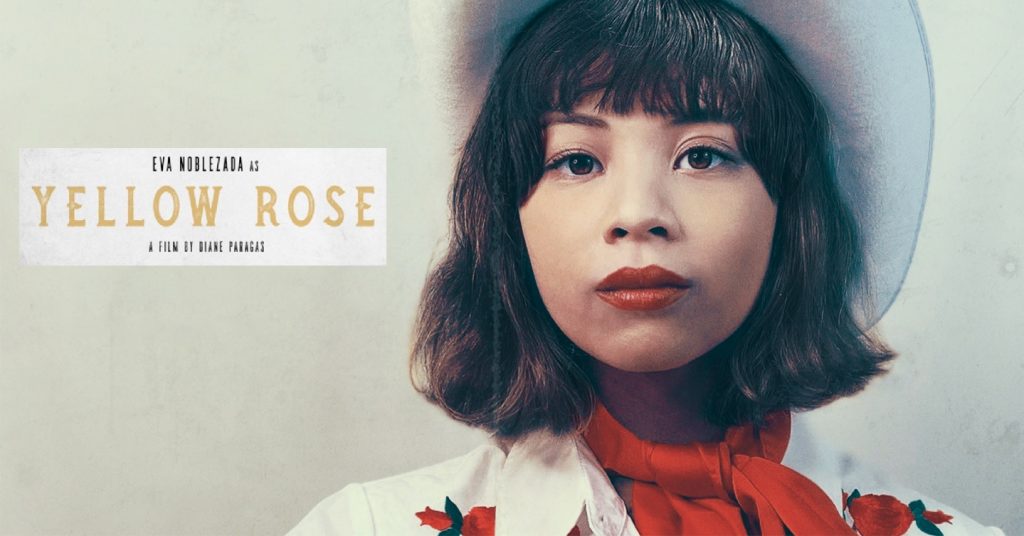 Yellow Rose – The Color of Kindness, Music of the Heart
Life is a delicate journey of trying times and honest reflections.  Within every step are candid moments that bring about stories of untold truths.  These truths provide an escape that can translate to any medium, including film.  In this latest review, I look at a new indie film (in theaters) that dives into the world of family, struggle, and perseverance.  Yellow Rose brings about a journey of a teenager girl and her love of music.  Simple storytelling at its finest, Yellow Rose shows how to blossom in the hardship known as, life.
Rose Garcia (Eva Noblezada), a Filpina teen that lives with her mother, Gail (Lea Salonga) in a small Texas town.  In the face of fate, Rose fights against all odds to find her voice.  The script creates a basic structure that blends themes of family and adolescent through a character study of immigration in America.  Centralizing these elements is done with the main characters, Rose Garcia.  She becomes the eyes of the story, a teenage living with her mother.  The audience slips into her life through a general introduction that shows the delicate balance of living honestly but fighting to find their place.  Through the first half, you settle into these situations through Roses love for country music.  Shy but emotional, the methodical direction levels character growth by blending it with human creativity of song.  It is the rawness of her words and voice that bridges a connection, creating a window that levels out the predictable tropes and convenient circumstances (of the plot).  As the key incident triggers a separation between mother and daughter, the issues of immigration drive a story that parallels the coming-of-age aspect with realistic consequences.  Rose must find her own way without her mother, facing situations that bring about the unpredictability factor of human behavior.  The levity of each interaction brings about the questioning of truth, showcasing raw elements of emotional fervor.  The ominous tone leads to strength of words, creating purpose to growth and creative bliss.  The conversational aspect with others adds strength to her reverie, showcasing innocence and maturity in the growth of kindness.  There are bonds that provide worth, bringing a shine through trueness of relationships.
As the story moves into the second half, it becomes a path of endearment for Rose.  As she fights to find her place (in America), she struggles with the hardship of being alone.  The struggle of separation, angst, and anxiety of inevitability, she stands at a crossroads of what speaks to her passion within.  Against it all, the balancing becomes a genuine escape of song with the 'coming-to-terms' trope.  As she looks towards the future, it leads her to a deeper connection to her music.  The irony is found in the lostness, leading to a climax that brings everything through that lasting string of hope.  Yellow Rose is an indie film that provides a unique draw of family, coming-of-age and music that create an experience that is heartfelt on so many levels.  If you are a fan of storytelling driven through characters, this is one for you.  It is available in theaters, and say it is worth the full price of admission. 
Full Score – 4 out of 5 (Full Price)