Anchorman 2: The Legend Continues – 3.5/5 – Movie Reviews by Ry!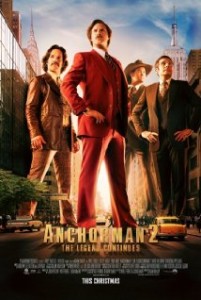 Anchorman 2: The Legend Continues – 3.5/5 – I have mentioned this before, but it is worth reiterating again for this review.  When it comes to comedy, it is a genre that is more subjective then most.  There are many different kinds of comedies, and everyone has one that they enjoy the most.  This specific nature is what will play into this review.  Anchorman 2 is a very specific kind of 'slapstick humor, one that that has the influence of Will Ferrell (he plays the lead).  Like all of his film, he has a specific niche that will either pull you in or turn you away.   I am not a fan of many of his films, but there are a few out there that I have quite enjoyed.  This movie is a sequel to one of the few I have enjoyed.  With this sequel, it does well with moving forward the characters, but also staging situational humor and off the wall 'one-liner' to the highest extent.  Overall, Anchorman 2 will make you laugh for most it's running time.
Premise: With the 1970s behind him, Ron Burgundy has one place left to conquer; New York.  It is the 1980s, and a new challenge comes forth; Burgundy is tasked with bringing his news team back and leading a new '24 hour' news channel into the world.  Comedy ensues, as Burgundy learns that there may be more than just reporting the news.
The main four players come back to reprise their roles from the first film.  You have:
Will Ferrell as Ron Burgundy
Paul Rudd as Brian Fantana
Steve Carell as Brick Tamland
David Koechner as Champ Kind
These four don't disappoint in reprising these iconic characters.  In playing these roles a second time, they do a good job in delving deep in exuding out the funny caricatures that each of them are.  In the redundancy of mimicking slapstick, you would think the overplaying would get boring, but it never does, and the 'turning up the stakes' of this sequel helps provide an element where they draw out even more funny moments, one-liners and situations between their interactions with each other, as well as their own individual scenes.  One of the characters that gets more airplay this time around is Brick.  His character is so outrageous, that you can't help but laugh at everything he does, even when he's laughing on screen.  Leading the pack is of course Ron Burgundy.  Will Ferrell does an amazing job in this role a second time.  He not only embodies who Burgundy is, but makes you believe in this on-screen persona and believe this story is real.  Paul Rudd and David Koechner have more of a 'supporting' role within the group, but their banter is always whimsical, as their comical chops are still on full display when they are on screen.  You also have some key characters from the first show up, including Christina Applegate as Veronica Corningstone and Vince Vaughn as Wes Mantooth.  Their roles are more in a supporting fashion for this sequel, but they drill deep with their own comical shtick.  They do enough to make their presence known, especially Veronica.  With a sequel comes new characters, and there are plenty.  You have:
Harrison Ford as Mack Harken
James Marsden as Jack Lime
Meagan Good as Linda Jackson
Kristen Wig as Chani
Greg Kinnear as Gary
These new characters are a welcome addition, but they don't have that same aura like the original cast does.  Even though these characters aren't as memorable, there are some obvious standouts in this list of people.  One of the main stand outs is Kristen Wig as Chani.  She plays the 'love interest' for Brick.  When she is on screen with him, the banter and intermingling are some of the most charming and laughable moments in the film.  The rest of the cast includes random cameos; some off the cusp stand ins, and just 'crowds' of people to help provide that aspect that this is the 1980s in America.
The direction of the film is one that follows the traditional mode of any sequel.  It picks up where the first film left off, and leads us into a new story with some returning characters.  When it comes to the additional comedic elements, there is really no change in the shtick used, but that isn't a bad thing.  The film picks up with Ron Burgundy being tasked with reforming his crew, and joining GNN in New York; the first 24 hour news channel.  From here, we pretty much have no real focus of character depth, story or overall narrative.  In most genres, this would be a bad thing.  For a Will Ferrell comedy, it isn't.  The film's pace and progression is placed upon the timing of the comedy from the main players (Ron, Brick, Brian and Champ) and their assimilation to the New York lifestyle as well as this new kind of newsroom.   Through it all, you get some amazing 'one-liners', hilarious situations and some over-the-top sequences that will either have you baffled, crying or laughing hysterically.  The comedy is precise and distinct, helping the film to be enjoyable even when there isn't any strong narrative or story.  That is the main purpose of most comedies, and defines this film (as it did for the first).  The one thing that is introduced more this time around is satire. Through the slapstick comedy, you see a deeply satirical situation evolve within the GNN creation, as the film pokes fun at how news in the real world is brought to the mass public, and the influences from 'outside sources' changes the definition of what news is.  Director Adam McKay does a great job in combining those elements of realism into the comical aspect of this film, which creates and even greater value to the viewing experience, outside the typical comedy routines that are happening. As the film continues on, we watch as both the news team succeeds, and how that 'fame' gets to Ron Burgundy's head.  Here, we hit a part of the film that begins to lead in convenient plot ploys, introducing the typical 'rise and fall' cliché of a main character.  Within this situation, you start to see slight character development, which helps you have a deeper understanding of what defines Ron Burgundy, and what his real purpose in life is.  This 'redemption' does drag the film down for a bit, but the one-liners and the comical shtick still get's pumped out, and the pace picks back up as you're encouraged to see the film through the end.  Once the film hits its climax, some twists happen as well as some really 'over-the-top' sequences.  These last few minutes in the film take a turn for redundant slapstick humor of this whole 'world' that will either keep you involve or turn you off.  Even when this climax leads to a lackluster ending, the roller coaster ride of this second chapter of Ron Burgundy will come to you as being a worthy experience.
The visuals of the film aren't one to clamor over, but it is worth noting that it is enough to help you feel engrained into the news world of the 1980s.  From the creation of the GNN studios, to the attire of actors on screen, you will feel a part of this world.  The music in the film isn't a big draw, but it does help add fuel to the fire for certain situations that do happen at points in the film.
Overall, Anchorman 2 is a film that will be a welcome experience to fans of the first.  It has the same comedy as the first, but the timing and pacing of all the comical situations are hilarious.  If you're a fan of Will Ferrell or the first Anchorman, you will enjoy this movie.  It is definitely worth a watch in the movie theaters.