Babylon – Movie Reviews by Ry!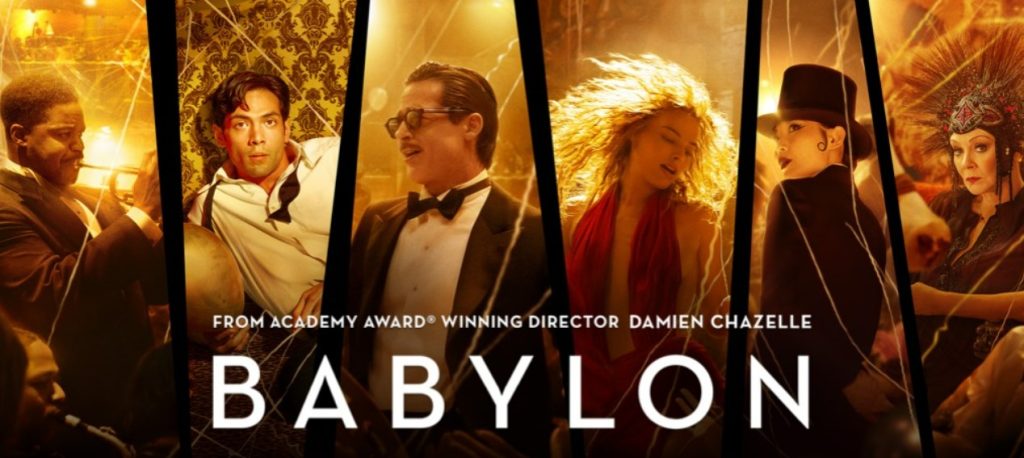 Babylon – Spotlight of a Dream's Worth: This is Hollywood
Life is an avenue of many things. As we grind through each day, the unknown becomes a path of deliverance. Stories of life can be mesmerizing, no matter what the medium. If done right, it can be a journey of wholesome appeal. If done wrong, it can be tales of lost promises. In this review, I look at the latest film from Damien Chazelle. A director known for creating intuitive stories, he creates a world of decadence, dreams, and despair. With a lengthy journey and a strong cast, Babylon showcases that what you choose can be more than a dream's worth.
It is the early days of Hollywood where sex, drugs, and depravity reign supreme.  Through all the chaos, Manny Torres (Diego Calva), Jack Conrad (Brad Pitt) and Nellie LaRoy (Margot Robbie) must navigate the waters of stardom or fall prey to the lust of the spotlight.  Damien Chazelle is a man known for character driven journeys.  With a focus on 'who is' the person, his storytelling usually goes against the grain of typical setups, generalization, and introductions.  By taking his own approach, you get films that are unique (Whiplash, La La Land), taking different elements to provide an experience through the realism of the individuals.  With this film, the audience is thrust into the late 1920s, giving you a wild look at the infancy of Hollywood.  With no real rules to follow, we watch our three main characters (Torres, Conrad and LaRoy), maneuver the waters of this manic-like environment.  By using the 'through the lens' approach, you watch them interact in scenes of intuitive, comical, and outrageous moments to find their way into certain positions in Hollywood.  Their interactions are marked with witty dialogue, creating a fervor of individualism against the backdrop of the early days of cinema.  As they try to find a place in this new world, it subtly parallels the power struggle, technical advancements, and growth of the art of film.  With the lack of establishment for Hollywood, it lifts the characterized approach where Torres, Conrad and LaRoy are placed in intense moments of personal discovery in this new art form.  Through dialogue, unpredictable circumstances, and honest reflection of choice, you get to see how life as an actor, producer, etc. was a struggle of life itself.  By placing the focus on the characters, moments become prime with the raw details, leaving you with an experience that shows the flaws of dreams.
As the journey continued, so did the evolution of Hollywood.  As progress came steadfast, the struggle of everyone took a turn that leveled out decadence in the onslaught of real-life moments.  As Torres, Conrad and LaRoy are faced with certain choices, it leads to scenes of harsh realities, unexpected moments, and some lengthy monologues.  This also leads to a tonal shift, creating some bloat of extended scenes.  Even with the unnecessary characters and telegraphed scenes, the strength of the acting keeps the focus strong.  When the truth became all too real, we head into a third act of momentary reflection, a remembrance climax, and an ambiguous epilogue about cinema.  Babylon is a drama that showcases the highs and lows of individuals chasing a dream.  Even with some odd choices, it is a journey of unique design.  If you a fan of the actors/actress, the director or like characterized tales, this is one for you.  Even with excess, it is worth seeing on the big screen at a matinee.   
Full Score – 3.5 out of 5 (Matinee)