Danny Collins – 3.5/5 – Movie Reviews by Ry!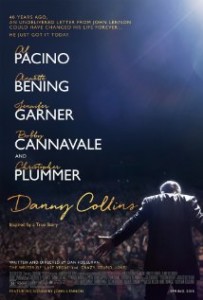 Danny Collins – 3.5/5 – Al Pacino; he is a man known as a legend in the movie industry.  For a lot of his early work (The Godfather, Scarface, and Scent of a Woman) he created a place among the elites in acting.  He is also known as someone who will cash it in; like many of his later films in his career.  Not really showing the 'real' acting chops he has; there have been times where a glimmer of that ability shines through.  This is one of those glimmering moments.  Danny Collins is a movie that's rehashing of the common 'redemption' story; but there is enough in this tale (including Pacino's amazing performance) to make it a film to add to his 'better' gallery of his film.
Premise – An aged Rock Star decides to change everything; after receiving a letter he should have gotten 40 years ago.  In this, a redemption tale is brought, and one man must face hard facts before seeing the real changes in his life.
At the heart of the story is its titular character, played by Al Pacino.  As an aged rock star, he gets a letter that opens his eyes, making him want to change his life.  In doing so, he goes down a path of 'redemption'; which begins to unravel the flaws of his character.  The back and forth struggle to redeem is something that Pacino does well in this movie.  You see his heart is in the right place, but doesn't 'understand' how to provide quality on a human level.  That 'rock star' persona vs. being a 'real family man' is one that heightens the film's premise; and creates a glow on the deeper issues within Danny Collins.  Even for the obvious caricature that's used to provide color; Pacino does a great job in humanizing the struggle.  This adds another level of characterization to a somewhat 'overused' archetype.  When it comes to secondary cast, you have some relatively known names:
Jennifer Garner as Samantha Leigh Donnelly (daughter-in-law)
Christopher Plummer as Frank Grubman (best friend/manager)
Bobby Cannavale as Tom Donnelly (son)
Annette Bening as Mary Sinclair (hotel manager)
Giselle Eisenberg as Hope Donnelly (Granddaughter)
These actors/actresses do a great job adding context to the redemption story.  Not only do they help flesh out Collin's character; but they add slight depth within their own lives.  Even when you see them play against the estrange son/father scenario, the semi/budding unorthodox relationship and folly/serious best friend scenario; you always feel the heart within them.  They help add the 'family' feel; and ground it to a believable scale.
The direction goes along (as mentioned before) the redemption tale.  With that, the audience is well versed in how these kinds of films go.  On the top, you will see a typical 'top layer' of what this film is about:
Main character is 'unhappy' and has an 'epiphany' (plot point); beings to question life and what he should do.
Changes made; unraveling of main character to 'redeem' his life
Upward trajectory; pivotal 'breakdown' moment
'Self-discovery' climax with the 'happily ever after' ending.
The one thing this film does outside of the typical redemption angle is add two unique layers that aren't prevalent in them.  One is a 'grounded family' tale along with an 'unpredictable' third act.  With these added elements; it creates a tale that's both amazingly raw and humanly refreshing on the big screen.    As the story begins; we see Danny Collins is an aged but famed rock star.  At his recent birthday bash; his best friend gives him a letter that changes how he looks at his current state of his life.  He is already miserable with everything going on; and the letter pushes him 'over the limit' to make a change to what he sees as necessary.  As the film bills us this 'redemption' angle; we go down the typical path of him trying to rekindle with his estrange son and family.  The tale is all too familiar, but that 'grounded' feeling helps create an attachable sense to the situation.  You approach the dialogue as real conversations, seeing it filled with witty and provoking feelings.  As the film moves, it has a lot of 'heartfelt' and 'comedic' moments, but enough depth to see the complexion on both sides.   You see a man who wants to rekindle what was lost between him and his son, but is self aware of his stature and things that are clearly out of his hand.  At the same time; you see his estrange son who doesn't care and even want him in his life, but sees the worth in what he is trying to do for him and his family.  This angle keeps you grounded through the first two acts.  Even with the added secondary tales of a 'budding' relationship between Collins and the hotel manager and the best friend side stories; the family angle is what centralizes all the issues.  Once we get to the third act; you start to 'assume' where the story is going to go.  This is when that additional layer of unpredictability comes in.  The direction takes a turn that is not what you expect, and heightens the issues of redemption, family and the struggle between what is true and not.  Once we get through the game changing moment, we are faced with some serious monologues between the main cast; ones that adds power to the 'self-discovery' that all the characters must face.  The climax is humanistic and touching, but just enough to make this film stand out within its final moments; where it isn't just another 'run-of-the-mill' happily ever after ending.
The visuals add to the overall sense of the grounded situations.  It helps create a contrasting effect with the rock star vs. family man life.   When it comes to the score, it is a mixture of cliché ballad melodies with original songs.  This helps create a whimsical effect for the film's touching moment.
Danny Collins is a film that will have many common themes and recognizable elements of the redemption; but there is enough in the human tale and twist to create something that is deeply moving, funny and all around grounded for the audience.  If you're a fan of good storytelling and Al Pacino, this is one for you.  You will not be disappointed.