Eat Pray Love – 3/5 – Movie Reviews by Ry!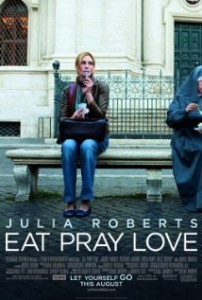 Eat Pray Love – 3/5 – This is a review for a film that came out a couple of years ago.   In all retrospect, when you see a trailer for this film, you would believe it was just another generic chick flick.  For the first half off the film, it seems to be driving in that direction, but once you get into the meat of the film, you realize that it has some deeper motives within its typical facade.  The film turns out to be an analytical breakdown, even in the simple elements of a love story.  Overall, Eat Pray Love is a film that has a lot of worth, but falls flat in the end.
Premise: A married woman, Liz Gilbert realizes she is unhappy within this current relationship.  She finds that she needs to go in a different direction. After a painful divorce, she takes off, visiting places around the world.  In this journey, she is hoping to "find herself" and once again, find true love as well.
In the lead role of Liz Gilbert is Julia Robert.  Julia Robert's has given many great performances.  In this role though, she gives the audience a typical 'heartbroken' female protagonist, who is looking for (insert any meaning) to life.  Even with the generalities that come with this character, Robert's has this charm that helps provide a decent amount of quality.  This makes the audience endear some of what she is feeling, as she tries to rediscover herself in this film.  Through narration (by herself) and interactions with the people she meets around the world, you get a heartwarming tale that is both relevant and logical.  Even if there isn't anything deep in this role, you still are moved by the 'uplifting' sense she provides in this 'rediscovery of self'.  As for the rest of the supporting cast, there isn't anything spectacular to speak of.  Littered throughout the film, you have your typecast 'male figures' of romance and 'supporting figures' that help define Liz's rebuilding of herself.  The male casts that are main focuses for Liz Gilbert are the common archetypes you would find in any kind of love/chick flick film.  It is a who's who of names that play these male figures.  You have the ex-husband Stephen (Billy Crudup) the rebound young man David Piccolo (James Franco) the suave Italian teacher Giovanni (Luca Argentero) the wise man with a past Richard (Richard Jenkins) and a 'true love', Felipe (Javier Bardem).   They all provide good individuals on screen contrasting the situations where they come in contact with Liz, but they don't give anything of an emotional attachment to make the situations worth caring for.  The rest of the supporting cast helps the story, nothing more.
The direction of this film feels like a tale of two halves.  In the beginning, you're introduced to Liz Gilbert through the basic 'breakup' scenario, as she and her husband Stephen get a divorce.  After we get our setup for Liz's purpose to find herself again; we then lead along a general path of trivial antics, jokes and scenarios that you would find in any kind of chick flick.  Through all this, you have the 'aloof' heartfelt scenario (between her and her now ex-husband), a 'mirage' of a new beginning (between her and her young boyfriend) and the couple antics that happen within this.  Through it all, bubbling under the surface, you see that other layer introduced through the rediscovery tale.  It helps add a layer of characterization for Liz Gilbert.  You see that, even for the romantic ploys and predictable jokes, there is a deeper motive trying to rear its head in the film.  This complexion of love with self worth helps pull the film from its general depths, which helps bridge to the second half of the film.  Once the film gets to this bridge, Liz has had enough of the normal routine, and decides to go around the world and see if she can learn something.  She does this while 'watching' other social norms and see life in a different perspective.  In this trip, she travels to Italy, India and Bali.  In each of the places she goes, you get a repetitive general routine; which is as followed:
Person steps outside of their box
Learns a life lesson
Exposition of lesson learned
This is the basic routine of each three stops.  As Liz steps out of her 'comfort zone', she gets the 'life lessons' through different aspects of love, relationships and individualism defined.  This helps create the aura of deep expression within a linear path.  Even with this strength, there is a flaw within the tone.  The tone of each situation fluctuates between deeply moving to cringing predictability.  With the shifting tones, you can never (as with the supporting characters) create an attachment that will help add real worth to the story's relevance.  In the end, you get the typical 'life changing choice' climax that leads to the obvious 'happily ever after' ending.
The visuals of the film are very posh with showing all the different places in the world, but you won't feel as if they invoke any true allure.  The score is reflective of the social aspect of the specific places, but seems to borderlines on being dull at times.
Overall, Eat Pray Love is a film that has a lot of potential with the characterization of Liz Gilbert and the themes that are introduced, but fell into a trivial cycle of general direction and the obvious 'chick flick' clichés.  If you're a fan of Julia Roberts, you can add it to your collection, otherwise, just Redbox this film.