Fast & Furious 6 – 3.5/5 – Movie Reviews by Ry!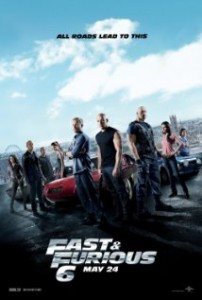 Fast & Furious 6 – 3.5/5 – A movie series; the length of these can be as many as 10, but the quality of the films can be as worst as any bad film.  A lot of the times, films that are a series have many legs of brilliance and fatigue.  Within the Fast and Furious series, there have been highs (Fast 5) and some lows (2 Fast 2 Furious).  For all the trends that may lead this series to finally blow a fuse out, it has gotten better with age, and Fast & Furious 6 is no exception.  From the chase sequences, to the action and the intertwining stories, this sixth installment brings everything full circle, as it provides another great high for this franchisee.
Premise: Since Dom (Diesel) and Brian's (Walker) Rio heist, our group of vigilante racers have scattered across the globe.  Even though they hit the jackpot, their inability to return home has left a hole in their lives.  Meanwhile, Hobbs (Johnson) has been tracking an organization of mercenary drivers across 12 countries, whose mastermind Shaw (Evans) is aided by a ruthless second-in-command.  This person is revealed to be Dom's thought to be dead girlfriend, Letty (Rodriguez). The only way to stop these criminals is to outmatch them at street level, so Hobbs enlists Dom's crew to assemble in London. What ensues is an adrenaline rush of high octane cars, fast chases and a life and death scenario that the crew will risk everything to bring their family whole again.
With the cast and crew, you have most of previous characters returning from the other films, including Fast 5.  You have Vin Diesel as Dominic Toretto, Paul Walker as Brian O'Conner, Dwayne Johnson as Hobbs, Jordana Brewster as Mia, Michelle Rodriguez as Letty, Tyrese Gibson as Roman, Sung Kang as Han, Ludacris as Tej and Gal Gadot as Gisele.  Together they form the rambunctious crew that you know, love and like to see on the big screen.  As a team, they are very good, and pretty much play off themselves throughout the film.  With this, you have dramatic moments, funny scenes and epic action scenarios created by them.  By now, you know these actors/actresses aren't here to win any awards or strike some emotional chord with character depth.  The actors understand their roles for these films, and provided enough enjoyment in their characters to drown out any folly or terrible deliveries with their lines.  Regardless of what could have hindered the film, the attachment that has developed over so many movies provides an enjoyment in seeing them interact and fight for a cause, which is in this case, bringing back Letty to the group.   For the bad guy in this film, Shaw is played by Luke Evans.  He is a true adversary to Dom, and you can see the frictions between them in their interaction with themselves and their crew.  He is truly dedicated to his job, and precision is his code.  He is calculated and cruel, and provides a strong villain in this film.  For the rest of the supporting cast, which includes Shaw's crew, some military people and Hobbs new assistance Riley, played by Gina Carano, they are as much as you expect from a supporting cast in a summer film of this caliber.  They play the roles given, and do enough to help the main stars and story progress from 'A to B'.  Carano doesn't really do much 'acting', but her fight scenes are amazing, and will provide enough intensity to forget her lack of acting.
When it comes to the direction of the film, it's pretty much the definition of a fast pace, action oriented summer blockbuster.  The film starts off with a bang, as it sets up Hobbs meeting with Dom, and showing that Letty is alive.  It quickly leads to Dom putting the Crew back together in London, in helping Hobbs catch this criminal group that Letty is part of.  After the film has setup the returning cast, we get the introduction (in spectacular fashion) to Shaw and his crew.  From this point, it is pretty much a mix of over-the-top action sequences, car chases and races, comedic one-liners and a continuous battle between the two heist crews.   A lot of the times, the fast pace and linear method used in a film like this could create a feeling lackluster in development, but as you watch as everything steps forward through the first two acts, the tone never hurt's the film's progression.  Even when things seem predictable, you get lost in the raw moments and intense scenes that, you will be excited and engrossed in the films prolific entertainment.  Logic doesn't matter; all that matter is the characters and their purpose, which is to bring Letty back into the fold and take Shaw down. The director knows that for a film franchise this long, you just need to give the audience what they need who are fans; fast cars, one-liners and action in the most lavishing scenarios.   You also know that the director is going all out with this sixth movie, trying to top the previous (and best) in the series.  He succeeds in some parts, but fails in others.  Where the failure is, is that in Fast 5, it progresses slowly to a big climax.  In this film, everything was just stuck on an adrenaline high, as the climax came; it just became another sequenced action scene instead of being that true 'heart pounding' ending.  Even for this, the last act of the film is surprisingly 'on your seat' entertainment that you'd expect, and the crew eventually prevails.  Hobbs gets what he wants and the crew finally gets what they want.
The visuals of the movie are both raw and delightfully awesome.  From the car selection to the places they traverse (London, Spain, Moscow) it brings you a full spectrum of epic and real in the same vibe.  You enjoy what you see, and you wish you were there to watch things unfold, even if it the situations are dangerous.   The one thing to be said is that the director knows how to bring a visual appeal to the film, as everything is always 'in your face', especially the cars.   The music also provides enough intensity to make this film feel true to its roots and make it exceed in being a summer blockbuster.
Overall, Fast & Furious 6 is what you will expect from a film series in this stage of its life.  It is over-the-top, raw and pure action entertainment.  The characters you have been following for so long will keep you on the edge your seat, as they battled an ultimate foe that brings all their stories full circle.  There isn't much else to say then, if you're a fan of the series and have enjoyed the films up to this point, you will not be disappointed.  This is a movie to check out in theaters.   And one more thing … wait past the credits as, it will lead into Fast 7.