Fruitvale Station – 4/5 – Movie Reviews by Ry!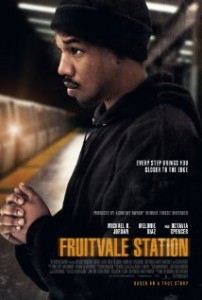 Fruitvale Station – 4/5 – A lot of the times, I would have something to say.  Here, I really cannot say too much, but I will say something in this prologue.  With a movie based on true events, it can either be defined by its pleasurable outcome, or tragic fate.  Either way, a film based on true events will move you in some way.  The emotional toll that can derive from these events will make you think, and when you think, you realize that this story could hit close to home.  With Fruitvale Station, even for its early misgivings in the film, it will strike you in many ways than one.
Premise: This is the true real life story of Oscar Grant, a 22-year-old Bay Area resident, who on New Year's Eve 2008, crosses paths with friends, enemies, family, and strangers that will culminate in a confrontation that will change lives forever.
At the heart of this film, is its main character; Oscar Grant.  This role is played by Michael B. Jordan (Chronicle, Friday Night Lights).  In the role of Oscar Grant, the young actor shines in this dramatically charged film.  As Oscar, you see a young man who is trying to find that road of redemption in life.  A former drug dealer, he decides it is time to change his life for the best, especially to give a good life to his girlfriend and daughter.  Through general interactions with his family, friends, and also himself, you watch as he struggles to find that middle ground.  Through it all his little epiphanies, everything starts to change.  Through all this discourse, Jordan does great in providing someone who is relevant to the audience, but also unique enough to be raw and riveting.  All this emotional attachment helps with what happens in the climax of the film, which will be explained later.  Here, I can summarize that Jordan shows true struggle, and it's a marvel of an acting job for a movie based on true events.  He gives a truly flawed but charming character.  For the rest of the cast, there really isn't anyone else that has a comparable performance to Jordan's.  Out of the generic cops, aloof public and typical 'home boys' for Oscar Grant, the most notable characters are his girlfriend Sophina (Melonie Diaz) his mother Wanda (Octavia Spencer) and his daughter Tatiana (Ariana Neal).  The girlfriend is portrayed decently by Diaz, but she doesn't really add any depth.  This lack of depth doesn't allow you to believe the relationship, marking this as just another cliché element in the film.  The mother is portrayed very general in the film, but Spencer does give us very poignant moments when needed.  The scenes between Wanda and Oscar are more sincere then the girlfriend/boyfriend relationship.  This is helped out by the chemistry that is built up by Jordan and Spencer.  Even for these two, the most endearing role, the one that marks Oscar's real heart, is his daughter, Tatiana.  Ariana brings to the screen that innocence like feeling to the role; showing someone who is pure hearted and enjoys life, regardless of any situation.  She may be ignorant of her father's flaws and past, but loves him no matter what.  The chemistry between these two actors is so prevalent, it helps you feel as if that is his real daughter.
The direction of this film is straight forward; as it follows the path of certain day events that lead to the tragic encounter defined as the 'true story' element.  In the very first scene, the director employs a generic film tactic, which involves showing the 'actual' incident to the audience.  I'm not sure what the point of this is (in any true event styled film) but the implication is to define the purpose.  Here, in this film, it doesn't really help or hinder the progress of the film, but overall, it wasn't really needed.  Once this is out the way, we are introduced to Oscar, Sophina, and his daughter Tatiana.  Along the way, some other characters are introduced, include the mother Wanda.  In the first 20 minutes, we follow the events that lead up to the incident.  In the day prior, we watch as these three go about their normal lives.  Here, we watch as the direction follows a common linear pace, trying to envelope both the normalcy and struggle that Oscar has along this 'redemption' road.  As you watch this part of the film, it drags at points here, causing the audience not to fully connect with overall layers around Oscar.  Even for a lot of dull moments, there are just as many delicate moments (including shopping for his mom's birthday, trying to get his job back, and tossing out his drugs) which portray his struggles.  After the slow paced first act, the film begins to turn towards an emotional dramatic path.  This happens at the point When Oscar and crew attends his mother's birthday party.  Here, we get the encapsulated feeling of family, friendship and love.  We watch as emotional strings begin to shine, putting a definition to Oscar's struggles.  Watching the fragility of life's helpings brings a raw tone to the film, which is both a strength and a curse.  As the night grows further, everything that is being celebrated just becomes an ironic backdrop for the third act.  From this point, when the climax culminates, the film becomes what we call an emotional roller coaster.  Through this ride, the social and racial overtones are on full display, as you watch helplessly at what's happening on screen; but also become humbled by the situational discomfort of these 'true life' events.  The ideas, precursors and everything that makes us human, you realize can be the most frightening.  I honestly had many emotions come through, and even after the credits roll, I believe that everyone that sees this will have the same reactions.
The visuals of the film are simple, but are marvelous in their simplicity.  The greatness of this is that it grounds the film to the 'actual' events, helping mold cinema to real life.  In doing this, we have grainy visualization throughout the film, as well as abundant camera  angle usage of showing the common areas of Oakland, San Francisco, and it's people through Oscar Grant.  There is no score in this film, which is very risky, but pays off.  With having no music, it helps add substance to the 'real life' scenario.  This also allows everything to be commanded by the actors, helping  create a more interpersonal feeling towards the overall scope of the story being told.
Overall, Fruitvale Station is a real life story that may be hard to watch, but is truly an amazing film.  Michael B. Jordan does a great job in portraying Oscar Grant, as his struggles of becoming a real man are relevant but endearing.  If you're looking for a film that will move you emotionally, this is a film that will not disappoint.  I would definitely watch this film if you get a chance.