Gone Girl – 4.5/5 – Movie Reviews by Ry!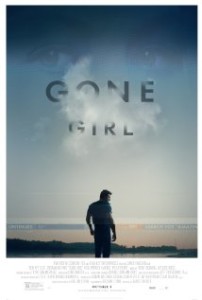 Gone Girl – 4.5/5 – The start of October is where we get two kinds of films:
Oscar caliber films
Serious/dark/satirical dramas
Sometimes, a film falls into both categories.  To the delight at some, when you weave the Oscar feeling within the latter, you get a film that will deep invoking with thought, but also show it is 'worthy' of an Oscar.  Gone Girl (directed by David Fincher) breaks molds of traditional storytelling, weaving an immense psychological tale within satire, darkness and serious familiarity.  This gives us a film that starts out as one thing, but ends up at a place most won't expect.  In short, Gone Girl is an amazing film that will keep you guessing till the end.
Premise: A wife disappears; a husband entrenched with being called a murder.  A twist tale of sorts, as what seems to be probably turns out to be the psychological impossible.  Can you save a marriage?
At the forefront as the main characters, you have:
Ben Affleck as Nick Dunne
Rosamund Pike as Amy Dunne
These two actors do an amazing job in creating a reflection of couple; and how certain moments can invoke strangeness and fragility in humans.  Their acting is complimentary; as each side plays off the other to create something spectacular, but also surreal.  Ben Affleck has definite charms and wits within the character of Nick Dunne.  There is a void of a man he creates; one that is left with a feeling of contempt but confused.  The disappearance creates a dilemma of sorts, one that shows the greatness of his aura of an actor, and also the grounded aspect of being a 'husband' with these feelings.  Rosamund Pike shoots for the stars in her role as Amy Dunne.  A woman of layering emotions; she gives a performance that may and probably will garner an Oscar nomination.  In secondary roles, we have as followed:
Carrie Coon as Margo Dunne
Kim Dickens as Detective Rhonda Boney
Patrick Fugit as Officer Jim Glipin
Neil Patrick Harris as Desi Collings
Tyler Perry as Tanner Bolt
There are a few others; but these are the noteworthy ones.  In short, they all do an amazing job in invoking layers of deep psychosis of what it means to be trapped within the lives of Nick and Amy Dunne.  One thing that stands out is how well the parallels of 'ideals' regarding community are portrayed; through comfort, fear and puzzlement of these secondary characters.  Definite props to Tyler Perry who steps out of his norms and gives a truly amazing individual in Tanner Bolt.  The cast isn't without its cheesy or cliché characters, but they tend to not hinder the film's overall experience; but ironically enhance it.
When it comes to the direction/story; the film (as a whole) can be describe as psychologically tiered.  Everything happens in steps, shedding aspects slowly and surely.  As to not spoil the film, I will describe the film within these layering tiers.
Layer/Tier 1: When the film starts (as well as majority of the first act), it gives an introduction with a slow burn approach.  This methodical directive helps build up the 'relationship' of Nick and Amy, as well as the pitfalls that happen within.  When the 'plot elements'  are introduced and Amy goes missing, the use of the slow pacing helps layer the feelings of 'who done it'; as well as emphasize the characterization of  Nick, Amy and their overall theme of relationships.  This provokes thoughts of believing things halfway; but not really knowing if all is just a cover for something else.  This simple draw of the abduction works to fruition, when the first twist happens.
Layer/Tier 2: When the twist happens, you see the film break a 'linear' approach and play off deeper threads of 'piecing the puzzle'.  As this introduced, you get a dueling mantra come through, as past and present invoke a hazy future for Nick and Amy.  The 'who did it' turns into 'why it was done'.  The audience gets to see the introduction of the psychological edge; as everything begins to bleed through the aspects of human nature, marriage, society's ignorance and media piety.  The deeper this rabbit hole goes, we then get bends towards a second twist.
Layer/Tier 3:  Once we get this final layer, the film sheds all levels of predictability.  Anything you've seen in the first two acts becomes just a folly; stirring of the pot for what begins an amazing third act and climax.  The whole aspect of the film becomes a satirical and darken look at marriage; while also invoking deep meaning with the previous themes introduced.  When we get to the epilogue; it is one of the best endings I have seen in quite some time; and most of the audience would agree.  The mockery of 'happily ever after' will make you cringe, but for a story of this magnitude, it sheds a unique mold of believability, knowing it just might happen.
One thing to mention about this story is who great the script is written.  It is a one of the best mixture of wit and subtlety you will see in a film this year.  The dialogue invokes precision, blending the use of humor, drama, serious tone and thrilling uneasiness.  The blend is nothing short of perfection; bringing a fictional experience as something that could be real in the audience eyes.
The visuals of the film are typical to everyone.  It is a 'somewhat' grounded look at suburbia USA.  What invokes the deep thoughts within this approach is how 'situations' are provoked.  It is the subtlety, as the dark mood becomes creepily scenic.  Every aspect encapsulates the characters, showing a spectrum of emotions without the use of words and reaction.  The score is a mix bag of resounding draw and overuse.  Within the first half, the music (at times) drowns out some of the amazing acting and storytelling.  It is not till the twist happens when the music actually starts to mold with the story, giving you a draw of complete euphoria.
Gone Girl is a near perfect film; that plays to all tropes of what makes it worth your time to watch.  With little low points here and there; you ignore the short comings because it is a great film.  If you're a fan of Fincher and great storytelling, this is one for you.  Gone Girl is an Oscar worthy film that the whole film going audience can enjoy.