Jobs – 2.5/5 – Movie Reviews by Ry!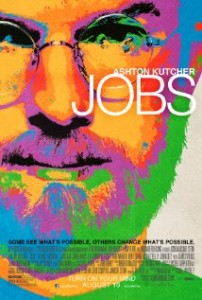 Jobs – 2.5/5 – This is a review for a film that was released in theaters a few weeks ago.  I finally was able to get around to watching this biopic.  When it comes to genre of a biopic, they are hardly ever without a sense of drama, intrigue or interest because they get a glimpse into the life of someone famed or important.  Because it is film, there are some liberties taken to make a biopic entertaining.  Regardless of any kind of change, 'true events' should always keep some relevancy to the source.  In this film, we get a glimpse into the life and times of Steve Jobs, one of the minds behind the creation of Apple Computers.  Through some bumps in storytelling, Jobs becomes a film that presents manners of truth, but falls flat in being a captivate film.
Premise: This is the story of Steve Jobs, as you follow his ascension from college dropout to becoming one of the most revered, creative entrepreneurs of the 20th century.
In the lead role of Steve Jobs is Ashton Kutcher.  For most his acting career, Kutcher has been associated with slapstick comedies.  This role and film is a change of pace for him.  With a cautionary tale to some, I can say that he does a fantastic job in interpreting and 'visually' depicting Steve Jobs.  Through his actions and dialogue with other characters, you get a sense of a man who is dedicated, persistence, but arrogant and trivial.  Jobs is so dedicated to a theme of 'reaching for the stars', that his personal life becomes nothing to him.  This complex of work and personal life helps keep you engaged, even when the direction inhibits some of the key moments in Jobs' life.  Outside of this, his mimicking and mannerism are very distinct in nature.  Kutcher does an amazing job in putting this on displaying.  Through all of this, Kutcher (I believe) does his best job to date as an actor.  He doesn't just act hin thish role, he becomes Steve Jobs.  Outside of Kutcher, everyone else is wooden in their roles.  This is a very glaring fault in the film because these other characters are 'important' figures in Job's and Apple's lifetime.  In making them plot devices, they lose their relevance for characterization, creating a real stain on a film that shouldn't be.  Even if the emphasis is on Steve Jobs, adding some depth to these characters would have made the film have some substance.  Even though most of the supporting cast is complacent, the one supporting character that does stand out is Josh Gab as Steve Wozniak.  He is the only one that helps give some kind essence to this biopic.  Since Wozniak was an integral part of building Apple, the interaction between both Steve's becomes a staple for most the film.  Their relationship is so precise (even if dramatized at parts) and divisive, you feel the humanizing elements that made both men tick.  The dialogue between the two is heartfelt, and when it comes to that special moment in the film, it made you long for more endearing moments like this.
The direction of this film is so disjointed; you can never get a grasp of feeling something or being entertained.  The film feels like sections cornered off as 'bullet points' for a presentation; shedding light on specific points instead of providing cohesion.  The film is basically broken into three parts:
The rise of Apple computer through Jobs/Wozinak's perspective
The downfall of Apple computers through Jobs/Wozinak's perspective
The redemption of Apple computers through Job's perspective
Because of the lack of real direction and horrible film editing, there isn't any flow to storytelling, build up for depth and emotional attachments, or any display of actual focus.  You'll have this happen:
A scene where there is some 'attempt' to try and bring some emotional attachment to both Steve's, and then contrast that with an exposition on an important event.
The film constantly battles between both progressive elements, that there is no seamless flow between tones.  The complete disregard of basic filming is so obvious, it completely saps away any value when there should be.  You will, for long stretches in the first two acts, not pay attention to the important moments or poignant interactions between Jobs, the Apple Board of directors, employees, and most importantly, Wozniak.  Even for this mess, once the film gets to the third act, we have a focus on a theme (redemption), and the film begins to be worth watching.  You get an interpersonal perspective of Jobs with his family and the 'new' Apple.  Even if things are altered for drama/emotional purposes, the director does a good job in giving the film a decent climax, and proper closure.
The visuals of the film are competent for a biopic.  You get a perspective of where Apple was built from, and what it became.  The score is a decent attempt to adding depth to the film, but it also gets disjointed in parts.
Overall, outside of Aston Kutcher and Josh Gabs in the roles of Jobs and Wozniak, the film falls flat because of directional choices, bad filming editing and no flow in the storytelling.  Even for the faults, it does have a competent closure, and gives you a look into the life of both Steve Jobs and Apple Computers.  If you're intrigued to see how Apple came about, check out the film.