Joy Ride – Movie Reviews by Ry!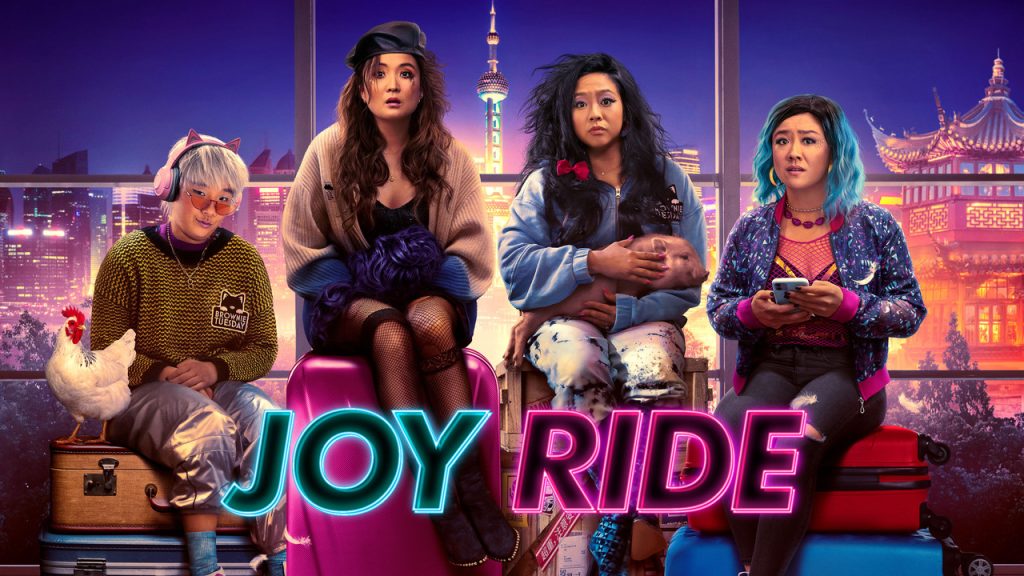 Joy Ride – A Comedic Trip of Friendship and Heart
In this world, we look to find reason and purpose. To find reason is to see where to go, to find purpose is to see why we keep going. The intertwining of meaning is similar, but also stands to be unique in kind. To weave between indifference will make things stand out, especially in a story told on the big screen. In this review, I look at the latest comedy film. Within a story of friendship, it becomes a journey of indifference of the humorous kind. Even within a simplistic premise, Joy Ride is an uproarious tale of hilarity, friendship, and heart.
This story follows four Chinese American friends, traveling together through Southeast Asia. As the trip of importance turns to chaos, they will soon discover what it truly means to be who you are. At the heart of this tale is an outline based on the buddy travel motif. On the surface, you have a set number of characters that come together for a unique adventure. In the beginning, we get a small prologue that introduces us to Audrey (Ashley Park) and Lolo (Sherry Cola) and how they became long life childhood friends. After a series of funny moments, we flash forward to the present (first act) where we get seminal exposition on the current state of their friendship. After another string of hilarious moments, we learn that Audrey must travel to China for her law firm. Since she can't speak the language, she enlists Lolo to come as a translator. Once they arrive in China, the basics of the outline begin to change, turning into an adventure of shenanigans and obscure moments. As they begin to travel the countryside (second act), Audrey and Lolo, along with Lolo's cousin, Dead Eye (Sabrina Wu), and Audrey's college friend, Kat (Stephanie Wu), begin to navigate humorous situations with a unique blend of familial and cultural themes. The filmmakers do a great job at taking cliché setups and lifting them through characterization and dialogue. This allows for creative moments to feel real, but also strikes that humorous chord that is raunchy and crude. This balance of drama and comedy brings out the unique bonds (between the characters) while also showcasing the fragility of their own personal guise. For all the reasons that the four friends take this journey, the purpose begins to evolve their dynamic within that same journey.
As they continue their travels, Aubrey begins to learn some truths about her past. As this layer is slowly integrated into the main plot, the direction maneuvers through it with the continued blend of drama and comedy. As the personal becomes more prudent, the unique brand of raunchy humor helps create a gravitas in the journey. Once everything comes to a head, Aubrey (and her friends) must face certain truths of personal reflection. This crossroads leads us into a third act that melds the humor within characterization. With a hardened emotional layer, we head into an epiphany like climax and wholesome epilogue. Joy Ride is a comedy that becomes something unique within cultural reverie. If you are a fan of raunchy comedies, character tales or heartfelt stories, this is one for you. With a group of friends, this can be a laughter of a good time at the theater.
Full Score – 4 out of 5 (Full Price)