La La Land – 5/5 – Movie Reviews by Ry!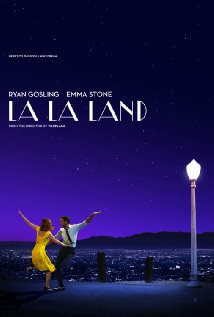 La La Land – 5/5 – Every year we experience things that can be described as one of a kind.  Being a movie critic, a one of a kind feeling comes with that film that takes me beyond just being a person watching pictures on a wide screen.  No matter what kind of genre, there are always those specific films that can be consider a complete experience.  Within that poignancy of thought; these films are more than a rating could ever show.  La La Land is one that brims with the likes of ordinary upon the surface; but brings you an escape that is pure at heart.  With a mixing of what life, love and fate can do to a person, La La Land is simply a masterpiece.
Premise:  As a Jazz Pianist falls for an aspiring actress; a tale of love and fate will lead on an epic journey of what it means to live life's true dream
Leading the way are:
Ryan Gosling as Sebastian
Emma Stone as Mia
These two individuals do a spectacular job in their roles.  From beginning to the end, you are completely enraptured by their performances.  From their charm to their musical bravado, you get to see layers beyond what you've seen before.  They do a stupendous job in creating distinct individuals that exemplify everything that defines the human capacity for living.  They do this by combining the spectacle and grandeur of dreams within the simplest form of human relationships.  Through their authenticity on the big screen, you see the highs and lows of life, love and the ultimate consequence of choice.  Gosling and Stone provide the perfected chemistry on the big screen; showing that innocence through the layering of thought, emotion and conviction.  No matter if you're seeing the struggles of a musician trying to open his club (Gosling) or the actresses fighting for her dream to be in a movie/TV Show (Stone), you see the purity in the flawed complexion of human grace.  It is poignant and sincere; the complete package of representation of an individual.  It is that fun, excitement, fear, sadness and acceptance you experience in finding your own way in this world.
There are not enough words to explain the amazing job the director does in this film.  Being behind one of the best movies from 2015 (Whiplash); he shows us his amazing talents with another tale of devotion and creed when it comes to living the moment and dreaming big.  The story he brings here is beyond the typical set pieces and predictable beats of storytelling.  La La Land is a vigorous accord of seeing themes of reality and spiritual concepts of fantasy become one within two individuals trying to find their purpose in this world.  Brimming with an honest portrayal of human determination, you are thrust into an experience that starts with the pure definition of characterization.  You get to watch Sebastian and Mia struggle to fulfill their passions in life.  As they cross path throughout, you see their progression through the combination of various musical numbers, dance routines and genuine expositional elements.  This experience is given through a risk/reward system; one that shows the director's creative display of colorful ambiguity.  This indifference gives you an experience of multiple genres.  As you set sail across their journey, you move across eras with a sense of delight.  It is raw dedication to these character's pursuit of a dream.  Along with this, the mirrored complexion of a budding relationship shows another tale of love, honesty and riveting emotional accord.  In the most delicate sense, this combined effort helps string a visual spectacle of unpredictable results.  The evolving story grips you; bringing you deeper with overlapping thought and true escapism.  This allows for the audience to live, breathe and feel the characters.  That ominous, heartfelt and heavy thread makes you feel the highs and lows through a ribbon like grace.  This mesmerizing detail leads us into the final act.  Once here, you get to see the purpose of fateful encounters.  In the most honest of reveals, the climax shows the purity of what is meant by moving forward with that dream.  As the film heads into its epilogue, it gives a final thought of the daggers of fate.  Within that, it is an openly painful reflection, but one that shows something is worth fulfilling even if certain things may or may not come true.
The visuals are superb in its simplicity.  With a complexion of everyday Los Angeles; you get to feel the colorful delight and seasonal irony of the passage of time.  From the beaches, downtown, movie sets and homely aspects, you feel the cinematography as if it was your own view.  This sensation helps you live through every minute of the story.  The score is an endearing part of the story.  Being part musical and dance number; the infusion of original songs, ballads and orchestras in the background blends perfectly.  This gives the audience a very strong, persistent and seamlessly journey through a heartfelt conviction.
La La Land is an original masterpiece.  From the acting to the story; there is enough here that you can say it was worth it.  This is a true cinematic experience.  For Musical lovers and people who love an original raw tale of human devotion; this is one for you.  It will be an amazing time at the theater.