Last Flag Flying – Movie Reviews by Ry!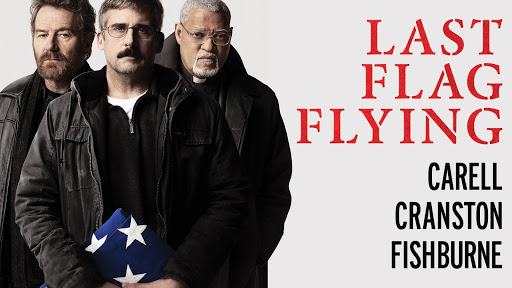 Last Flag Flying – Duty and Friendship: A Stars and Stripes Journey
The evolution of story, something writers/artists face when trying to create something new.  Finding inventive ways to bring about a journey through any medium is daunting, but when sparks fly, it can be truly gratifying.  With film, telling a story is prudent to any genre.  No matter if you're making the crowd laugh, cry or feel adrenaline, story weaves detail of character and consequence.  In this old school rewind review, I look at the drama/war film Last Flag Flying.  Even with a slow beginning, Last Flag Flying captures that journey to create a gratifying experience.
The story follows Larry 'Doc' Shepard (Steve Carell), a man who seeks out his old war buddies, Sal (Bryan Cranston) and Richard (Laurence Fishburne), to help bury his son who was tragically killed in the line of duty.  With a rekindling of friendship, these three veterans discover that after 30 years, life still has purpose.  Directed by Richard Linklater, he takes the 'slice of life' format and combines it within a military setting.  You are thrust into the lives of three veterans when Doc meets up with Sal and Richard.  Having served in Vietnam, he recruits there help to get his son's body from the military base so he can bury him back home in New Hampshire.  With the focal point placed upon their journey, Linklater uses the linear direction to create a living journey about past and present.  The rekindling of friendship is highlighted through conversation, creating different perspectives about what it means (to the three) about war and duty.  The slow beginning helps layer the progress for subtle but deep characterization, triggered by the inciting incident of the death of Doc's son in Iraq.  This leads to honest perspectives of what it means to serve.  That raw reflection brings about how their own journey led them down three different paths (after Vietnam).   This parallels the present, reflecting upon their own personal ideas about the current state of affairs.
As the story moves forward, the central ideas of family, duty and friendship creates an endearment within conversation.  From the dramatic to comedic, every situation you watch Doc, Sal and Richard converse leads to their thoughts about the military (then and now).  The blending of the 'Slice of Life' outline with military themes creates a genuine tale of life's purpose.  There are times when the story drags, but it always ends up in a genuine character moment.  Once in the climax, the journey comes full circle for all three characters.  Last Flag Flying relies on character and life moments, pushing you past the common tropes to create a realistic journey of friendship.  Even when it drags, there is enough for a gratifying experience.  If you're a fan of slice of life or military films, this is one for you.  It is available for streaming, but it would be worth the full price at the theaters.
Full Score – 4 out of 5 (Full Price)