Like a Boss – Movie Reviews by Ry!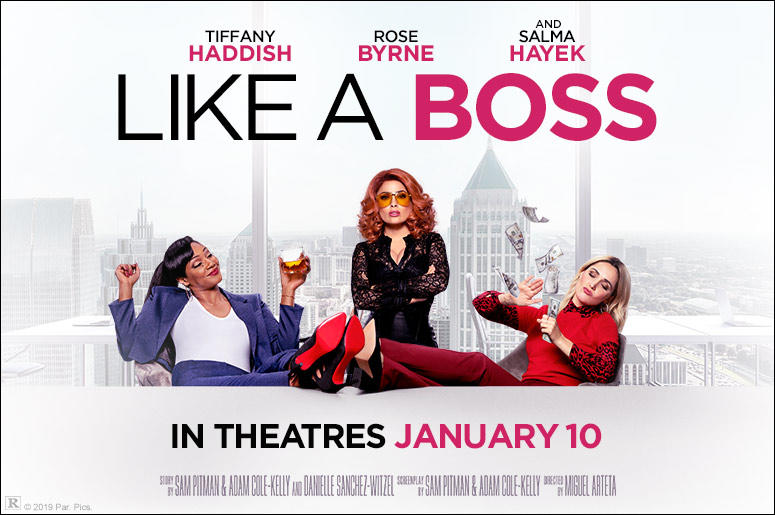 Like a Boss – A Generic Make-Up of Comedy
When it comes to film, enjoyment is in the eye of the beholder. From drama to action, being engrossed by the escape is knowing, there is a niche for everything. No matter the genre, you will always find a way to be entertained in the most basic tales. Like a Boss is a comedy that pushes forward a genuine tale of friendship, but in the end, it falls in the trap of generalities.
Two best friends/business partners, Mel (Rose Byrne) and Mia (Tiffany Haddish), must turn to Claire Luna (Salma Hayek) to save their company. The outline is based around themes of sisterhood and buddy comedy elements. The crux of the story is the relationship between Mel and Mia. In the prologue, you are given a solid foundation of their friendship using the picture montage technique. Once in the present, predictable plot devices lead them to face the facts about their makeup company. Knowing they are dying in debt, they decide to partner with Claire Luna. The driving force of everything (in the film) begins with Mel and Mia. Seeing Byrne and Haddish as 'best friends' provides a great contrasting of individual talent, but it only amounts to surface level potential. These two are handicapped by the trivial script, which leaves the door open to a sea of folly-like scenarios. In each scene, what begins as decent character moments turn into a combination of generic slapstick, physical humor and 'off-the-cuff' one-liners. Every interaction is driven along a general thread, where predictability becomes the enemy of character development.
As you see the story unfold, the direction never settles on one thematic detail.  Going from one scene to the next is very disjointed because of forced plot threads and unexplained character decisions.  Even as things seem to falter, what will hold the audiences' attention is the friendship.  As you see the two fight to save their company, they have to 'come to terms' with their own faults through an epiphany like moment.  Even when this is obvious to a fault, it helps bring importance to the ultimate bonds in life.  As you head into the final act, the comedy begins to bring some color, but it never reaches its potential.  Once in the climax, everything comes full circle for all the characters in the film.  Like a Boss is a comedy that stays the course of being a predictable buddy tale.  With decent leads and a few laugh out loud moments, there is fun to be had.  If you're a fan of the lead actresses or want a night out, I say check it out.  For the rest of the film audience, it's a rental.
Full Score – 2 out of 5 (Rental)