One Night in Miami – Movie Reviews by Ry!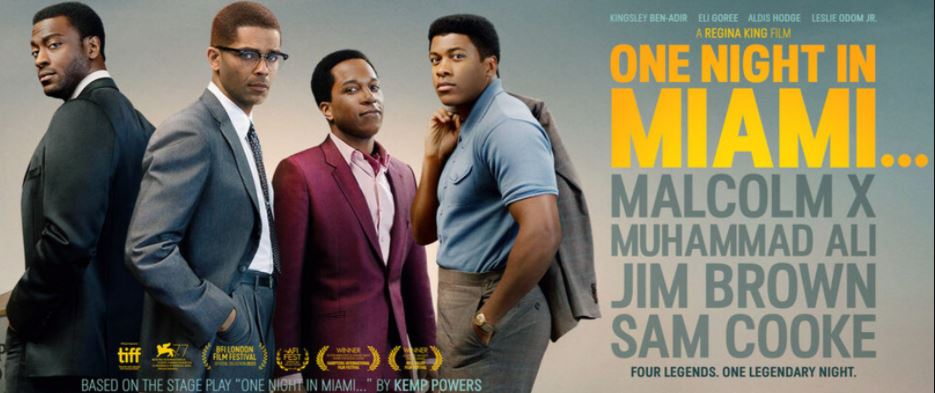 One Night in Miami – In a Star of Words: A 60's Conversation
In the extravagant, it is circumstances that centers us within a poignant of moments.  From bombastic sequences to overtly emotional scenes, the power of conversation can push forward something pure.  In this review, I take look at an adaptation that captures the heart of character moments.  A fictionalized tale of a powerful meeting, this film pushes material above being another film adaptation.  One Night in Miami is a stringing of hearts and minds, showing how one night can be the most important of them all.
In 1964, Cassius Clay (Eli Goree), Malcolm X (Kingsley Ben-Adir), Sam Cooke (Leslie Odom Jr.) and Jim Brown (Aldis Hodge) meet up together for one night.  With strong minded individuals coming together, it leads to fateful conversations that will change their lives forever.  A film adaptation written by the same playwright; Kemp Powers lays a foundation that is driven by dialogue.  There is no adventurous overtones of mimicry of genres or tropes, it is an honest complexion of brotherhood at a certain place in time.  The journey is leveled within the serene, providing fervor of ideals that are constant in their own guise.  First time director Regina King allows scenes to breathe through the mercy of the four, as their subtle introduction leads to a night of fateful change.  After Clay becomes the heavyweight champion, they come together in a Hampton Hotel house in Miami.  Once together, it becomes a dramatization of events that blend the unknown with truths.  The strength of these conversations rises above the fictionalized moments, lifted within precision acting, methodical direction and poignant writing.  There are no forcible scenarios to illicit false emotions, it is an honest showcase of everyone's own aspect in 1960's America.  The clashing of their own brings life to their conversations, a maneuvering of emotions that are littered with fervor of the raw kind.  The sense of consequence becomes realistic to the audience, seeing the delicacy to their persona when it comes to friendship.  It is the surreal of abstraction that allows for moments to breathe importance of this moment in time.
The journey is wrapped around their own past that led up to what is discussed at the motel.  The content is layered with conviction, woven in each character's fortitude and authenticity.  The clashing of minds and beliefs is powerful because of the individuals themselves.  Having witness the truth of the times (in their backstories) it levels realism in endearment.  The ability to bring realness through unknown is the strength of the script that is leveled within the importance of the actual events that happen before and after.  As we head into the finale, the four are left to make hard choices.  This leads to diverting paths that reflect historical moments (in America) but the strength of their bond.  One Night in Miami is a film adaptation that showcases how simple conversation can be the most powerful.  The dynamic of acting/direction/writing is on display, even if certain moments are fictionalized.  If you're fan of stage plays, period pieces or like conversational films, this is one of for you.  It is available on Prime Video, a truly award-winning experience.   
Full Score – 4.5 out of 5 (Award Worthy)