Room – 5/5 – Movie Reviews by Ry!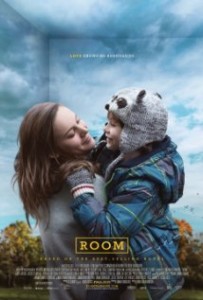 Room – 5/5 – There's very few things that can be consider genuinely moving.  It could be a moment, an event or even stories that are life changing.  Stories have are told in many different forms, but there's always that one story that moves you regardless of what format.  I speak of this because every once in a while, contemplation occurs when thinking of regarding a film for a particular score.  I give up very few perfect scores.  When I do it is because that perfection is met with that specific kind of genuine moving thing.  Room is a movie that might be hard to witness, but as the story within the movie unfolds, you will find something that is a pure cinematic but endearing experience.  It might be only January, but Room stands as the film to beat for 2016.
Premise – Life and experience; it is the words that can describe those new to the world.  Living a confined life for so many years; a young boy and his mother make a thrilling discovery of what it means to live again.
This film puts majority of its focus on two characters.  Those characters are:
Brie Larson as Ma
Jacob Tremblay as Jack
These two have some of the best chemistry I have seen on screen in creating a relationship as realistic as theirs.  In creating that 'mother/son' relationship; you get a strong emotional sense that encircles what makes them live, breathe and press on to survive their particular circumstance.  Brie Larson gives the best performance of her career as Ma.  She is a subdued person; a character built upon layers of complex sense of fragility.  That delicate balance shows why she has a very protective relationship with her son within the circumstance they are living in.  This creates a deeply harden individual.  She shows strength in her fear; but at the same time is confused with accepting chance, hope and brevity.  This creates a pure sense for her character; one where you understanding her pain and why you root for her.  The motherly protection is one that many can gravitate to.  It is shows her completeness in her flawed perspective on life and the world.  When it comes to Jacob Tremblay, he is a breakout star as the young boy Jack.  Having grown up confined to one room, you watch a boy enraptured within a vivid imagination.  That raw innocence plays to the core of being a child, one that whispers a glance of vividness in the singular point of his entrapped environment.  The irony gives you the fallout of what it is to have a life of dreams fraught with the perils of living in one place.  The experience of growth is hampered by false convictions.  You see that within his actions and interactions with his mother.  When Jack finally experiences the outside world; it is met with many new sensations.  This helps layer the conflicting nature in the relationship between the two.  There is a methodical development that delves deep into the psyche of what makes a mother/son relationship.  This creates a realm of deepen growth within the characterization of living in two different situations.  As mentioned, the majority of the film focuses on these two.  With the rest of the cast, they do a great job in providing worth as people.  They go beyond the typical archetypes from other films because of the realism within them.   This creates something strong within the overall story.
The direction follows a very strong but linear path.  This is a very simple tale that plays to the themes of struggle, sacrifice and family.  This film chronicles the tale of two individuals who have been living life in captivity.  They have been living in a single room for many years.  As you watch the film's move through its first half, it plays along the directive of a twofold approach.  You get to see a parallel complexion of the human condition within Ma and Jack.  In Ma, you get to see how the captivity plagues her mind.  She is distraught, hollow and insulating to her living situation.  It is that unbearable nature that opens up the raw nature of the human soul.  Opposite this, the ironic complexion of being confined has a profound sense on the young boy Jack.  The situation plays a trump card by shedding light on the purity of innocence.  Watching this young boy live a life within these four walls helps pit realty against imagination.  It is a ghastly kind of concept, but one that shows proof that there is something haunting in this framed honesty.  Truth of circumstance, you get that feeling that is raw to the human core.  Living in a trapped area is something that is hard to imagine, but you get to feel it within these two individual.  The only connection they have is to each other; making the mother/son relationship gradually develop.  There is a fragile balance of trust and love, one that harkens to any familiar themes of family, children and loving bonds.  After watching the development of the relationship unfolds; the film hits its pivotal point between the first and second half.  After a dramatic and tense escape; we watch as these two characters begin a whole new life in the outside world.  As much as there is a relief attitude for the escapees; there is also a whole set of new challenges for them as well.  Taking on that twofold approach; we witness how each face the new world in different fashion.  Jack has a strong anxiety to face all that was considered 'fantastical'.  Within that anxiety, he also has a touch of curiosity.  Everything becomes a conceptual challenge; learning what is true and what is not.  There is a touch of growth and evolution within Jack.  He is like a sponge, watching him explore, question and embrace things with subtlety and ease.  That raw quality helps build up contrast for the other; as we see the opposite of growth through Ma's trepidation of 'returning' home.  Whereas there is an evolution of Jack in this new world, you watch devolution of Ma's psyche.  Being trapped for so long, that feeling of freedom provides a complexion of anxiety that breaks her down emotionally.  Everything that was 'good' just becomes hollow; creating a bubble of struggle and hopelessness.  Through all of this both become a rod of help and comfort; giving them something worth living and fighting for.  After a dramatically enticed climax, the film boils down to an epilogue that is fitting in the meaning of mother/son love.  There is gravitas seeing these two individuals just live again.  The poignant conclusion is one that will have you believe in this wholesome experience.
The visuals are remarkably amazing for what the film entails.  Being set in a single room and then the future home of Ma and Jack; the simplistic sensation helps allow the story to unfold in its raw form.  There is no forceful intent in creating something through the lens.  The camera allows the story to be organic; creating the visual appeal through character and story development.  This unique take helps provide a grounded visual experience, one that is more powerful than falsely created tension.  The score is one that can be described as minuscule; but it helps create a riveting purity through the music.  The music is simple and straightforward; the sound is in sync with the rest of the film.
Room is by far one of the most moving, touching and relevant films I have in seen in quite a while.  There is something to be said in telling a tale as moving as one between a mother and child.  This is one of those films that create something unique in its simplicity, raw in its approach and honest in its themes.  This is a film that provides that perfect cinematic experience.  No matter what you're a fan of; if you are a fan of great films this is one that you should definitely check out.  You will not be disappointed by a film that has made its way on my Top 10 favorite list.