Side Effects – 4/5 – Movie Reviews by Ry!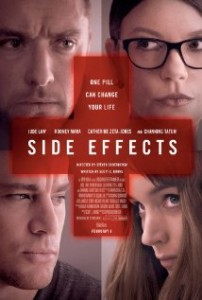 Side Effects – 4/5 – Movies that are given a release in the early part of the year, tend to suck.  There isn't anything around it; most of the early released films are terrible.  Even for this, there always seems to be some bright spots.  There are sometimes a few films that come out this early that show that early releases don't suck.  Into the fold we have a movie called Side Effects.  On the surface, this looks to be just another trivial styled murder drama, like all other ones.  While the movie develops, and truths surface, the movie becomes a much deeper thriller then meets the eye.  With a great cast, steady direction and an evolving story, Side Effects is the first great film of 2013.
Premise: Emily Taylor (Rooney Mara), despite being reunited with her husband, Martin Taylor (Channing Tatum), she becomes severely depressed. In this depression, she deals with emotional episodes and suicide attempts. Her psychiatrist, Jonathan Banks (Jude Law), after conferring with her old doctor (Catherine Zeta-Jones), eventually prescribes her an experimental new medication.  Even with her life starting to stabilize, she experiences side effects that prove increasingly serious, and eventually leads to a murder. What follows is a dark quest that threatens to tear Mr. Banks' life apart, even as he discovers the diabolical truth of this tragedy.
When it comes to the cast, we have a very strong cast in the leads.  For starters, we have Rooney Mara, who plays the depressed but conflicted individual, Emily Taylor.  In Emily, Mara gives a grandiose of a performance.  She provides us a look at someone who seems to be caught up with strong emotional issues, but is hiding a deeper secret behind the depression of lies.  In this complex, Mara proves she can portray someone that can be both subtle and endearing, but also diabolical and tricky in those same eyes.  Through her dialogue and actions, you witness a soul yearning for something deeper from her past, but someone who really cares for no one but herself.  Someone that gets involved with her story is Doctor Jonathan Banks.  He is played by Jude Law.  He provides an honest but educated person who, through his honest means of helping, gets caught up in Emily's situation.  Once the murder takes place, on the surface you witness someone with wits and knowledge of psychology, which seems to help bring some light to a dire case.  Through Law, you witness his life at the tops of being a partner in a doctor firm, to the lows of losing his practice, wife and partnerships.  Through these turmoil's, you feel the effects the case has on Banks, which shows acting at its finest.  You see someone focused and firm on proving the truth that he (and everyone) was blinded to see, even with the world against him.  Through his charm, smarts and quick thinking, you believe this quest he is on, and want him to reveal the truth of the 'side effects'.  In the other two main roles is the other doctor from Emily's past (Catherine Zeta-Jones) and the husband (Channing Tatum).  As the husband, Tatum proves that he can be more than just a pretty face.  He provides a compliment to Mara's character, but is mostly just a side character in the overall story.  As the other doctor who treated Emily, Zeta-Jones proves she still has strong acting skills, even in a supporting lead.  She comes across as a suave individual, who knows how to twist words to make the truth seem real, and evidence seem perfect.  As much as Emily has a devilish nature, so does Zeta-Jones' character.  In her lies, you know she is only in it for herself.  For the other characters, you have standard elemental types for a story of this nature (lawyers, doctors, family members, police officers) that revolve around the story or the main four. There purpose in the film is help to add depth to the other four.  In doing this, it doesn't flood the movie with too many leads, as screen time isn't wasted on trying to give them stronger purpose.
The direction of this film is one of a catch 22.  As the film starts, it is a very slow build up, as we are introduce to all four characters.  At first, you see from the beginning is a simple focus on the use of medical treatments, drugs and the eventually 'side effects' of their usage as well as how it is consequential to everyone else, other than the user.  After the pivotal moment of the murder, you realize that the effects go beyond the drugs, and the slow buildup turns into a faster pace thriller.  What you realize is the real meaning of the title, and that this films basic lean towards scheming and treachery.   As the movie progresses, you realize how Emily's past starts to become the real purpose, and the layers that are being peeled helps change the drama into a thriller.  This change helps spark the ingenious feel of the direction, as you realize the ruse of the situation, and how everyone is getting played because of Emily's past.  Once the past becomes truth to the overall story, the main focus turns from Emily to Banks.  Everything from the murder falls into Bank's lap, and he has to go out and prove everyone wrong.  What all this leads is to a climax that becomes a string of provocative scene after scene, where you feel explosion in the twist and turns.  This makes the films overall combination of lust, love, greed and affliction become believable to the audience.  In most movies, when you have these layers, the blending is harsh or nonexistent.  Here, the director does a great job in making the facade so believable, that the unraveling past to the present is as real to the characters as it is to the audience.  Another great aspect of the film is that even when the film introduce the cliché 'rock bottom' scenario, it flips it on itself, and shows that turmoil isn't the end, and that purpose proves all lies wrong.  All this makes the film entertaining, thought provoking and intuitive on a genre scale.
The visuals are very much an aesthetic appeal.  I say this because the story is set to the backdrop of modern day.  There isn't anything here that helps or hinders the film, but just adds more of a scenic detail to the story.  There isn't really anything in the score, so there isn't any worth in mentioning it.
Overall, Side Effects is a great film that adds more meaning to the title then just a 'medical' side.  There is great acting from the main four, as well as elusive directing in the unraveling of the truth that surrounds Jonathan Banks and Emily Taylor.  I recommend anyone a fan of thrillers to watch this film.  It's worth a Friday night viewing.