Silver Linings Playbook – 4.5/5 Movie Reviews by Ry!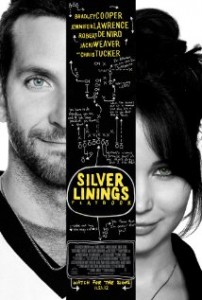 Silver Linings Playbook – 4.5/5 – Romantic Comedies; a subset genre that gives a story that revolves around the common theme of love.  Films that dance around this feeling can, on the surface, seem to be passé, boring and predictable, but every once in a while there are some that can standout with great qualities to characters, script and overall direction.  This movie right here is one of those films.  Full of charm, wit and great characters, Silver Linings Playbook is a lush full of excitement, and brings to you a life of choice, chance and a reason to feel redemption is possible.
This film chronicles the life of Pat Solatano (Bradley Cooper) after he is released from a mental institution.  After 8 months in that place, he is brought back into the real world to live and redeem a life shattered by his undiagnosed bipolar disorder. He finds himself moving back in with his parents to rebuild his life.  Pat is determined to remain positive and reunite with his wife, despite the challenging circumstances surrounding their separation.  His parents (Robert DeNiro and Jacki Weaver) only want the best for him.  They want him to get back on his feet, as well as share in the family's obsession with the Philadelphia Eagles.  During his time of recovery, he meets Tiffany (Jennifer Lawrence), a mysterious girl with problems of her own.  Tiffany offers to help Pat reconnect with his wife, but only if he'll do something very important for her in return.  As their deal plays out, an unexpected bond begins to form between them, and 'silver linings' appear in both of their lives.  When it comes to the acting, it is fairly precise to realism as well as outstanding among the main players.  When it comes to Bradley Cooper and Jennifer Lawrence, they are both superb and magically entertaining in their roles.  They are filled with riveting layers because of their complicated personalities, as well as their heartbreaking pasts.  This deep layering to both characters makes the bantering and conversation between them pure and pristine.  They are very comfortable with each other on screen, as their brutish honesty keeps the film comical and heartwarming, as the strength of recovery, redemption and true love becomes the main focus for both of them.   Their chemistry is top notch for a romantic comedy, and you feel the tension of love build from the beginning till the end.  As the main character, Cooper is remarkable and breathtaking.  You feel what he feels on a daily basis on screen.  He is a real man with bipolar disorder; someone that is trying hard to redeem his life and put it back on what he feels is the right track.  Jennifer Lawrence is just as wonderful in her supporting role, and brings that complimentary angle for Cooper's character to become the real person he should be.  With the rest of the cast that are supporting Cooper's character, they are mostly awesome and very strong when they come on screen.  Deniro and Weaver are the parents, and they are hilarious but stern when they are shown on screen.  They are very obsessed with the Eagles.  This becomes a staunch side story that isn't overwhelming, but complementary.  Their support of their son is strong, and you see they are trying their best to make him feel happy again.  When it comes to some of the other supporting cast, Like Julia Stiles and Chris Tucker, they are good and on par to the rest of the cast.
The direction of this film can be seen as simple but flawless. There isn't anything of an epic feel to this movie, but what is brought on screen is purity to the realism of the situation.  You have a person dealing with a disorder, while also trying to put their life back on track.  The movie doesn't ever make light of the situation, but brings a raw vividness on how it affect everyone around him, as well as his own self.  When the love interest becomes prevalent to this theme, the director (whose previously film was the awesome and oscar nominated 'The Fighter') does well in enveloping this into the main character's story.  Weaving both the emotive and realistic values of the situation, you get a pure blend of romance, drama and comedic elements.  This makes this movie entertaining and enthralling from beginning to end.  The marvel and charm is build because of how, even for predictable elements, you feel good in the end and are still engrossed with what happens.  In bringing this kind of focus to a few somewhat predictable elements, you find the greatness in the film's main arching story.  The director forces, in a subtle way, for the audience to grip the real themes that are seen on the screen and ignore what is common for a lot of romantic comedies.  I applaud the director on his marvel of direction.
The cinematography is somewhat of a realistic approach in this film.  You see the city of Philadelphia, and you feel as if you're a part of the neighborhood, as well as the family.  There is a 'down to earth' approach, as it complements the direction of the film.  The score is a plus, but very subtle.  It doesn't do much to add depth to the movie or hinder its progress.
Overall, this is a delightful, entertaining and comical romantic film.  Following the life of Pat, and his disorder, you see everything through his eyes as well as cheer for him to redeem his life.  Bradley Cooper gives a tour de force performance, as you feel and see the depths of his character.  Jennifer Lawrence does a marvelous job in complimenting and working alongside Cooper.  The supporting cast is likable and provides great elements to the progress of Pat becoming a better person.  I would recommend for any fan of Cooper's as well as a fan of great filmmaking and romantic comedies.  This movie is a good outing to the theater, and a definite purchase on blu-ray.