The Gentlemen – Movie Reviews by Ry!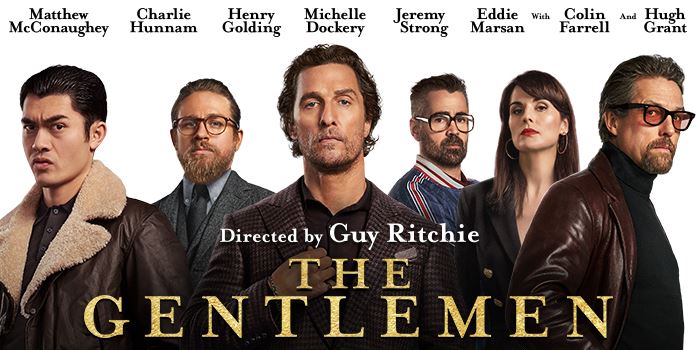 The Gentlemen – Criminal of Class: A Character's Tale
In a world of blockbusters, the journey can get overshadowed by the visual prowess of the spectacle.  From the simple to the sophisticated, the driving force of dialogue can be the most enthralling detail of a film.  Within this world of blockbusters, this new Guy Ritchie film showcases how characters can make a journey worth wild.  The Gentlemen may play along familiar lines, but it another fun, twisting adventure on the big screen.
The story centers around British Crime Lord, Mickey Pearson (Matthew McConaughey), as he tries to sell off his drug empire to an Oklahoma Billionaire.  In hopes of a smooth transaction, he finds that getting out of the underworld is not as easy as it seems.  Guy Ritchie (Writer/director) is known for his inquisitive sense of writing dialogue and scenes.  From the beginning, Ritchie provides a familiar taste within his traditional use of crime drama storytelling.  Within his outline, there is always two main things: a central MacGuffin and a cast of lively characters.  Through these interactions, the colorful nature of narration is pushed through a mixture of satire and drama.  Ritchie tackles exposition with a sense of personality, creating situations where crime/drama tropes stand out because of the characters.  The blending of the obvious within the rawness of conversation makes situations more endearing.  As you watch the story unfold, the cunning endeavors of the leads are submerged within the context of 'slice of life' moments.  Everything is driven through what is known against typical drama, turning the bombastic nature of storytelling into an actualization of character choice.  The reality of the drug empire transaction seems to be going steady, but little fractures make everything unravel through the unknown.  Here, the thrills are not driven by visual quips or momentary thrills, it is the conversations between characters that create a roller coaster of odd decisions and unexplained consequences.
As this story unfold, the transaction begins reveals certain information of secret connections between certain individuals.  Every scene becomes littered with subtle refences of soft foreshadowing.  Even when things seem obvious (again), the witty use of red herrings and plot twists causes certain truths to come to light.  Once in the final act, all the players come forth staking a claim to the transaction, leading to a path of unforeseen choices.  Once in the climax, everything comes full circle for Pearson.  The Gentlemen plays with the familiar, but the strength comes from its characters.  With a list of oddities that keep you guessing, this film does not disappoint.  If you're a fan of Guy Ritchie and his odd sense of storytelling, this is one for you.  A definite fun time at the theaters.
Full Score – 3.5 out of 5 (Matinee)