The Vast of Night – Movie Reviews by Ry!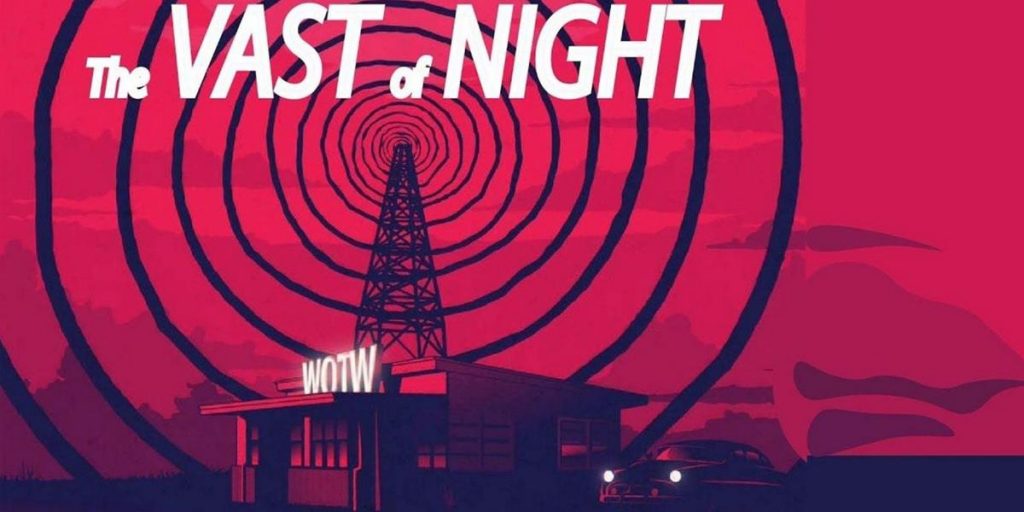 The Vast of Night – 1950's Mysteries: Twilight in a Small Town
We are people of creative intent.  The exploration of the unknown can lead down the path of many fun adventures.  When a story comes alive, it usually starts with the simple aspect of its characters.  In this latest review, I look at a film that pushes the simple notion of characterization through the mysteries of space.  The Vast of Night, an indie film from Amazon, infuses genres to create a strong character driven story.  Even with its fragments and slow pacing, it will give lead to a definition of what it means to be captured by the unknown.
On one fateful night in a small New Mexico town, Fay (Sierra McCormick) and Everett (Jake Horowitz) discover a strange audio frequency. As the two friends investigate, it will lead to discoveries that will change their lives forever. The creators of this film take on an approach through tactical surrealism. The first half showcases a stylized period piece through characterization. The technical approach of direction and world-building creates a pathway for the audience to experience a unique lens of storytelling. It is a true infusion of concept and story to create a genuine sandbox for the era (1950s). Once the stylings encapsulate the story, you are pushed forward through character interactions to drive emotions through conversations. You get a genuine understanding of the two main characters (Fay and Everett), there odd friendship and how their subtle conversations lead to the inciting incident (strange frequency discovery). The slow buildup creates an influx of emotional crossroads that evolve into something deeper about the night.
Once in the second half, the story pulls you through a mixture of Sci-Fi and suspense. The mysteries of the frequency leads Fay and Everett to pull clues through the basics of conversation. The endearment of the unknown is heightened through the conversations Fay and Everett have with ancillary characters. This leads to a deepening experience through dialogue, providing pure emotional overtures through the haunting atmosphere. Each revelation begins to drive questions about what is real, creating a consequence to the belief of life in space. This leads to a climax of closure through ambiguity. This drive an epilogue of a question define, but the subtleties encapsulate discoveries unknown. The Vast of Night is a Sci-Fi/Suspense film that drives characters through the riches of storytelling. The unorthodox methods heighten the journey, leading to unexpected gratification. If you're a fan of indie, sci-fi or suspense films, this is one for you. It is available on Amazon Prime, but it would be worth the full price of admission.
Full Score – 4 out of 5 (Full Price)